The Kid Who Would Be King Trailer Is Fun And Mythical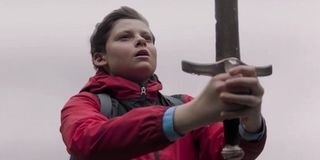 The tales of King Arthur have been the stuff of legends for centuries, particularly when he drew the sword Excalibur from the stone and became ruler of the realm. But what would happen if a seemingly average, 12-year-old boy were to draw Excalibur in the present day? What sort of craziness would unfold then? That's what The Kid Who Would Be King will answer, and you can check out the first trailer for this family-friendly, fantasy adventure film below.
It's been seven years since director Joe Cornish's last movie, Attack the Block, came out, but now he's back with The Kid Who Would Be King. Rather than simply tell another traditional King Arthur story (which didn't go over well last year with King Arthur: Legend of the Sword), Cornish is moving the action to contemporary times and placing Excalibur in the hands of Alex, played by Louis Serkis, who discovers the sword at a construction site while fleeing from bullies.
Regardless of where or when you pull Excalibur from a stone, one thing is certain: your life will be anything but normal afterwards. Sure enough, Alex is soon found by Merlin, who's disguised himself to look like a teenager, played by Angus Imrie, and informs Alex that he needs to stop the evil Morgana, played by Rebecca Ferguson, from returning to the land of the living to destroy the world.
Wielding a cool sword and having a wizard on your side is a nice start, but to defeat Morgana, Alex is going to need recruit his classmates, including his best friend and those bullies who tormented him, to fight back against the sorceress' forces. And while joining an army doesn't initially sound appealing to the other students, once the principal (who has somehow been been persuaded to help) notes that this will replace lessons, they're understandably on board.
Judging from the fiery, zombie-like creatures that make their way to Earth, Alex, Merlin and everyone else will have their work cut out for them, but for moviegoers both young and old, that means plenty of excitement. And for those of you wondering if Merlin's going to look like an adolescent throughout all of The Kid Who Would Be King, not to worry, we'll also see his true form, played by Sir Patrick Stewart. How fun, a true knight playing literature's most famous wizard. Oh, and apparently the Lady of the Lake can just show up in any ol' bathtub, too.
The Kid Who Would Be King opens in theaters on January 25, 2019. If you're interested in learning what other movies are arriving next year, check out our 2019 release schedule.
Connoisseur of Marvel, DC, Star Wars, John Wick, MonsterVerse and Doctor Who lore. He's aware he looks like Harry Potter and Clark Kent.
Your Daily Blend of Entertainment News
Thank you for signing up to CinemaBlend. You will receive a verification email shortly.
There was a problem. Please refresh the page and try again.