Apparently Avatar Was Originally Supposed To Be R-Rated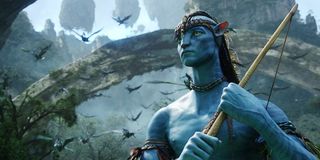 Although Avatar 2 is finally arriving in the next couple years after being long promised, for now, we can still only look at the Avatar mythology through one, lone entry. But what an entry it was, as it still ranks as the highest-grossing movie of all time. No doubt moviegoers young and old being able to catch it easily on the big screen helped make it such a box office juggernaut, but evidently director and franchise mastermind James Cameron originally intended Avatar to be a more adult offering, as he wrote the tale with an R rating in mind.
Several years before he started bringing Avatar to life, James Cameron was planning to deliver a cinematic adaptation of the manga Battle Angel Alita. More than a decade later, that adaptation, Alita: Battle Angel, is only months away from arriving in theaters, with Robert Rodriguez having directed it instead and Cameron remaining involved as a producer. While speaking with Screen Rant about a particular difference between Alita: Battle Angel's version of one of the characters versus how they're depicted in the manga, Rodriguez revealed the following about Avatar:
Creatively speaking, seeing an R-rated Avatar would have been interesting, particularly when it came to the war scenes. Imagine how much more intense that battle between the Na'vi and Colonel Miles Quaritch's forces would have looked had there been extra gore and graphic elements. Still, like it or not, slapping an R-rating on a movie means it's not going to reach as many eyes, since the only ways kids will be able to see it on the big screen is if they're accompanied by an adult.
In terms of reaching the widest audience possible, James Cameron making Avatar a PG-13 offering instead was the right call. Arriving right just a week before Christmas, people across the world came out in droves to see it. Across its initial theatrical release, as well as the re-release in the summer of 2010, it made over $2.7 billion worldwide. No matter what its quality, if Avatar been rated R, it's highly unlikely, if not just impossible, that it would have made anywhere near that amount of money. And with a movie like Avatar that pours a lot of cash into visual effects, making a profit is even more important.
Given how well Avatar performed commercially, you can be sure that for the Avatar sequels, those will also be rated PG-13. Let's also not forget that as of last year, Disney also boasts the "Pandora - The World of Avatar" attraction area within Animal Kingdom. Avatar obviously isn't at the same level of wholesomeness as the likes of Mickey Mouse or the many Princesses, but like the action-packed Star Wars and Marvel franchises, it can still cater to a family-friendly demographic. Now that 20th Century Fox will soon be incorporated into the Disney empire... I mean, family, you can bet the Mouse House will want to keep Avatar in that PG-13 territory.
Next month will mark nine years since Avatar was released, and while James Cameron has been saying for most of that time that sequels are on the way, it was only when filming began in summer of 2017 that it was finally confirmed that these projects would see the light of day. One of the reasons it took so long for the Avatar sequels to get off the ground is because new filmmaking technology had to be developed for shooting underwater, as Avatar 2 will spend a fair amount of time in Pandora's oceans.
Beyond that, no specific plot details for Avatar 2 or the other sequels have been revealed yet. However, it was reported last month that the sequels could be called (in no particular order) Avatar: The Way of Water, Avatar: The Seed Bearer, Avatar: The Tulkun Rider and Avatar: The Quest for Eywa. None of these titles have been confirmed yet.
On the casting side of things, most of the main cast from the first Avatar are confirmed to return for the sequels, chief among them Sam Worthington's Jake Sully and Zoe Saldana's Neytiri, who now have three children. The most surprising of the returning faces, though, are Sigourney Weaver, Stephen Lang and Matt Gerald, as all of whose characters died. Weaver has confirmed she'll be playing someone different as opposed to reprising Dr. Grace Augustine, but it remains to be seen how Lang and Gerald fit into the picture.
As far as newcomers go, arguably the most prominent of the bunch is Kate Winslet, who will play Ronal, a free diver from the Metkayina tribe, in Avatar 2. Along with various other actors cast as Metkayina tribespeople, Jack Champion is playing Javier "Spider" Socorro, a teenager born on Pandora's human base, while Oona Chaplin and David Thewlis have been cast in undisclosed roles.
James Cameron has confirmed that both Avatar 2 and Avatar 3 have wrapped principal photography, but there's still a long way to go before they hit theaters. Avatar 2 is scheduled for release on December 18, 2020, followed by Avatar 3 on December 17, 2021, Avatar 4 on December 20, 2024 and Avatar 5 on December 19, 2025 (those Cameron has said those last two movies are contingent on its two predecessors being financially successful.
Stay tuned to CinemaBlend for more updates on how the Avatar franchise is progressing, but in the meantime, you can look through our 2019 release schedule to learn what movies are coming out next year.
Connoisseur of Marvel, DC, Star Wars, John Wick, MonsterVerse and Doctor Who lore. He's aware he looks like Harry Potter and Clark Kent.
Your Daily Blend of Entertainment News
Thank you for signing up to CinemaBlend. You will receive a verification email shortly.
There was a problem. Please refresh the page and try again.