The Avatar Sequels' Titles May Have Been Revealed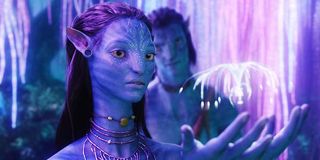 It's been nearly nine full years since Avatar was released in theaters and became the highest grossing movie of all time. In those following years, we were promised that director James Cameron's movie wouldn't be a one-and-done tale, but rather the first of an initially three, now five-movie franchise. None of these sequels' official titles have been revealed yet, but now there are some potential options that have been leaked to the public:
Thus far when speaking about the future Avatar installments, James Cameron and the cast have referred to them simply as Avatar 2, Avatar 3, Avatar 4 and Avatar 5. Naturally no one following the development of these movies expects them to be called that, but as is often the case with highly-anticipated blockbusters, secrecy is important,including with titles.
However, BBC claims to have seen documentation regarding plans for the Avatar franchise that makes reference to the four projects named above. The report also notes that while all of these projects refer to Avatar installments, it's unclear if 'Avatar' will be kept in the titles or be removed.
For now, it's worth taking a grain of salt with these Avatar sequel titles. I doubt that James Cameron hasn't figured out yet what these follow-up movies will be called, but we have no indication yet when he or 20th Century Fox will officially announce them, whether it's one by one or in a bundle. Nevertheless, these are some intriguing options, particularly the first one.
Avatar: The Way of Water plays on one of the few things we know about Avatar 2: that it's going to explore the oceans of Pandora, the setting of these movies. James Cameron has been wanting to explore Pandora's underwater realm for a long time, as he said shortly after Avatar's release:
To that end, rather than simulate underwater scenes, James Cameron and the Avatar 2 crew actually shot motion capture scenes underwater, adding a little bit of realism to that fantastical story. So for Avatar 2's title to call attention to the fact that these characters will be spending some of their time in the ocean(s) during the sequel would make perfect sense.
Avatar: The Quest for Eywa is also particularly intriguing, as it refers to the goddess that the Na'vi worship who keeps Pandora's ecosystem in perfect equilibrium. If The Quest for Eywa is Avatar 5's title, it would be pretty cool if the final chapter of this franchise saw the protagonists seeking out Eywa and discover her true form.
As for the other two Avatar titles, it's harder to analyze them. The Tulkun Rider presumably refers to an individual riding an animal we haven't seen on Pandora yet, and The Seed Bearer is much vaguer, as we don't know if this seed is literal or metaphorical (I'm guessing the former given the importance of nature in Avatar).
While it will be a long time before we learn what the last three Avatar movies are about, at least some of the Avatar 2 picture has been pieced together. As mentioned earlier, the sequel will be partly set underwater, and James Cameron revealed that Kate Winslet's character is Ronal, one of the reef people of the Metkayina. This is Winslet and Cameron's first collaboration since 1997's Titanic.
Of course, the main protagonists of Avatar were Sam Worthington's Jake Sully and Zoe Saldana's Neytiri, and they'll still be front and center for the Avatar sequels. However, just like in real life, approximately a decade will have passed between Avatar and Avatar 2, and now the couple have three children: Neteyam (Jamie Flatters), Lo'ak (Britain Dalton) and Tuk (Trinity Bliss).
CCH Pounder, Giovanni Ribisi, Joel David Moore, Dileep Rao are also all confirmed to be reprising their respective Avatar roles, while the new faces in one of more of these sequels include Cliff Curtis, Oona Chaplin, David Thewlis, Bailey Bass, Fillip Geljo, Duane Evans Jr. and Jack Champion.
I'd be remiss if I also didn't mention that Sigourney Weaver, Stephen Lang and Matt Gerald will all be back for the Avatar sequels, despite the fact that their characters died in Avatar. Weaver has said that rather than reprise Dr. Grace Augustine, she's playing someone different, while Lang and Gerald haven't providing any details about how Miles Quaritch and Lyle Wainfleet are being brought back into the fold.
Both Avatar 2 and Avatar 3 began principal photography on August 15, 2017, and back in May, Zoe Saldana said that filming was "kind of only halfway done," so there's still a long way to go on these projects. One they're completed, production on Avatar 4 and Avatar 5 is expected to begin relatively soon after.
However, while those last two movies have gotten the green light, Cameron has also said that if Avatar 2 and Avatar 3 don't make enough money, we may not get fourth and fifth installments. So depending on how the next two installments perform at the box office, it's entirely possible that this franchise will end as a trilogy instead, thus tossing out two of those rumored titles. We'll have to wait and see what happens, but given that the first Avatar movie made over $2.7 billion, these sequels definitely have a lot to live up to on the commercial side of things.
Avatar 2 will be released in theaters on December 18, 2020, followed by Avatar 3 on December 17, 2021, Avatar 4 on December 20, 2024 and Avatar 5 on December 19, 2025. Stay tuned to CinemaBlend for continuing coverage on the franchise, but in the meantime, you can fill out your moviegoing schedule over the next year accordingly by looking through our 2018 and 2019 release schedules.
Your Daily Blend of Entertainment News
Connoisseur of Marvel, DC, Star Wars, John Wick, MonsterVerse and Doctor Who lore. He's aware he looks like Harry Potter and Clark Kent.