Move Over Star Wars, Epcot Is Also Getting A Ton Of New Stuff At Walt Disney World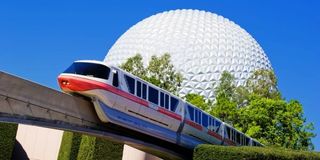 (Image credit: Image Courtesy WDWNews.com/Disney)
2019 is a big year for Walt Disney World because Star Wars: Galaxy's Edge is finally opening, but that's hardly the only new thing on the horizon. Galaxy's Edge is happening at Disney's Hollywood Studios after all, and there are three other theme parks at Walt Disney World that need to be taken into consideration. It turns out that Epcot has a lot of new stuff planned as well and while it might not have the Star Wars name attached, these new attractions are big on their own. Now we know what's coming to Future World and the World Showcase in the next year and beyond.
Disney's Hollywood Studios has been undergoing a major transition in the last few years as it moves away from its original design as a theme park about making movies to one that puts you inside the movies. The recent addition of Toy Story Land and the forthcoming Star Wars: Galaxy's Edge are examples of this change. Epcot itself has been undergoing something of a transition itself. Originally envisioned as a sort of permanent World's Fair, with part of the park dedicated to technology and futurism, particular passions of Walt Disney, and the rest given over to a series of pavilions dedicated to different countries in the world.
Much of the "Disney-ness" of the Magic Kingdom was lacking in Epcot's original design, an intentional decision, but over the years that has begun to change. Those who don't care for this particular change have begun to dub to the park IPcot, as Disney's various I.P.s begin to take up a larger and larger portion of the park.
That certainly won't be changing anytime soon. At Disney's recent Destination D Event, more details were given about the previously announced Ratatouille attraction which is set to open in the France Pavilion in 2020. Remy's Ratatouille Adventure is the official name of the experience, and it was confirmed that the ride will be "patterned after" the Ratatouille-themed attraction currently found at Disneyland Paris. That ride is a combination of a trackless dark ride and a 3D experience that sees guests "shrunk down" to the size of rats, where they follow Remy and his friends throughout Gusteau's Restaurant.
The fact that the ride is being described as being "patterned after" could indicate that the Epcot version of the attraction won't be an exact duplicate and might see some incremental changes, including improvements in the technology since the Disneyland Paris attraction was installed back in 2014.
However, the Ratatouille attraction won't be the only new thing coming to the France Pavillion, as a Beauty and the Beast themed sing-a-long experience has also been confirmed. Few details on this were revealed, so it's unclear if the focus will be on the live-action or original animated version of the story. Don Hahn was revealed to be producing the project, but as he produced both versions of the film for Disney, that news is no help in nailing down the plan. Exactly when this new attraction will open is also up in the air, though everything that Disney parks Chairman Bob Chapek discussed at the Destination D Event was looking at 2020 or earlier, so that's a safe bet here.
At least one upcoming Epcot event is a little closer to becoming a reality. It was recently announced that the long-running Illuminations: Reflections of Earth nighttime show at Epcot would finally be retired. That will take place in the fall of 2019. Replacing it will be a new show entitled Epcot Forever, which will include classic Epcot music, fireworks, lasers, and special effects kites.
However, if that sounds like a show you'd like to see, you'll only have a limited time to check it out, as it seems Epcot Forever is intended to only act as a stopgap show in between Illuminations and a brand new massive nighttime show which (via Yahoo) will celebrate how Disney music inspires people all over the world. The show will include new fireworks, lights, floats, custom LED panels, pyrotechnics and more.
Of course, all of this is in addition to the brand new Guardians of the Galaxy roller coaster that is also planned for Epcot in the space formerly occupied by Ellen's Energy Adventure. We did learn a few new things about that attraction as well, as it will use a brand new roller coaster car design that will actually see the cars rotate in place in order to focus the rider's attention on the story being told. That ride will open by 2021, in time for the 50th anniversary of Walt Disney World.
We're also expecting a brand new Epcot Restaurant, thought that one has reportedly been having some design problems.
Somewhere in the middle of all of this new stuff, we'll also see a major ride close down for a while, as it has been reported that the iconic Spaceship Earth attraction is planning to close down sometime in 2020 for a major overhaul that is could take more than two years to complete. If it happens on the reported schedule, the ride will be closed for Walt Disney World's 50th birthday but should be back up and running in time for Epcot's 40th birthday in 2022.
Epcot is probably my favorite place to just hang out at Walt Disney World. Mostly I just like to eat food in all the restaurants in World Showcase, but there's something pleasant about the entire atmosphere of Epcot. In general, I don't mind the themed attractions making their way into the park. While I miss Maelstrom as much as anybody, Frozen Ever After is a good ride in its own right and its existence doesn't take away from the Norway Pavillion on the whole.
Originally, Epcot was Walt Disney's plan to build an actual city, the Experimental Prototype Community of Tomorrow. While he died before the idea could ever become a reality, there's a piece of that dream alive in the name of Epcot as well as Future World's focus on the world of tomorrow. At the same time, Walt Disney never wanted to see his parks become museums, and so, things change.
New attractions are always fun and Epcot will have it's share of new fun over the next few years as these various projects are completed. Which one are you looking forward to most? Let us know in the poll below.
Image Courtesy WDWNews.com/Disney
This poll is no longer available.
Your Daily Blend of Entertainment News
Content Producer/Theme Park Beat
CinemaBlend's resident theme park junkie and amateur Disney historian. Armchair Imagineer. Epcot Stan. Future Club 33 Member.
Your Daily Blend of Entertainment News
Thank you for signing up to CinemaBlend. You will receive a verification email shortly.
There was a problem. Please refresh the page and try again.