A Major Disney World Attraction Is Closing For More Than Two Years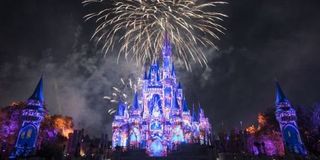 Walt Disney World attractions need to close for refurbishment on a regular basis, but one iconic ride is about close for a quite extended period. Epcot's iconic geodesic dome, which houses the attraction Spaceship Earth, is scheduled to close down in early 2020 and it won't reopen for more than two years.
Spaceship Earth is a dark ride which essentially tells the story of human history and the changing ways in which people have communicated and passed on information. From cave paintings and Egyptian hieroglyphics to the printing press, the industrial revolution, on to the invention of the home computer, nearly every major advancement is covered via the use of audio-animatronic dioramas, with a voice-over narration currently performed by Judi Dench.
Spaceship Earth has undergone several major refurbishments since it opened along with Epcot in 1982. However, generally, the attraction hasn't been closed for more than a few months at a time.
The massive remodel is scheduled to be completed in the latter half of 2022, as part of the 40th anniversary of Epcot. However, when that happens, what we'll see inside Spaceship Earth will apparently be a significantly updated ride. It looks like the update will be practically tearing the ride down to the studs, as the ride track itself is in need of a complete replacement. According to Walt Disney World News Today, the overall ride length will also be extended, which may necessitate the relocation of both the loading and unloading zones of the ride. Every diorama segment up to the Industrial Revolution is expected to get a significant refurbishment, while much that comes after that point is expected to be completely replaced.
One of the problems that comes with telling a chronological story, and telling that story for nearly 40 years, is that eventually, you get a bit out of date. Such has been the problem with Spaceship Earth more than once over the years. It's been about a decade since the last major update, which added a segment that shows a man in a garage building an early personal computer. While the internet certainly existed then, it wasn't what it is now, and the ride basically doesn't deal with it. Clearly, this needs to be fixed.
There's a good chance we'll get an entirely new narration with a new celebrity voice as well. In addition to Judi Dench, we've heard Jeremy Irons and Walter Cronkite also tell the story.
The Spaceship Earth overhaul is part of a larger plan to update the entire Future World section of Epcot so that it feels a bit more timeless and that the part of the park dedicated to the future doesn't feel so out of date in the actual future.
While this update is expected to be done in time for one anniversary, the 40th birthday of Epcot, it means the ride won't be around for another major milestone event, the 50th anniversary of Walt Disney World itself, which will happen in 2021.
The dome itself won't be completely unused during the downtime. It will reportedly be outfitted with projection mapping, potentially making the dome a major spectacle at night as well as during the day.
I'm not sure how many people will really be heartbroken to lose the Spaceship Earth attraction for an extended period. For many, what's important about the ride is the dome that houses it, and it's not going anywhere. If you are going to miss the ride, you've got a little over a year left to check out the existing version before it goes dark and comes back as something new.
Images courtesy WDWNews.com/Disney
Your Daily Blend of Entertainment News
Content Producer/Theme Park Beat
CinemaBlend's resident theme park junkie and amateur Disney historian. Armchair Imagineer. Epcot Stan. Future Club 33 Member.