Bohemian Rhapsody Has Now Made More Than Every Single Other Musical Biopic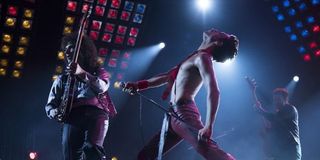 The Freddie Mercury biopic Bohemian Rhapsody has been an unstoppable force at the box office. On the strength of an impressive lead performance by Rami Malek as Mercury, the film has continued to be a box office success since its release in early November, and now the movie has become the most successful musical biopic ever at the North American box office.
Bohemian Rhapsody had already blown all musical biopics out of the water internationally, likely due to the global appeal that comes from a band like Queen. However, domestically, there was one, somewhat uniquely American biopic that had stood in the way of the complete domination of Rhapsody. N.W.A. biopic Straight Outta Compton had been the domestic record holder previously, but now, as reported by the Independent the Queen movie has taken that record as well.
While Bohemian Rhapsody only won its initial box office weekend, the movie has had remarkable staying power and hasn't left the domestic since its release. Even this past weekend, it's seventh overall, it was only in seventh place, where it outperformed several movies that haven't been in theaters nearly as long. In fact, you'll have to go all the way to 16th place to find a movie that's been in theaters longer than Bohemian Rhapsody.
Clearly, this movie has been a hit with fans. While many critics have found the movie to be little more than a surface level look at the life of Queen and its frontman Freddie Mercury, there's little argument that the movie has some impressive musical moments that carry the audience through. Since that's certainly what a lot of people are going to be looking for when they sit down to watch a movie like Bohemian Rhapsody, it's not all that shocking that the movie has been a big deal.
And now that Bohemian Rhapsody has been nominated for a couple major Golden Globe awards, including Best Picture and a Best Actor nomination for Rami Malek, there's a good chance that any who still haven't seen the movie may jump in to check it out. The Golden Globes are often a stepping stone to the Academy Awards so there's always the possibility that Rhapsody could end up getting that critical acclaim that it didn't receive from initial critics.
It will be interesting to see how Bohemian Rhapsody holds up in the coming week. It would be one thing if we were getting one potential blockbuster out this weekend, but over the course of the next few days, we're getting three. Mary Poppins Returns, Bumblebee and Aquaman are all hitting theaters by Friday and those three movies will probably, finally, knock Bohemian Rhapsody out of the domestic top ten.
Still, it's been a really impressive run and one that it will be difficult for the next musical biopic to come along and outdo.
CinemaBlend's resident theme park junkie and amateur Disney historian. Armchair Imagineer. Epcot Stan. Future Club 33 Member.
Your Daily Blend of Entertainment News
Thank you for signing up to CinemaBlend. You will receive a verification email shortly.
There was a problem. Please refresh the page and try again.