The Top 10 Movies Of 2018, According To Eric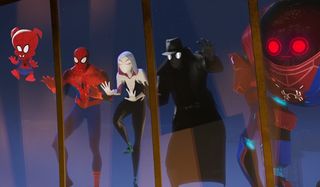 SPOILER WARNING: Some of the sections on this list contain light spoilers for the respective movies they are about. Be careful as you read!
While I typically get to see between 120 and 130 new releases in a single year, 2018 was a bit different. Going a bit above and beyond, going into writing this list I've seen over 150 movies that arrived for our viewing pleasure in the last 12 months. It was great, as I got to see a huge variety of films - the great, the terrible, and the odd - but there is one drawback: it made putting this Top 10 list an extra challenge to assemble.
The reality is that I saw a lot more good films than bad in the last year, and while not every one of them are Top 10 worthy, a shocking number of them actually are. As such, I struggled a bit to put this list together, and I'm sure I'll look at it in the future and think that I should have flipped some of the rankings (as I do every single year). That being said, I do feel strongly that the titles mentioned below definitely do represent the best of the best from 2018, so scroll down, check out my picks, and if there are some you haven't seen, I highly recommend giving them a shot!
10. The Favourite
Yorgos Lanthimos is a director who has fascinated me since the first minute I was introduced to his particular style. His 2009 feature Dogtooth is an excellent, unique, sci-fi/drama, creating its own language and small-scale world, and since then the work I've seen has illustrated his awesome command over a tone able to deliver viciousness with a certain oddball sensibility. The Favourite is a new venture for the filmmaker in the sense that it's his first movie not based on his own screenplay, but what makes it excel is the mix of his effecting style and three brilliant, commanding performances.
Your own personal tastes are definitely going to apply, as the comedy goes to some impressively dark places, but those who can appreciate the mean-spiritedness at the core will love to sink their teeth into the intense, quiet feud between Lady Sarah (Rachel Weisz) and Abigail (Emma Stone) for the favor of the miserable and often hostile Queen Anne (Olivia Colman). All three actresses are wonderful and intense, the spitting of passive-aggressiveness utterly captivating, and what only accentuates down dirty terribleness of it all is the stunning and immaculate period regal dressings.
Read my full review here.
9. Deadpool 2
While there was some industry concern in the early months of 2018 about Deadpool being a flash in the pan, I never had any apprehension at all about Deadpool 2. More than just being a super fan of the character, I watched the first movie back in 2016 and immediately recognized that the core creative team of Ryan Reynolds, Rhett Reese, and Paul Wernick perfectly understand the Merc With The Mouth, and as long as they were running the show things would be fine. Needless to say, I was elated back in May when I got to see the sequel and had my expectations fully met.
Not only is Ryan Reynolds back at the top of his game here, but the film introduces the first live-action versions of two more beloved comic book heroes (Josh Brolin's Cable and Zazie Beetz's Domino), and incorporates them perfectly to accent everything that's great about them. Director David Leitch ups the game in the action department, building sequences that are a perfect blend of weird, grotesque, and glorious, and even with so much focus on the laughs there is still a legitimately emotional arc built in for the eponymous anti-hero.
8. A Quiet Place
It's always delightful to be surprised by a well-established and talented artist. Just when you think you know where their head is at, suddenly they go right when you think they're going to go left, and all you can do is smile, clap, and cheer. Two years ago we saw a perfect example of this with Jordan Peele's directorial debut, Get Out, and now John Krasinski has pulled a similarly brilliant move with A Quiet Place. And while it's not his first venture behind the camera, the horror genre is new territory for the filmmaker, and he struck gold with one swing of the pick axe.
The premise is not an easy one to execute, as by its nature it has to keep all exposition to an extreme minimum, but that just makes the film all the more impressive, as Krasinski makes all the right moves every step of the way. Because of the prominence of sound in the story, A Quiet Place is an amazing sensory experience, and it's impressive how that is perfectly orchestrated within its genre storytelling. Audiences are always being scared by sudden, loud sounds, and this is a movie built to essentially exploit that. It could be cheap, but it definitely isn't, and with tremendous creativity and style it culminates as something special.
7. BlackKklansman
There aren't many films that can be sold on just five words, but Spike Lee's BlackKklansman is one of them -- with those five words being "Black detective infiltrates the Ku Klux Klan." It's the perfect example of stranger than fiction storytelling, and it absolutely lives up to everything that the idea suggests, while also having some extreme resonance being released in the current political atmosphere.
The film is perhaps the weirdest buddy cop movie based on a true story ever made, adapted from the book written by the man who lived it: Ron Stallworth (played by John David Washington). While Ron communicated with the KKK over the phone, his Jewish partner, Flip Zimmerman (Adam Driver), represented him in person, and it was a ruse that went so far as to get them in a room with the leader of the terrorist organization, David Duke (Topher Grace). It's a wild if not ridiculous story that Spike Lee navigates with expert tonal command - leaving you howling with laughter one moment, and in wide-eyed shock the next. It also has what is arguably the most effecting ending of any film in 2018, acknowledging that the issues being dealt with in the 1970s are very much still part of our world today.
6. Avengers: Infinity War
As the Marvel Cinematic Universe continues to grow, surely so must the creative difficulties behind the scenes. After all, this is a franchise that not only has to deal with increasingly complex continuity and constant expansion with new characters, but also has to perform to the level of expectations that have been established over the last 10 years. On paper that seems like a mission waiting to be declared impossible, but the magic of Marvel Studios is that they keep making it look so damn easy -- and is perfectly exemplified by Avengers: Infinity War.
Under any other circumstance we would never ever see a film with nearly two dozen heroes battling an ultra-powerful cosmic threat, but the MCU allowed exactly that to take form, and it's absolutely mind-boggling how well it all works. Writers Christopher Markus and Stephen McFeely and directors Joe and Anthony Russo have proven to be an awesome foursome, and pack the blockbuster with absolutely everything: thrills, romance, drama, comedy, and devastating tragedy. Josh Brolin, entering the world of performance capture for the first time as Thanos, immediately establishes himself as one of the great comic book movie villains of all time, and the intense anticipation for the next chapter of his story is immeasurable.
Read my full review here.
5. The Other Side Of The Wind
The lengths that Orson Welles' The Other Side Of The Wind had to go though in order to be completed are extraordinary. Chronicled in the Morgan Neville documentary They'll Love Me When I'm Dead (which is recommended prior viewing), the story of the production is ridiculous, with filming and reshoots taking place over the course of many years; financing falling through multiple times; and even a situation where footage was locked away in a vault and left inaccessible. For decades it existed not so much as a movie as much as an idea of a movie, so the fact that Filip Jan Rymsza, Frank Marshall, and Jens Koethner Kaul were able to assemble the film as phenomenally as they did equates to a minor miracle.
While Orson Welles never would have admitted it, the movie is essentially about himself and his return to filmmaking in America after the studio dismissal of Touch Of Evil, and it's a bizarre and incredible meta ride that serves as a fascinating look into the one of the greatest cinematic minds of all time. It's an inside baseball experience -- chronicling the downward spiral of an eccentric director (John Huston), his comeback film is on the verge of collapse, as he celebrates his birthday with a huge party -- and it's also intentionally chaotic in its presentation and narrative. But how it coalesces is a truly a gift to cinephiles everywhere.
4. Vice
Because Adam McKay used to primarily focus on making silly comedies, most people did not recognize the full breadth of his talent as a filmmaker -- even as he was deftly stringing improvised sequences together, or orchestrating funny or complex action. That era, however, is over. The writer/director made huge waves when he helmed an adaptation of Michael Lewis' The Big Short, and while he never lost his comedic sensibility-led touch, taking on more serious material "legitimized" him, and opened people's eyes to his skills. Now McKay has delivered Vice to those wide-opened eyes, and very much solidified that he is the real deal.
The story of Former Vice President Dick Cheney is brought to life with some stunning, transformative performances from Christian Bale, Amy Adams, Steve Carell, and Sam Rockwell, but it's Adam McKay's approach that is the true star of the show. It's an expose; it's a highlight reel; and it's an education about the long life of one of the most significant figures in recent history, and the writer/director orchestrates it all with cleverness, sharp wit, and bite that makes it entertaining all the way through.
Read my full review here.
3. Annihilation
Alex Garland is unquestionably one of the great sci-fi storytellers of modern cinema. He first came to the medium as a novelist adapting his own work (Danny Boyle's The Beach), but in the years since has left an indelible mark with his scripts for 28 Days Later and Sunshine, as well as his 2014 directorial debut Ex Machina. Heady, freaky material is what we've come to expect from his work, and he delivered heaps of it earlier this year with the outstanding Annihilation.
Based on the book of the same name by Jeff VanderMeer, it's the story of a team of female scientists brought together to investigate a mysterious phenomenon called The Shimmer, and what's discovered is an extreme mix of beauty and horror. The performances by the amazing ensemble, including Natalie Portman, Tessa Thompson, Gina Rodriguez, Tuva Novotny, Jennifer Jason Leigh, and Oscar Isaac, are all gripping and powerful. It's not only a film that needs to be viewed multiple times in order to grasp all the particular and subtle details, but one that you will want to watch multiple times.
Read my full review here.
2. Spider-Man: Into The Spider-Verse
As reflected in this list, 2018 was astonishing for comic book movies. We not only got the magic of the aforementioned Avengers: Infinity War and Deadpool 2, but also awesome adventures like Black Panther (which came very close to making this list), Ant-Man And The Wasp, Teen Titans Go! To The Movies, and Aquaman. The strength of those titles alone would have established this as a banner year for the genre, but Bob Persichetti, Peter Ramsey, and Rodney Rothman's Spider-Man: Into The Spider-Verse is the breathtaking cherry on top.
Though we've seen a lot of the web-slinging hero on the big screen in the last 16 years, this is an experience unlike anything fans have ever seen -- and not only because it's telling the story of Miles Morales (Shameik Moore) instead of Peter Parker. It's a wild, often weird, and brilliantly adventurous tale with immense heart at the core of it, vividly packaged with stunning style. The name "Spider-Man" has been associated with many adjectives over the last half-century-plus, including "Amazing," "Spectacular," "Superior," and "Sensational," and all of those can be applied to Spider-Man: Into The Spider-Verse as well.
Read my full review here.
1. Suspiria
Going into Luca Guadagnino's Suspiria, I didn't really know what to expect. I definitely had appreciation for the Dario Argento-directed original, but the buzz I had heard about it was decidedly mixed. Ultimately, my mind was wide open to everything that the horror film had to offer, and when the lights went up in the theater I was left speechless with one definitive thought running through my head: That's the best movie I've seen this year.
That was back in September, and my opinion has not changed. Suspiria is a film built thematically on reconciliation with the past in order to move into the future, but with outrageous and gorgeous style that both captivates and horrifies. It's dreamlike in its aesthetic, accented with beautifully choreographed dance sequences and a floating Thom Yorke score, but with gripping moments of reality that plunge deeply and sharply like the witches' hooks. Dakota Johnson carves out a powerful turn as the seemingly nascent-yet-curious Susie Bannion, while Tilda Swinton is on another level disappearing into three different (and extreme) roles. It's epic in its scope, and throttling in its execution, and as a horror film cuts deeper than "scary." It's actually disturbing -- and I loved every second of it.
Read my full review here.
NJ native who calls LA home; lives in a Dreamatorium. A decade-plus CinemaBlend veteran; endlessly enthusiastic about the career he's dreamt of since seventh grade.
Your Daily Blend of Entertainment News
Thank you for signing up to CinemaBlend. You will receive a verification email shortly.
There was a problem. Please refresh the page and try again.