It's A Good Day To Have Bruce Willis' Past Characters Just Die Already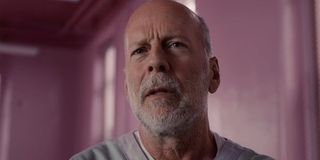 (Image credit: (Universal))
Bruce Willis has been in a few of the most iconic movies of all time. So why do I forget about that every time he reprises one of his famed roles? Not every actor wants to or gets a chance to put on their old acting shoes and play a beloved character again. Bruce Willis has had numerous chances to and been quick to take them... but he's not exactly running with them.
It just happened last weekend with the release of M. Night Shyamalan's sequel to Unbreakable, Glass. The original film, which came out 19 years ago, centers around Bruce Willis' character David Dunn, an everyman who is the sole survivor of a train wreck who finds out he has superpowers and that Mr. Glass (Samuel L. Jackson) is the villain in his comic book-y hero's journey.
Bruce Willis' return to a Shyamalan movie could have been (should have been?) a big deal, but the actor gave the most unforgettable, stone cold performance in Glass. He was completely overshadowed by James McAvoy's "Horde" of 20 personalities (though the character has 24 total), Samuel L. Jackson's Mr. Glass (who was catatonic for the first half of the movie, by the way), newcomer Sarah Paulson, and the rest of the supporting cast, including Anya Taylor-Joy and Spencer Treat Clark.
Bruce Willis' David Dunn is absolutely key to M. Night Shyamalan's trilogy. Without the character, Mr. Glass wouldn't believe in his abilities and fans wouldn't have been clued into Split's connection to the universe. His character just kind of muddles into a puddle and allows the audience to care a lot less about one of the most intriguing roles of his past work.
It's a bit odd, isn't it? Bruce Willis has had some electric onscreen moments, most famously with his breakout hit Die Hard in 1988. Come on, we're even still defending whether it's a Christmas movie 30 years later, and the film had a undeniable impact on action flicks of today. Bruce Willis deserves a lot of credit for his work in it too. He delivered some potentially quite cheesy lines gracefully and while being simultaneously badass and charismatic.
When he reprised the role of McClane in the '90s with Die Hard 2 and Die Hard with a Vengeance, it was welcomed... even Live Free or Die Hard was passable, but Mr. McClane should have died before 2013's A Good Day to Die Hard. It was the kind of film that made us forget why we idolized John McClane in the first place as the unique and fun action hero he himself convinced us to believe in.
And it's not over yet. There is reportedly another Die Hard movie in the works titled McClane, with The Conjuring writers, Chad and Carey Hayes, attached to pen the script. Last we heard, it will be a prequel/sequel hybrid with a young John McClane story being told with a different actor as Bruce Willis reprises his role in the present day as well. Ok, I know it's easy to find the excitement, but we've been burned before -- let's just move on together from John McClane and appreciate the movie's Bruce Willis has already made with the character.
I'd like to know what keeps happening. Why does Bruce Willis seem so utterly bored when he relives his yesteryears? It's what the people want, right? If it's what he wants, it doesn't seem like it. Here's a theory: maybe Bruce Willis despises the trend of constant reboot, remake, sequel trend so much that he takes the active approach to star in them to help burn them to the ground? While this would be admirable, the proper answer is just to say "no" -- I don't think they would have done them without him.
What's worse is the actor also keeps starring in cheap knock-offs of his action hero archetype over and over, which is more often becoming this bored and uninteresting guy with a gun and a couple catchy lines to say. Oh Bruce, he once had so much more to give! He explored comedy with a memorable guest star on Friends and alongside the show's Chandler (Matthew Perry) in The Whole Nine Yards and The Whole Ten Yards. His work with Shyamalan also opened him up to some interesting dramatic roles, that lead to war dramas Hart's War and Tears of the Sun.
He worked with some immensely talented directors too, like Quentin Tarantino in Pulp Fiction and, more recently, Wes Anderson in Moonrise Kingdom and Star Wars: The Last Jedi's Rian Johnson in Looper. There's a lot of potential here for the action star to move on from what he's so obviously bored with and show some creativity (life?) on screen.
Despite some mixed reviews across the board, so far Glass is a success money-wise. The film only had a $20 million budget and has already made over $100 million worldwide less than a week in. It could have marked a bit of a comeback for Bruce Willis for the mainstream audiences, but concerning the execution of his character, I'm sure even the biggest fan of Glass would consider his return a big 'ol yawn.
Was this due to M. Night Shyamalan's script? I don't think so. We've seen it too many times from Bruce Willis for it be solely the writer/director's fault. Let Glass be the last shard of, well, glass in Willis' returns to his characters. I don't want to see a Fifth Element sequel. Kindly leave Korben Dallas in the good fun of the original. I don't want to see an origin "angel" story or sequel for Sixth Sense starring Willis. It's great as it is.
Glass and recent John McClane endeavors prove (oh, and his short return as Hartigan in Sin City: A Dame to Kill For, see I forgot another one) it's time for Bruce Willis' old characters to die hard. Just let them be. I would however love to see Bruce Willis take on a new iconic character someday.
Your Daily Blend of Entertainment News
YA genre tribute. Horror May Queen. Word webslinger. All her writing should be read in Sarah Connor's Terminator 2 voice over.