Glass Box Office: The Superhero Movie Wins Again During Dismal Weekend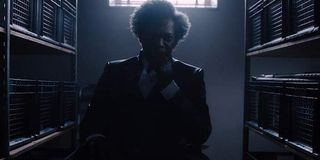 With the exception of a few significant surprises in recent years, January-February has never been known as a big blockbuster season. In fact, it's reputation instead has always been as a dumping ground - a period of time when studios put out titles that are either poor in quality, or would fail to garner any significant attention at any other point in the year. That being said, looking at this week's numbers... oof. Hollywood seriously took one on the chin the past three days, as not a single film in theaters right now managed to make more than seven figures. Check out the full Top 10 below, and join me after for analysis!
This is now the third week in a row that M. Night Shyamalan's Glass has worn the box office crown, but there is very little to be proud of here. Of all the films in the Top 10 it had by far the steepest drop - down about 50 percent from last week - and it only managed to beat Neil Burger's The Upside by less than a million dollars (it being in its fourth week of release, and only dropping about 26 percent from last time around).
There is no question that the conclusion of the Eastrail 177 Trilogy is making money, but that doesn't mean there are a bunch of positive adjectives to be thrown around here. On a weekend like this, it basically won because there really wasn't much else to see.
As you can see, Glass should break $90 million in the next couple of days, but it's also getting ready to head past another significant benchmark internationally. More than 55 percent of the movie's grosses have been coming in from foreign markets, and that's resulted in a worldwide gross to date of $199 million.That's pretty damn good for a movie that was only made for a reported $20 million before marketing, but strangely enough the film still has a long way to go before it's rising in the franchise ranking from a global perspective.
Not only was 2017's Split able to make $278.5 million before it was done with its theatrical run, but Unbreakable made $248.1 million back in 2000. The new film should be able to top the first film in the series from a domestic point of view, as it's now only $7 million away, but overall it will likely be seen as the the least successful in the pack.
Glass will be able to hang its hat on being the first movie of 2019 to three-peat as box office king, but its reign will be ending this weekend. How fast it will fall as we get deeper into February, however, is an open-ended question.
There was only one new wide release in theaters this past weekend - Catherine Hardwicke's Miss Bala - and obviously things didn't exactly go well for the film. The Sony release was reportedly made for an even smaller budget than Glass, about $15 million,, but that further emphasizes how weak this opening was (studios usually want their movies to make back more than a third of their costs in their opening weekend). CinemaScore apparently didn't do surveys for the thriller, so we don't have an entirely clear picture of how audiences reacted to the title, but what we do know is that professional critics were not fans. Only a little more than one in four writers gave it a positive grade, resulting in a 26% on Rotten Tomatoes.
With a proper push this could have been the film to take M. Night Shyamalan off of the box office top spot, but instead it had to settle for a depressing third place finish.
The one sorta silver lining this week is not a wide release, or even a new release, but instead the return of the Peter Jackson documentary They Shall Not Grow Old. The film - which features colorized and transformed World War I footage - got a very small but acclaimed release back in December, and the buzz and chatter that it generated resulted in a second wider release this past weekend. It didn't exactly crush, obviously, arriving in 10th place, but that's still pretty amazing for what the movie is. It's now made more than $10 million, which is enough to make it rank 30th on the all time documentary box office list.
This was clearly a piss poor week for Hollywood, but things should bounce back in a huge way over the next couple of weeks. This upcoming weekend, for example, has a quadruple punch hitting theaters, with the animated antics of The LEGO Movie 2: The Second Part; a nice bit of horror with The Prodigy; Taraji P. Henson reading minds in What Men Want; and Liam Neeson killing people again in Cold Pursuit. All four of these titles should do a nice job shaking up the Top 10, so be sure to come back next week to see how it all turns out.
Your Daily Blend of Entertainment News
Assistant Managing Editor
NJ native who calls LA home and lives in a Dreamatorium. A decade-plus CinemaBlend veteran who is endlessly enthusiastic about the career he's dreamt of since seventh grade.
Your Daily Blend of Entertainment News
Thank you for signing up to CinemaBlend. You will receive a verification email shortly.
There was a problem. Please refresh the page and try again.