Guardians Of The Galaxy's Real-Life Rocket Raccoon Has Died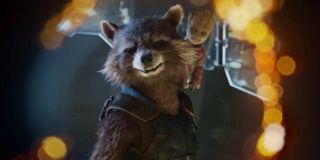 It's a sad day for Marvel fans as a little known, but important, part of the Guardians of the Galaxy family has been lost. Yesterday it was revealed that Oreo, the real life raccoon behind Guadians' Rocket, had passed away. Oreo was used a physical model when designing the CGI character of Rocket and even got to attend the premiere of the first Guardians of the Galaxy movie.
If you've ever seen that picture of director James Gunn with a raccoon on his shoulder from the Guardians of the Galaxy red carpet, that was Oreo. The 10-year-old raccoon had been suffering from a short illness but apparently went peacefully. The news was revealed on Facebook by Quinta Layla, one of Oreo's owners
With the growing popularity of CGI characters it's easy to forget the people behind them. In addition to the voice, and occasionally the person that stands in, there are numerous digital effects people creating the character. In the case of Rocket however, there was one more important player, as the FX team didn't simply look at pictures of raccoons when designing Rocket, but actually based the character on this one specific animal. Oreo is as much a part of Rocket as Bradley Cooper.
While it's sad that Oreo is gone, he had a pretty good life. Living for nearly a decade is an extremely long life for a raccoon as they often don't life more than two to three years in the wild.
Of course, the future of the character that Oreo inspired has a somewhat questionable future as well. While recent comments from Chris Pratt have seemed to confirm that Guardians of the Galaxy Vol. 3 does indeed have a script, as it will use the one written by James Gunn, the movie has yet to find a replacement for Gunn in the director's chair and that means the movie remains on hold. It was expected to be the first Marvel Cinematic Universe film of 2020 and now, with Marvel's held release date of May 2020 still sitting empty, it's unclear what movie, Guardians of the Galaxy or otherwise, we'll be seeing next year.
Something will need to be going into production soon in order to hit that date. It sounds like the Black Widow movie might be the closest MCU film to being ready to role, but other known projects include sequels to Black Panther and Doctor Strange, so either of them could end up in that slot.
Whatever happens to the Guardians as a whole, we know we'll be seeing Rocket at least once more, as he was the only member of that team to survive Avengers: Infinity War, meaning we'll see him again when Endgame arrives later this year.
Your Daily Blend of Entertainment News
Content Producer/Theme Park Beat
CinemaBlend's resident theme park junkie and amateur Disney historian. Armchair Imagineer. Epcot Stan. Future Club 33 Member.
Your Daily Blend of Entertainment News
Thank you for signing up to CinemaBlend. You will receive a verification email shortly.
There was a problem. Please refresh the page and try again.