This Rotten Week: Predicting How To Train Your Dragon: The Hidden World Reviews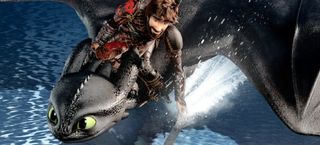 We've only got one movie on the docket this week, but it's the culmination of a lot of practice with a fictitious beast over the course of nearly a decade. Get ready for How to Train Your Dragon: The Hidden World.
Just remember, I'm not reviewing these movies, but rather predicting where they'll end up on the Tomatometer. Let's take a look at This Rotten Week has to offer.
Hiccup Horrendous Haddock III is back in How to Train Your Dragon: The Hidden World, the final installment in the tutorial on dragon training. This time he and Toothless travel to another world searching out an albino dragon hottie that could unlock all of the secrets of the dragons' past and future. It looks like a petty enticing setup.
This is the third title in the How to Train Your Dragon series, with the previous two features finishing with 98% and 92% scores respectively on Rotten Tomatoes. Both were helmed by Dean DeBlois, who got the opportunity to complete his trilogy by taking the helm of The Hidden World as well. It stands to reason that this new one will be just as good as its predecessors, and the early reviews already suggesting that will be the case. The Tomatometer is currently sitting at 96% with more than 70 write-ups of the film posted online. This one is falling right in line with the previous two movies, and I'm not predicting a lot of movement over the course of the week.
It was another successful week for the Rotten Watch last time around, with two of the three movies falling within range of the prediction. Robert Rodriguez's Alita: Battle Angel (Predicted: 59% Actual: 60%) didn't knock anyone's socks off, but it wasn't a disaster either from a critical perspective. This is the score you could kind of see coming from some of the earlier reviews and the way the tide was turning. It's something of a groundbreaking movie from a cinematic and visual perspective, but, according to critics, the story didn't exactly keep up the pace.
Meanwhile, Happy Death Day 2U (Predicted: 55% Actual: 67%) could very well end up a predictive win with a little more time and just two more negative reviews. That being said, the follow up to the slasher take on Groundhog Day once again landed with critics. It finished well into the "Fresh" realm, which is kind of shocking considering the premise. But that's what happens when you just make a solid movie.
Finally, Isn't it Romantic (Predicted: 67% Actual: 68%) was another near-direct hit. The rom-com send up finished well with critics, with writers generally enjoying the tongue-in-cheek approach to the typical romance narrative. Most agreed that Rebel Wilson carried the flick even through it's slower moments. It doesn't sound like it's a great film by any stretch, but it was warmly received overall.
Next time around we've got Greta and Tyler Perry's A Madea Family Funeral. It's gonna be a Rotten Week!
Your Daily Blend of Entertainment News
Doug began writing for CinemaBlend back when Terminator: The Sarah Connor Chronicles actually existed. Since then he's been writing This Rotten Week, predicting RottenTomatoes scores for movies you don't even remember for the better part of a decade. He can be found re-watching The Office for the infinity time.
Your Daily Blend of Entertainment News
Thank you for signing up to CinemaBlend. You will receive a verification email shortly.
There was a problem. Please refresh the page and try again.