Why Javier Bardem Is Excited About Joining Denis Villeneuve's Dune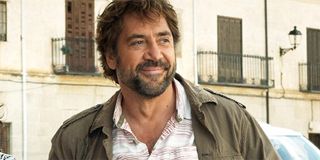 After years of preparation, director Denis Villeneuve is finally getting ready to get his adaptation of Frank Herbert's Dune into production, and in recent weeks he's been assembling a cast with some of the most talented stars in the industry. Certainly one of the standouts is Academy Award-winner Javier Bardem, set to play Stilgar in the film, and from an outside perspective he seems like a major get for the project. According to Bardem, however, this is a case where he feels the pleasure is really all his, as he is both a huge fan of the source material and the filmmaker bringing it to life:
Javier Bardem can currently be seen in select theaters starring opposite Penelope Cruz in the Asghar Farhadi drama Everybody Knows, and it was at the end of a conversation about that film this morning that I had the chance to ask the actor about his part in Dune. I inquired about his path to the project, and what led him to say yes, and he made it very clear that the whole thing is practically a dream and an opportunity he sees as a "blessing."
In Dune, Javier Bardem will have one of the most significant parts, as Stilgar has a key role in the story through his relationship with hero Paul Atreides (who will be played by Academy Award-nominee Timothee Chalamet). On the desert planet Arrakis, Stilgar is one of the main leaders of the indigenous people known as the Fremen, and it is because of his alliance with the Fremen that Paul is not only able to fight against the corrupt Emperor and the dangerous members of House Harkonnen, but fulfil his ultimate destiny as a messiah.
Despite Stilgar's importance to Dune, however, there is still some question how big his role will be in Denis Villeneuve's upcoming movie – purely because of the specific plan for the adaptation. Rather than trying to cover Frank Herbert's entire epic novel in a single blockbuster, the idea for this new take is that the book will be split in half, with the first film establishing the world and characters, and a sequel completing the plot. The reason this is significant is because while Stilgar does appear early the story, his presence is much more important in what will be Part 2.
Of course, this is only true if Denis Villeneuve's Dune is aiming to be a perfectly straight adaptation of the novel, which is not something that is known at this point. If the script plays around a bit with non-linear storytelling, which is something that the director has done many times, Stilgar's role in the first half could be just as important as any of the other key characters.
We won't have a full picture of what to expect until more details emerge – which will happen when we are closer to production – but for what it's worth it sounds like Javier Bardem is game to contribute to a version of Dune that is as faithful and honorable to the source material as possible. Talking about his personal history with the story, Bardem told me that he not only read Frank Herbert's first three books in the series – Dune, Dune Messiah, and Children of Dune – but also vividly remembers his experience as a teenager seeing director David Lynch's adaptation for the first time and loving it:
There is clearly going to be a lot of love for the material on the Dune set, and that just makes the project all that more exciting.
Sadly, as high as anticipation may be, we do still have quite a while before we get to see the end result, as Warner Bros. and Legendary Entertainment have planted a flag in a release date a year-and-a-half from now – specifically November 20, 2020. If you really need a Javier Bardem fix, however, as mentioned, you can see him now in Everybody Knows – and we'll have more about that particular film coming your way in the next few days here on CinemaBlend.
Your Daily Blend of Entertainment News
Assistant Managing Editor
NJ native who calls LA home and lives in a Dreamatorium. A decade-plus CinemaBlend veteran who is endlessly enthusiastic about the career he's dreamt of since seventh grade.
Your Daily Blend of Entertainment News
Thank you for signing up to CinemaBlend. You will receive a verification email shortly.
There was a problem. Please refresh the page and try again.