We Saw Early Terminator Footage, And Yes, Linda Hamilton Is Badass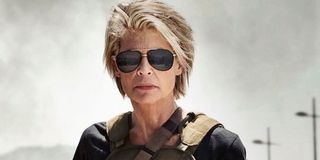 There's been a lot of talk about the new Terminator sequel and what it will be about. We know Tim Miller is helming the project, there are new cast members and original cast members Linda Hamilton and Arnold Schwarzenegger will be involved. We've also seen some images from the new movie, but there's a hell of a lot we don't know about Terminator: Dark Fate and at CinemaCon 2019 the lips of cast members like Linda Hamilton, Schwarzenegger and Mackenzie Davis were clamped tightly about plot points. Luckily, the Paramount footage people were not.
We got to see some original footage from Terminator: Dark Fate and while it focused a lot on the new characters, it also tied into nostalgia in a big way.
But first, here's what happened.
The footage starts on a bridge with an electric bubble that rips up the road and causes car crashes. Out of it drops Mackenzie Davis' Grace, who falls from the bridge, utterly naked, and ends up landing several floors off the bridge and down onto the ground hard. A couple making out sees the fall and rushes over, only for the police to show up and assume the naked Mackenzie Davis is in trouble.
Quickly, we see the scene portrayed from her own visual viewpoint, seeing some of what her terminator-like abilities are. She sizes up the police and takes them out, prompting the young couple to thank her for saving them. She says, "Don't thank me yet," before stealing the young man's clothes and the couples' car--seemingly a nod to Terminator.
Later, there's a scene we've touched on previously, in which and actress Natalia Reyes's character Dani Ramos are running from Gabriel Luna's new Terminator character, who is hellbent on attacking them. Just when things look dire and Mackenzie Davis tells the other young woman to run when they "start to kill her," Linda Hamilton shows up on the scene in a vehicle, whips out a gun and shoots before she asks any questions.
Even if you've never seen a Terminator movie before this scene would likely be enough to hook you.
Obviously, we've already seen early images of Linda Hamilton back as Sarah Conner, not to mention Arnold Schwarzenegger's return; however, seeing her in action was something different altogether. It moved director Tim Miller enough that he had some tears in his eyes on the stage and he shared with the audience that being brought in for Terminator: Dark Fate was a 'labor of love.'
So where does this nostalgia come in? Notably, at the very end of the lengthy preview, in which a cool as a cucumber Sarah Conner nonchalantly notes "I'll be back."
Paramount's presentation today is big on tying back to James Cameron's original Terminator movies. Tim Miller noted that when he spoke, but so did Arnold Schwarzenegger and Linda Hamilton. The former attributed his success and his catchphrases to Terminator while the latter said it would only have taken a special project to pull her back into the Terminator fold 30 years later.
Terminator: Dark Fate will be released into theaters on November 1. To find out what it'll be competing with at the box office, take a look at our full movie release schedule.
Your Daily Blend of Entertainment News
Reality TV fan with a pinch of Disney fairy dust thrown in. Theme park junkie. If you've created a rom-com I've probably watched it.
Your Daily Blend of Entertainment News
Thank you for signing up to CinemaBlend. You will receive a verification email shortly.
There was a problem. Please refresh the page and try again.