Shazam! Box Office: The DC Hit Repeats And Bests All Newcomers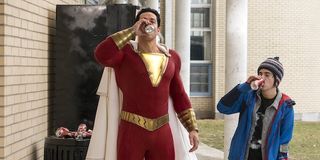 This weekend saw a big number of wide releases hit theaters in a broad variety of genres... but none of them had the power to take down the latest entry from the DC Extended Universe. David F. Sandberg's Shazam! premiered last week with numbers that exceeded expectations, and this time around the film managed to stay at the number one spot courtesy of a modest drop and a general lack of interest in anything new. You can check out the full Top 10 below, and join me after for analysis!
Despite the fact that there were four new wide releases competing for attention, Warner Bros. felt enough confidence in Shazam! to add it to another 89 theaters nationwide this weekend, and things worked out well. It's now the fifth DC Extended Universe release to earn multiple box office crowns, and the second in a row to claim two straight top spots after Aquaman. The movie is now just a few days away from becoming the seventh nine-figure domestic release to come out so far in 2019, following in the footsteps of Captain Marvel, Us, How To Train Your Dragon: The Hidden World, Glass, and The Upside.
Shazam! is not exactly setting records, and it's on pace to become the lowest grossing film released from the franchise so far - but not every title needs to be a ridiculous home run, and with a more modest budget of $100 million it is definitely going to be ultimately considered a profitable success. Internationally, the blockbuster has made $221.2 million to date, and it's likely that it could maintain the number one spot until Avengers: Endgame hits at the end of the month. It's clear that audiences are enjoying it, and positive word of mouth could keep it afloat and slowly filling its coffers in the weeks to come.
While things are looking bright for the future of Shazam!, however, Hollywood on the whole cannot be happy with how things turned out for the rest of the slate. Whether it's because they're saving money for summer blockbuster season, or just didn't like what was offered this weekend, people just weren't big on buying tickets for showings on the big screen the last three days. Of the new releases, the biggest positive was Tina Gordon's Little, which started its run with $15.5 million and a "B+" from CinemaScore, but it fell way short of being able to compete with Zachary Levi's superhero. It's possible that it could continue to do modestly in the weeks ahead, eventually making its $20 million budget a bit smaller, but don't expect it to turn out as a sleeper hit.
It sadly only gets more depressing from here. Shazam! also saw some fellow comic book-inspired competition hit theaters this weekend, but Neil Marshall's Hellboy is shaping up to be a massive flop. Sure, nobody was ever expecting it to make Marvel or DC money, but Lionsgate must have been hoping for something a lot better than the results above. Making $12 million in the first frame for a $50 million movie is seriously bad news, and this isn't exactly a release that is going to get a boost from a positive wave of buzz. Not only have critics been absolutely brutal, but audiences don't seem to be digging it much either - with CinemaScore calculating a "C" grade for it. And in case you were wondering, the totals are far less than the numbers that Guillermo del Toro's two features put up in 2004 and 2008 respectively, when they made $23.2 and $35.5 million in their openings.
Moving down to eigth place, Jenny Gage's romantic drama After also didn't manage to sell many tickets despite the fact that it was released in more than 2,000 theaters nationwide. It's the second less-than-stellar opening we've seen for Aviron Pictures so far in 2019, as they also put out Steven Knight's Serenity this past January. The new release made about $2 million less than the Matthew McConaughey-Anne Hathaway thriller, but also didn't have anywhere close to the same kind of star power. This probably goes without saying, but you probably won't be hearing much about After in future installments of this box office column.
Finally we have the biggest bummer of them all: Chris Butler's Missing Link. Despite positive reviews, the latest release from Laika Studios completely failed to find an audience this past weekend, and as a result it was left barely clinging to a presence in the Top 10 this weekend. It's super sad given that Laika has been producing some of the most jaw-dropping animated features around for years now, but they just can't seem to get any attention from mainstream audiences. The numbers make it the weakest release we've seen so far from the studio, and as a result we could see some seriously sad developments unfold.
Coming up next week we have two new wide releases in store for Wednesady - specifically Roxann Dawson's Breakthrough and the Disneynature documentary Penguins - and Michael Chaves' The Curse Of La Llorona coming on Friday, so be sure to come back next Sunday to see how they shake up the Top 10.
Assistant Managing Editor
NJ native who calls LA home and lives in a Dreamatorium. A decade-plus CinemaBlend veteran who is endlessly enthusiastic about the career he's dreamt of since seventh grade.
Your Daily Blend of Entertainment News
Thank you for signing up to CinemaBlend. You will receive a verification email shortly.
There was a problem. Please refresh the page and try again.