Avengers 4: What We Know So Far About Endgame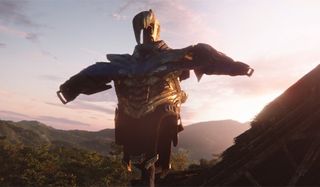 The Marvel Cinematic Universe has been going strong since it launched in 2008 with Iron Man, and while movies like Spider-Man: Far From Home, Black Widow, Black Panther 2, and more will keep the franchise going into its Phase Four and beyond, the end of an era is approaching. Avengers: Endgame will conclude not just Phase Three of the MCU, but also wrap up numerous plot threads. While Avengers: Infinity War was long advertised as the biggest Marvel movie yet, rest assured that its follow-up will be just as important, if not more so.
Because Avengers: Endgame is such a big deal for the franchise, Marvel Studios is, understandably, keeping details for Earth's Mightiest Heroes' fourth epic tale close to the chest. However, there is a fair amount of information that's already available to the public, including a teaser trailer, so read on to find out what we know about the movie so far. Be warned, though. This guide is filled with SPOILERS both mild and extreme about Infinity War and Ant-Man and The Wasp, so proceed with caution if you haven't seen either film yet!
What Have We Seen From Avengers: Endgame?
Given that Avengers: Endgame is going to be one of the biggest movies of all time, the marketing team behind the movie hadn't exactly been super active - though the good news is that they have now released several trailers and teasers to get us even more pumped for the film. The first preview from the blockbuster dropped online and in theaters in December 2018, and fans have been rewatching it over and over trying to squeeze out as many details as they can (something which will probably be evident as you continue reading this guide).
While another trailer dropped during the Super Bowl, it was more of an extended TV spot than a full preview. But, of all the recent teases we've gotten of footage from the film, though, the biggest reveal may have been in the form of a series of posters which seem to confirm a lot of living and dead characters, including ones we didn't get to witness from Avengers: Infinity War.
What Is The Avengers: Endgame Release Date?
Unlike the previous three year gaps between Avengers movies, Avengers: Engame will be released only a year after Avengers: Infinity War, on April 26, 2019. Its principal photography began in late summer of 2017, only a few weeks after Infinity War wrapped shooting. Avengers: Endgame was previously known as Avengers: Infinity War Part II, but, in 2016, that title was removed to make it clear that the film will have its own specific story to tell rather than just being the second half of its predecessor. Of course, the movies will obviously be linked because of the way in which it will deal with the fallout from Thanos' snap.
What Is The Avengers: Endgame Rating?
Movies aren't given ratings from the MPAA until the film is basically completed and ready for release, but like the rest of the MCU movies you can guarantee Avengers: Endgame will head into theaters with a PG-13 rating so that it can be accessible to both adults and younger moviegoers (but not too young). The reasons for being PG-13 will likely include having "extended/intense sequences of violence, action and destruction," along with some "suggestive comments" and language. These are nothing out of the ordinary, although keep in mind that Avengers: Endgame will probably ratchet up the intensity to an 11, so remember that if you're bringing kids along to the theater.
The Avengers: Endgame Writers And Directors
Avengers: Endgame is keeping the same creative team that guided Captain America: The Winter Soldier, Captain America: Civil War , and Avengers: Infinity War to success. Just like with those movies, Joe and Anthony Russo will be sitting in the directors chairs, while Christopher Markus and Stephen McFeely (who also wrote Captain America: The First Avenger) have penned the script. As the saying goes, "If it ain't broke, don't fix it," and by keeping these creative teams intact fans can look forward to a degree of familiarity.
Iron Man
Robert Downey Jr. helped kick off the Marvel Cinematic Universe with Iron Man in 2008, and he's maintained a consistent presence in the franchise since then. However, with Avengers: Endgame ending both the MCU's Phase Three and wrapping up what the franchise has been building to for a decade, it's certainly possible that this will be the last time we see Downey's Stark. After 10 appearances, one wouldn't blame the man for wanting to retire from his Iron Man life and fully focus on other projects. For Tony Stark, this could mean anything, from dying in battle to simply leaving his superhero activities behind. All we know for certain is that at the end of Avengers: Infinity War, he was still stranded on Titan, one of the only two superheroes remaining on the dead planet after Thanos' snap. From the trailer it looks like he was able to leave Titan on a ship so that he could try and to get back to Earth, but he'll need a miracle to survive the actual journey (something tells us that he'll be getting one, though).
Captain America
Like Robert Downey Jr., Chris Evans' future after Avengers: Endgame remains uncertain. Evans was originally contracted for six Captain America appearances, but he extended it for one movie so he could participate in Avengers: Endgame. That being said, there has been some implication that he will be departing the MCU after the blockbuster - though that has yet to be confirmed. In any case, rather than suiting up as Nomad as previously rumored, Steve Rogers will be reverting back to his clean shaven look and a more traditional Captain America costume for Avengers: Endgame, where he'll reportedly have a bigger role as he tries to save the lives of half the entities in existence, and reunites with his trusty shield. Beyond that, we don't know what's in store for him, though we hope that the movie will also find some way to resolve the conflict that he's had with Tony Stark since the end of Captain America: Civil War.
Thor And Loki
The ultimate fate of Asgard and most of its inhabitants was sealed once Thor: Ragnarok and Avengers: Infinity War were released, but one thing we do know is that Thor will live on to fight in Avengers: Endgame. The God of Thunder has lost a whole hell of a lot in recent features, including his brother, Loki; his best friend, Heimdall; his father, Odin; most of his people; his homeworld; and even his eye - but that's not going to stop him from continuing to fight the good fight. To no one's surprise, Thor, played once again by Chris Hemsworth, will be continuing his heroic duties and fighting alongside his fellow Avengers in the fourth chapter of the team-up series, and we can bet that the weight of all his pain will be heavy for the God of Thunder (not to mention insane regret for not going for Thanos' head with Stormbreaker). And while Loki has always been a wild card, and there has been speculation that he could still be alive, it would seem that this time his death is permanent.
Hulk
Thanks to Thor: Ragnarok, we know that Hulk had been spending the last few years killing it in the gladiator ring on Sakaar, but because of events during the opening of Avengers Infinity War he found himself back on Earth to help try and pummel Thanos and his minions. It ended up being Bruce Banner in one of Tony's Hulkbuster suits who ended up doing the fighting, however, as the green monster refused to come back out after his beatdown from the Mad Titan. Mark Ruffalo has said that Hulk/Bruce Banner's has a specific arc that's playing out across Thor: Ragnarok, Avengers: Infinity War and Avengers: Endgame, and the idea is that together the story will feel like a standalone movie for the character (who hasn't been gifted with a solo movie since The Incredible Hulk in 2008). Avengers: Endgame will also be the culmination of the "huge change" Hulk will go through starting in Thor: Ragnarok, meaning that we will likely see a lot more cooperation between Bruce and Hulk by the time the film is over. Could we finally see Banner and Hulk melding into one super-strong, highly intelligent individual a.k.a. Professor Hulk?
Thanos
Ever since he smirked at the camera in The Avengers mid-credits scene, Thanos has been lurking in the background of the MCU, but in Avengers: Infinity War he finally stepped into the light when he and his Black Order minions secured all six Infinity Stones so that he could obliterate half of all life in the universe. The Mad Titan's involvement in Avengers: Endgame, on the other hand, is shrouded in mystery. Josh Brolin had said that Thanos might not get all the Infinity Stones by the time Infinity War ended, and we now know that to have been a careful misdirect. We'll go into the 2019 blockbuster with the character being a god-like entity, but beyond that we have no idea what the film has in store for him.
Guardians Of The Galaxy
With the exception of Yondu, who gave his life to save Peter Quill in Guardians of the Galaxy Vol. 2, all the Guardians of the Galaxy returned for Avengers: Infinity War. Unfortunately, due to the events of that film, we'll go into Avengers: Endgame with Bradley Cooper's Rocket Raccoon and Karen Gillan's Nebula as the only members to survive Thanos' snap. That makes it a particularly big challenge to predict what they'll be up to when we get to see the characters next (though it was originally thought that Nebula just abandoned Tony Stark on Titan and didn't take a position in whether or not he should live or die, the new teaser that was released seems to suggest that she will end up helping him). It's worth noting that if Thanos does end up dying in Avengers: Endgame, we shouldn't count out either a somehow reconstituted Drax the Destroyer or Nebula being responsible for his demise, as they're both heroes with serious vendettas against the intergalactic warlord. As we know, though, they may have to stand in a long line to get their shot at that now.
Doctor Strange
We watched Doctor Strange begin his superhero journey in late 2016, and by the time of Avengers: Infinity War his magical abilities were most beneficial to his new allies... until they weren't, anyway. While we can't predict what we'll see from the neurosurgeon-turned-sorcerer in Avengers: Endgame without knowing how the good doctor will come back into the fold, keep in mind that even with his considerable talent, Doctor Strange isn't invincible, so he may still be going through a learning curve when we see him again in the 2019 film. Still, let's not forget that before he was dusted Doctor Strange used the Time Stone to look at the all the alternate futures concerning the coming conflict with Thanos, and in only one of them were he and his allies victorious. Strange knew ahead of time how things needed to proceed, and Avengers: Endgame will see those pieces finally fall into place.
Spider-Man
From traveling to Germany to fight other superheroes, to defeating a gang of thieves armed with enhanced weaponry, Peter Parker's life as Spider-Man hasn't been lacking in excitement so far in the Marvel Cinematic Universe. In Avengers: Infinity War he put his arachnid-themed abilities to good use on a cosmic scale, and in an even more teched-out suit Tony Stark designed for him. None of his powers or technology were able to help him at the end of the movie, though, young Peter's demise at the end of that film being one of the most heart-breaking moments ever in a superhero movie. It's worth noting that Spider-Man: Far From Home will begin only minutes after Avengers: Endgame, so moviegoers will reunite with Peter immediately in the aftermath of this event and might get to watch him continue to deal with the effects of whatever brought him back to the known world.
Black Widow
Scarlett Johansson's Black Widow has been a key figure in the Marvel Cinematic Universe since the franchise's third movie, and while we won't be seeing her first solo film until we're getting deeper into Phase 4, we know that she will be back and playing a crucial role in Avengers: Endgame. She is one of the few Avengers who successfully survived Thanos' snap, and going by the first trailer for the movie it looks like the upcoming blockbuster will catch up with her as she is working with Captain America to find a fix to the whole situation. Plus, she'll be reuniting with an old colleague, who we will be discussing more in a minute...
Black Panther
At the end of Black Panther, King T'Challa (Chadwick Boseman) decided to open Wakanda up to the world, but he probably didn't expect that months later the African nation would have to repel an alien invasion. When Steve Rogers and his allies showed up asking for help protecting Vision and retrieving the Mind Stone, however, the royal superhero let them in and provided a battlefield against the deadly Outriders. Earth's Mightiest Heroes technically emerged victorious in that fight, but soon after T'Challa turned to dust thanks to Thanos' snap, and Okoye watched on in horror. Since Black Panther 2 is happening, we know T'Challa will eventually return. The question, like with all the other disappeared heroes, is how.
Hawkeye
Jeremy Renner's Clint Barton sat out Avengers: Infinity War due to being under house arrest, but rest assured that when Avengers: Endgame rolls around he'll be back in action. It's been confirmed that when we reunite with him in Avengers: Endgame he'll be known as Ronin, the identity he briefly donned in the comics following his resurrection. Why the identity change? Supposedly the events of Infinity War will leave Clint in a "very dark place," with the going theory that most, if not all, of his family was wiped out by the Thanos Snap. That would certainly put most people in the darkest of places. Exactly what his contribution to the fight against the Mad Titan will be isn't entirely clear right now, but he should be a useful tool if only just because he is chock full of motivation.
Ant-Man And The Wasp
While Ant-Man (Paul Rudd) and The Wasp (Evangeline Lilly) were initially expected to appear in both Avengers: Infinity War and Avengers: Endgame, we actually didn't get to see them until their recent solo sequel Ant-Man and The Wasp. If you've seen that movie, you know that things did not end particularly well for Scott Lang and his allies following The Decimation. Thanos' snap went down as Scott was in the Quantum Realm, and it erased all traces of not only Hope van Dyne, but also Michael Douglas' Hank Pym and Michelle Pfeiffer's Janet van Dyne. Somehow he'll make it back to Earth in Avengers: Endgame, as seen in the trailer, and and there are already theories on how the Quantum Realm plays into this gargantuan story, but otherwise, we're in the dark on how Scott fits into the proceedings.
Captain Marvel
Captain Marvel's involvement in the MCU has been one of the franchise's biggest question marks, as Brie Larson's debut as Carol Danvers arrived just a couple months before Avengers: Endgame. Her whereabouts in the present day haven't been revealed yet, but Carol has been officially confirmed to appear in the Phase Three capstone project, presumably having her first opportunity to interact with the Avengers and the Guardians of the Galaxy. And, some are so excited by her appearance in Endgame, that they're even theorizing that she was digitally removed from some scenes of the new teaser to keep her time in the film a secret. Her existence was teased in Avengers: Infinity War's final moment when Nick Fury activated a suped-up pager right before disappearing that displayed Carol's insignia. Whatever the reason for her absence, her planet-moving powers will be most welcome when she finally returns to Earth.
Other Superheroes
Along with the previously mentioned superheroes, War Machine, Scarlet Witch, Falcon and Winter Soldier are all confirmed to return for Avengers: Endgame (yes, even the ones who were dusted by the Thanos Snap at the end of Infinity War). Then there's The Vision, who was especially important to Avengers: Infinity War given that he was powered by the Mind Stone, one of the six Infinity Stones that Thanos craved. And, like many of those other heroes, we have no indication what will happen to Vision in Avengers: Endgame, or how the destroyed android might be brought back to life.
The Supporting Characters
Avengers: Endgame already has a stacked lineup of superheroes, but there will still be a number of other characters filling out the cast. In the supporting character category, only Iron Man mainstays Pepper Potts and Happy Hogan, as well as Doctor Strange's most trusted magical ally Wong, have been confirmed to appear, though you can bet that plenty of other familiar faces from the heroes' personal lives will be back as well. One of those will probably be Samuel L. Jackson's super spy Nick Fury (even though, yup, he got dusted), who's been absent in the present day MCU since Avengers: Age of Ultron. As far as new faces go, The Wolverine actor Hiroyuki Sanada has been cast in an undisclosed role, along with 13 Reasons Why star Katherine Langford, and they likely won't be the only new players thrown into the mix.
We only have a few hours left until Avengers: Endgame finally hits theaters, so be sure to check back with this guide for all the updated info on the blockbuster!
Your Daily Blend of Entertainment News
Assistant Managing Editor
NJ native who calls LA home and lives in a Dreamatorium. A decade-plus CinemaBlend veteran who is endlessly enthusiastic about the career he's dreamt of since seventh grade.
Your Daily Blend of Entertainment News
Thank you for signing up to CinemaBlend. You will receive a verification email shortly.
There was a problem. Please refresh the page and try again.