The Best Comedy Movies To Watch When You Need To Cheer Up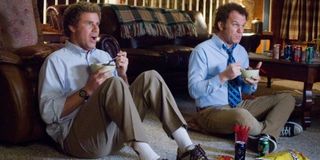 Let's be honest with ourselves here: sometimes life is a bit too much for even the hardest of souls. No matter the circumstances, there are just those moments where you want to hole up for a day, drink plenty of fluids, and just take some time to practice the important art of self care. Part of a good afternoon of recovering from whatever life has thrown at you is a good movie or two.
Or, in the case of the list below, several good movies that you can throw on to lighten the mood and help lift your spirits through the healing powers of laughter. Your sampler pack below ranges through the decades, and includes some off-beat selections as well as some fan-favorite titles, because we all could use some unexpected laughter in our lives.
Game Night
Absurdity is a word you'll probably read a lot reading through this list, and that's a good thing. Some of the best comedy movies embody that very quality, and last 2018's Game Night is certainly no exception. The movie's as absurd as it is laugh-filled, as a simple night of indoor gaming turns into a crime-solving comedy rampant with serious errors.
With an ensemble that includes Jason Bateman and Rachel McAdams, as well as a couple of surprise appearances, Game Night takes a crime mystery and infuses it with both action and laughter. Also, Jesse Plemons steals the entire damned movie, as a security guard who's a little friendlier than he should be, and has a big grudge against the Frito-Lay chip company.
Mean Girls
Teen comedies are pretty good at cheering people up as well, as most of the time there's a positive message of loving oneself and trying to accept others. Though since they're also comedy movies, there's also a lot of antics like the ones in Mean Girls involved as well. Based off of a self-help book involving the behavior of cliques, writer/co-star Tina Fey takes a very serious subject, and not only does she give it a teen movie makeover, but she also uses a lot of her own comedic flare to make it a movie only she could have created.
Insanely quotable, and also featuring Rachel McAdams, Mean Girls is the story of Lindsay Lohan's fish-out-of-water Cady, and her first experience with the school system in the U.S. With McAdams as her mean girl adversary, and Amanda Seyfried and Lacey Chabert as the backup friends, it's not easy for Cady to win their trust. But the process is extremely funny.
It's A Mad, Mad, Mad, Mad World
We're now approaching a classic entry in the comedy movie pantheon: It's A Mad, Mad, Mad, Mad World. The flick is certainly a treasure to behold for anyone who has or hasn't seen it. The movie centers its story around a bunch of cash buried in a California park, and the group of strangers who are racing against time, and each other, to get to it first. A literal who's who of comedic legends take part in this film, with Milton Berle, Sid Caesar, Jonathan Winters, Ethel Merman, Mickey Rooney, and Buddy Hackett all taking part in the festivities. So if star power is your thing, look no further.
Perhaps the strongest card this movie plays is the fact that it breaks the cardinal rule of comedy and does it in style, as this almost three-hour film is not a short and simple joke. The cast grows as large as the stunts and jokes do, and by the end of It's A Mad, Mad, Mad, Mad World, the finale is something so amazingly funny, you'll see why it's still known as one of the best comedy movies to date.
Monty Python And The Holy Grail
Absurdity. There's that word again. It's something that most definitely applies to the legendary comedy troupe of Monty Python's Flying Circus, and doubly so when discussing the group's most well-known film, Monty Python and The Holy Grail. Spinning Arthurian legend into a semi-musical, semi-animated, and very meta quest for the Holy Grail, this comedy movie is a landmark event that helped cement the group's reputation worldwide.
Graham Chapman, John Cleese, Terry Gilliam, Eric Idle, Terry Jones, and Michael Palin all-star as various members of this classic quest, and what begins as a straight medieval adventure almost instantly turns into one gigantic farce. Camelot has never been this silly, and you'll be better for watching Monty Python and The Holy Grail.
Ferris Bueller's Day Off
John Hughes always had a special gift when it came to his unique brand of comedy movies. He knew when to be sweet, he knew when to be bitter, and he always knew how people worked. Yet, perhaps one of his most upbeat products in his entire repertoire was the classic Ferris Bueller's Day Off, starring none other than Matthew Broderick.
Chronicling the hijinks of a teenager who skips school one too many times during a calendar year, Matthew Broderick's Ferris ropes his best friend Cameron (Alan Ruck) and his girlfriend Sloane (Mia Sara) into a whirlwind tour of Chicago--one that includes outrunning his vengeful principal (Jeffrey Jones), and outsmarting his equally angry sister (Jennifer Grey). If you're looking for a guy who's part spiritual guru and part Bugs Bunny, Ferris Bueller is your righteous dude.
A Night At The Opera
It's hard to beat The Marx Brothers in the game of comedy, as even in our modern world their antics and shenanigans are still so classic that they hold up among the greats. A Night At The Opera certainly stands out among their collected works, with memorable songs and gags that keep the audience smiling long after the movie has finished. The basic plot sees one of the usual Marx Brothers staples put to good use yet again, as Groucho Marx's lead prankster tries to win frequent collaborator Margaret Dumont's money by investing in an opera.
That's basically all you need to know, as your standard Marx Brothers movies will tend to use a simple plot to hang a string of jokes on. With scenes that see a very crowded stateroom ordering an obscene amount of food, and a gag that suggests that Groucho Marx really was able to bend space and time to his will, A Night At The Opera is a sure fire ticket to excitement.
The Producers (1967)
Comedy legends rarely earn their place on the first go-around, and Mel Brooks is one of those stories of fame and fortune that took a little time to get going. When The Producers was released in 1967, Brooks' first film was seen as the sick joke to end all sick jokes. Then again, a musical supporting Hitler will always likely be an odd flex. But once the joke behind the musical became apparent to the audience-at-large, the film became one of the most classic comedy movies of all time.
With Zero Mostel and Gene Wilder putting on said musical to defraud almost all the little old ladies in New York, and Hitler being played by Dick Shawn's hippie beatnik Lorenzo St. DuBois, The Producers was actually a comedic masterpiece that poked fun at outrage culture, cashing in on tragedy, and the insane chemistry between Mostel and Wilder. It doesn't take long for this one to get going, so make sure you're ready once you hit play.
Back To The Future
Most people remember Back To The Future as a sci-fi movie, what with its plot revolving around time travel and making sure Michael J. Fox's Marty McFly still exists at the end of the day. What's also important to remember is this Robert Zemeckis-directed film is still amazingly funny. While Marty does have to make sure he and his siblings make it out of the other end alive, he has to deal with his awkward parents too.
The biggest gag at the center of this comedy movie classic is that history may be written by the generation before us, but that doesn't mean what they're telling us is the truth. Michael J. Fox's charm as Marty and Christopher Lloyd's eccentric Doc Brown are a pairing for the ages, and the humor plays like a teen movie crossed with a sci-fi epic. If you're willing to go down this road, go ahead and clear out a whole afternoon and watch the entire trilogy.
Airplane!
Deadpan comedy is an artform that's just as valuable as flat out funny comedy. If you can land a joke without a smile or a laugh, it can really knock a room dead. Just ask The Zucker Brothers, as that's what their comedy classic Airplane! did when it took the genre of doomed flight movies like Airport and turned them into comedy gold. It also helped that casting skilled performers like Julie Hagerty and Robert Hays and pitting them against seasoned drama vets Robert Stack and Leslie Nielsen was a big part of that old Airplane! charm.
The heart of this comedy movie's ability to make a crowd erupt with laughter is the fact that its core plot revolving around food poisoning on a late night flight and the traumatized pilot who serves as its only hope of landing safely, is pretty solid as a drama. It's just all of the comedy that surrounds that drama, disguising itself as more serious material, that makes the film work.
Happy Gilmore
One of the best comedy movies to hit theaters in our modern times is, no question, Adam Sandler's Happy Gilmore. His first film after the success of Billy Madison, the film's story is a tale as old as time, as his titular hockey player loses his temper and gets kicked out of the league, only to become a golf sensation for a very personal cause. Also, a fist fight with Bob Barker occurs, which you may or may not have known about.
Speaking of familiar faces, if you're a Modern Family fan, you'll be surprised to see Julie Bowen as Sandler's comedy partner on the side of good. In fact, an amusing chunk of the movie is the pair trying to keep themselves in the game long enough to pay off Happy's grandmother's tax debt. If you're a comedy fan, then appearances by Christopher McDonald, Joe Flaherty, and Ben Stiller will definitely make you smile, as all three present rather interesting challenges for Adam Sandler to move past on his road to fame and security.
Dumb and Dumber
Vintage Jim Carrey is like comedic wine: always good at parties, and never gets old. Dumb and Dumber is quite possibly one of the best comedy movies of the '90s, as it's aged so well it still gets the laughs it did upon its initial launch. Again, simple but agile comedy, and a basic plot, help win the day, no matter its faults.
Pairing Jim Carrey with Jeff Daniels, the film sees the two play complete idiots making their way across the continental United States in the name of love, lost luggage, and a kidnapping. Dumb and Dumber introduced the film world to the comedy stylings of The Farrelly Brothers for the very first time. It was a first impression that would last forever, and it's waiting for you to pull its finger and watch the madness that ensues.
Step Brothers
It's hard to have a list of comedy favorites and not include at least one Will Ferrell movie on that list. And no other Ferrell film has made the world laugh more than his collaboration with John C. Reilly in director Adam McKay's Step Brothers. It's a comedy movie that's become a cultural touchstone, reigning as one of the films from the last decade or so of filmmaking that'll probably see itself become a classic.
While the gags definitely hit some dark notes, Will Ferrell and John C. Reilly come at them from an angle of such misguided glee that every joke causes a hearty, mood brightening laugh. It also helps that the supporting cast of heavy hitters like Mary Steenburgen, Richard Jenkins, Kathryn Hahn, and Adam Scott all add to the madness stew that is Step Brothers, with everyone's unique acts shining through to create a complete puzzle of laughter.
If you're not feeling any better after watching this list of comedy movies designated to cheer you up, then you may need to call a doctor, or switch to some stronger acting comedies on the market. That being said, the films on this list might cause you to hunt through streaming platforms or rental services to find them. But they are very much worth the time and energy, as each one brings its own brand of comedy movie mayhem in a strong fashion. So take a day off, and let yourself laugh into another world. You'll feel better if you do.