Godzilla Vs. Kong Could Be An 'Underdog Battle,' According To King Of The Monsters' Director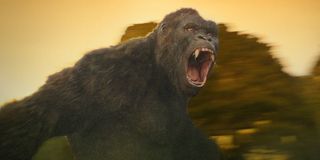 After a five year hiatus, Godzilla is finally returning to the MonsterVerse this weekend in Godzilla: King of the Monsters, where he'll collide with Rodan, Mothra and King Ghidorah. After that, he won't have much time to catch his breath as he'll be back next year for Godzilla vs. Kong, and many have wondered how the showdown between these two Titans will go down.
In addition to directing and co-writing Godzilla: King of the Monsters, Michael Dougherty also co-wrote Godzilla vs. Kong, and he was well aware of how initially this battle could seem unfair, what with Godzilla having atomic breath and King Kong just being a giant ape. Nevertheless, he recently explained that part of the fun of watching this fight is that audiences are witnessing a "potential underdog fight." Dougherty elaborated:
While he hasn't been adapted nearly as much as Godzilla over the decades, we've seen various incarnations of King Kong, and the MonsterVerse's version is definitely the biggest of them. That said, as Michael Dougherty noted, the ape was still a young'un in Kong: Skull Island, and he has a lot more growing to do. It's unclear when Godzilla vs. Kong takes place, but there's a 46-year difference between Kong: Skull Island and Godzilla vs. Kong. Just imagine how much taller Kong is after nearly five decades!
But it's not size and brawn that factor into this upcoming battle of the ages. As Michael Dougherty also mentioned in his interview with Bloody Disgusting, King Kong also has brains on his side, and compared his clash with Godzilla to Rocky IV's main match. As Dougherty put it:
We saw in Kong: Skull Island how King Kong used tools like tree trunks and chains to vanquish foes like the Skullcrawlers, and whether any of Godzilla vs. Kong's fights take place on his home turf or elsewhere in the world, perhaps this ability to think outside the box will give the ape an edge in his battle with Godzilla. He'll need all the help he can get.
Of course, there's still the big question of why Godzilla and King Kong are brawling. Michael Dougherty didn't provide any specific reasoning, but did say that he hopes that their motivations for fighting each other are "sound, and not contrived," and also that he thinks there's "something primal" in human beings to see a fight like that which goes back to ancient myths and legends.
Naturally the main draw for Godzilla vs. Kong is seeing the two eponymous beasts coming to blows, but the movie will also follow Monarch embarking on a mission to learn about the origins of the Titans and a conspiracy to destroy the Titans being uncovered. The main cast includes Millie Bobby Brown, Kyle Chandler and Zhang Ziyi reprising their Godzilla: King of the Monsters roles, as well as Alexander Skarsgard, Rebecca Hall, Brian Tyree Henry, Eiza González, Julian Dennison, Shun Oguri, Jessica Henwick, Demián Bichir and Lance Reddick.
Godzilla vs. Kong rampages into theaters on March 13, 2020, so stay tuned to CinemaBlend for continuing coverage. In the meantime, the MonsterVerse continues this Friday, May 31, with the release of Godzilla: King of the Monsters, and you can check out our 2019 release schedule to learn what other movies are opening later this year.
Connoisseur of Marvel, DC, Star Wars, John Wick, MonsterVerse and Doctor Who lore. He's aware he looks like Harry Potter and Clark Kent.
Your Daily Blend of Entertainment News
Thank you for signing up to CinemaBlend. You will receive a verification email shortly.
There was a problem. Please refresh the page and try again.