Godzilla Vs. Kong: An Updated Cast List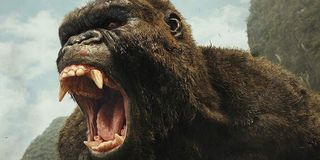 There are plenty of monsters living in Warner Bros' MonsterVerse franchise (as one would expect with a name like that), but two reign above the rest. In 2014, Godzilla's eponymous beast roared back onto American screens to dispatch the MUTOs, and last year, Kong: Skull Island wound the clock back to 1973 to show King Kong retaliating against the humans who bombed his home and battling Skullcrawlers. In 2020, these two will finally face off in the appropriately-titled, Adam Wingard-directed Godzilla vs. Kong.
While this won't be the first time that Godzilla and King Kong have crossed paths in cinematic history, it is the first time it's going down in a Hollywood franchise. Naturally Godzilla vs. Kong's main draw will be seeing those two monsters engaged in battle and possibly teaming up to fight a greater threat. But naturally, there will be humans around to witness this conflict, and with that in mind, we've assembled this list of all the actors who've been announced for Godzilla vs. Kong.
Kyle Chandler
Starting off, Godzilla vs. Kong is bringing back three familiar MonsterVerse faces. Well, they'll be familiar once Godzilla: King of the Monsters comes out next year. The first person is Kyle Chandler's Mark Russell, ex-husband of Emma Russell and father of Madison Russell. Mark will team up with others in King of the Monsters to save Emma and Madison, and while it remains to be seen how that rescue mission unfolds, at least we know he'll make it out alive. It's possible King of the Monsters' ending will hint at how/why he's in Godzilla vs. Kong, but for now, like the rest of the cast, specific details of his involvement are being kept under wraps. Chandler has also appeared in Argo, Game Night, First Man, the Friday Night Lights TV series and Bloodline. Fun fact, this will also be Chandler's second Kong movie, as he previously played adventure actor Bruce Baxter in Peter Jackson's King Kong remake.
Millie Bobby Brown
Millie Bobby Brown catapulted to worldwide fame when she debuted as Eleven in Netflix's Stranger Things. She's still one of the TV series' main players, but Godzilla: King of the Monsters will mark her film debut, and what a way for people to first see you on the big screen. Brown is playing Madison Russell, who, like her father, will survive the events of King of the Monsters and be back for Godzilla vs. Kong. From what we've seen of King of the Monsters so far, Madison will be at the center of all the insanity, where she'll see some, if not all, of the gigantic creatures, like Mothra. Watching Godzilla and King Kong throw down in fisticuffs shouldn't be too out of the ordinary for her then, though she and the others would still be wise to keep their distance.
Zhang Ziyi
The last established MonsterVerse character who's been announced to return for Godzilla vs. Kong for is Dr. Chen, played by Zhang Ziyi. No details about Dr. Chen have been revealed yet, but she will be someone that figures prominently in the MonsterVerse. Given the doctorate, presumably she works alongside Ken Watanabe's Ishiro Serizawa and Sally Hawkins' Vivienne Graham at Monarch, the organization that studies these monsters, but we can't say that with certainty yet. Either way, Dr. Chen will witness Godzilla and King Kong's clash. Zhang's other credits include Crouching Tiger, Hidden Dragon, Memoirs of a Geisha and The Cloverfield Paradox.
Julian Dennison
Now we get to the actors whose Godzilla vs. Kong characters haven't been identified yet. Before this year, Julian Dennison was best known for starring in the New Zealand film Hunt for the Wilderpeople, directed by Taika Waititi, who later helmed Thor: Ragnarok. But in May, a lot of American moviegoers saw Dennison for the first time in Deadpool 2, where he played Russell Collins, a.k.a. Firefist, the pyrokinetic youth who Cable traveled back in time to kill. Godzilla vs. Kong keeps Dennison's blockbuster cred going, and ideally his character will cross paths with Madison Russell so he has someone around his own age to hang out with.
Danai Gurira
There are two places you likely know Danai Gurira from best: The Walking Dead and/or Black Panther, The actress has been part of the former as Michonne since Season 3, and after debuting as Okoye in the latter, she reprised the role in Avengers: Infinity War. Now it looks like she'll be jumping into the realm of Titans for her next high profile role, although it is worth noting that when Gurira's Godzilla vs. Kong involvement was first announced, she was in early talks. There hasn't been any updates on her status since then, so we're not 100% sure that Gurira will be in the movie. But I imagine that since there's been no word of negotiations breaking down either, there's a good chance she'll appear.
Brian Tyree Henry
Having already made a name for himself on television as Paper Boi on Atlanta, Brian Tyree Henry's movie career has been taking off. This year alone, he's starred in Irreplaceable You, Hotel Artemis, White Boy Rick, Widows and If Beale Street Could Talk, and we'll soon hear him in Spider-Man: Into the Spider-Verse. Henry's upcoming appearances include The Woman in the Window and the Child's Play reboot, but Godzilla vs. Kong will unquestionably be his biggest (figuratively and literally) live action project yet. Like Danai Gurira, Henry will be playing one of the lead characters, so he won't be lacking for screen time.
Demián Bichir
Next up on the Godzilla vs. Kong lineup is Demián Bichir, who appeared as Father Burke earlier this year in The Nun, the latest Conjuring franchise entry. Before that, his American cinematic credits included A Better Man, Machete Kills, The Hateful Eight and Alien: Covenant, and next year, he'll star in Chaos Walking and the Grudge reboot. As things stand now, according to THR, Bichir is in talks to join Godzilla vs. Kong, so while it's possible said discussions could break down, it's more likely that he'll play a part in this violent monster mash.
Alexander Skarsgard
Then there's Alexander Skarsgard, whose casting in Godzilla vs. Kong was announced by Deadline. Skarsgard's cinematic credits include the Zoolander movies, The Legend of Tarzan and Mute, while on TV, he played Eric Northman on True Blood, starred in Big Little Lies last year as Perry Wright and will soon be seen in The Little Drummer Girl on AMC. Whether Skarsgard is playing a military man, a Monarch agent or a civilian who is accidentally drawn into this monster-packed craziness, he's a good recruit for the blockbuster.
Eiza Gonzalez
Eiza Gonzalez has been professionally acting for 11 years, but in the past three years she's built quite the career in Hollywood. During her tenure on From Dusk Till Dawn: The Series, she starred in Jem and the Holograms, which, to put lightly, was not a good movie. But from there, Gonzalez appeared in Baby Driver as the badass Monica "Darling" Castello, and she'll be seen in the near future in Welcome to Marwen and Alita: Battle Angel. Along with appearing in Godzilla vs. Kong, as revealed by Deadline, Gonzalez will also star in Bloodshot in 2020, so the actress is building quite the collection of action-oriented projects.
Rebecca Hall
Next we have Rebecca Hall, and surprise surprise, there's no word on who she's playing in Godzilla vs. Kong in Variety's report. Regardless, Hall is another high caliber talent joining the cast. Acting for most of her life, Hall's breakthrough performance was as Sarah Borden in the Christopher Nolan pic The Prestige. In the years since, she's appeared in movies like The Town, Iron Man 3, The Gift, The BFG and Professor Marston and the Wonder Women, as well as the upcoming Holmes and Watson, to name just a few.
Jessica Henwick
After briefly being seen in Star Wars: The Force Awakens as Resistance pilot Jessika Pava, and afterwards recurring in Game of Thrones as Nymeria Sand, Jessica Henwick score her biggest role yet as Colleen Wing in Iron Fist. After the eponymous protagonist himself, a.k.a. Danny Rand, Colleen was arguably the Netflix show's most important character, and Henwick also reprised the character in The Defenders and an episode of Luke Cage. However, Iron Fist was cancelled last month, and while it remains to be seen if Henwick will ever play Colleen again, the gap in her schedule allowed her hop aboard Godzilla vs. Kong, as revealed by Variety.
Lance Reddick
Lance Reddick is primarily known for his numerous television roles, particularly Johnny Basil in Oz, Cedric Daniels in The Wire, Phillips Broyles in Fringe and, currently, Deputy Chief Irvin Irving in the Amazon series Bosch. However, Reddick also has a solid amount of movie credits under his belt, from Jonah Hex and White House Down to the John Wick movies (including the upcoming John Wick 3: Parabellum) and next year's Angel Has Fallen. Now, according to Deadine, he'll be lending his talents to Godzilla vs. Kong, though this isn't his first go-around with the giant reptile, as Reddick had an uncredited role in the 1998 Godzilla movie.
Godzilla vs. Kong rampages into theaters on May 22, 2020, so stay tuned to CinemaBlend for continuing coverage.
Your Daily Blend of Entertainment News
Connoisseur of Marvel, DC, Star Wars, John Wick, MonsterVerse and Doctor Who lore. He's aware he looks like Harry Potter and Clark Kent.