Toy Story 4 Reviews Are In, Here's What The Critics Think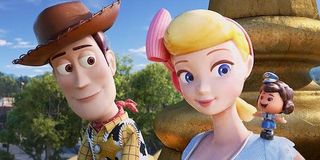 Nearly a decade ago, it looked like Toy Story 3 had put all the pieces in places to give the Toy Story franchise a proper conclusion, but not so. Woody, Buzz Lightyear and the gang are back for Toy Story 4, and they've brought with them a swarm of new faces, including Forky, Ducky, Bunny, Duke Caboom and Gabby Gabby, for a tale that seems to be angled towards definitely ending Pixar's first film series.
Early reactions to Toy Story 4 were incredibly positive, and with a little over a week to go until it's released to the masses, reviews for the latest Pixar movie are now pouring in. Spoiler alert: Pixar has another critical hit on its hands.
Starting off, CinemaBlend's own Mike Reyes awarded Toy Story 4 4.5 out of 5 stars in his review, calling it the sequel he never knew he needed and "quite possibly the best Toy Story to ever be told." Naturally the movie is entertaining for the younger viewers, but for the older fans who've lived with the Toy Story movies since the beginning, it's a nostalgia-infused story about knowing when it's time to let go and "properly seals the deal for this toy box of legendary friends."
Brian Truitt from USA Today was also positive towards Toy Story 4, awarding it 3 out of 4 stars. While the movie does deal with familiar themes of nostalgia and identity, it also benefits from being funnier, better animation, great new characters and the "welcome" reunion between Woody and Bo Peep.
ScreenRant's Molly Freeman gave Toy Story 4 4 out of 5 stars, calling it a "compelling continuation" of the film series that goes much further with exploring how lost toys can lead fulfilling lives. While some may walk into this movie wondering why Pixar bothered releasing Toy Story 4 given that Toy Story 3 delivered such a heartfelt conclusion, Toy Story 4 shows that these characters still have lessons to learn.
Ian Sandwell from Digital Spy counts himself among Toy Story 4's most enthusiastic supporters, awarding it a perfect 5 out of 5 stars. The movie does a stellar job balancing drama with comedy, and Tony Hale, Keegan-Michael Key, Jordan Peele, Keanu Reeves and Christina Hendricks' respective characters all shine in their own unique ways. But just in case you missed the stories about how emotional Toy Story 4 will be, be warned that the climax will "break you."
While Mashable's Angie Han also appreciated Toy Story 4, she noted that it feels less like a family film and more like a film for adults that children may also like, namely through its message targeted at those who are old enough to have seen the first two Toy Story movies in theaters. Toy Story 4 pushes Pixar into "some of its most daring territory in years," and while not everything the movie does will work for everyone, its ultimate message will resonate with a lot of people.
Finally, Dan Jolin from Empire gave Toy Story 4 4 out of 5 stars. He noted that while the movie doesn't feel quite as "coherent or emotionally compelling" as its predecessors, Buzz's storyline feels tacked on and folks like Jessie, Hamm, Rex and Bullseye barely feature, Woody's storyline, the appealing new characters and the "madcap action zigs and zags throughout" result in Toy Story 4 being a solid product and the strongest fourth installment in a film series since Mad Max: Fury Road.
Of course, these are just some of the Toy Story 4 reviews now available online, so feel free to look around and discover what other critics thought of the movie. Still, overall, it looks like Toy Story 4 is not just another worthy addition to the Pixar library, but in some people's eyes, it'll be the best of the Toy Story movies.
In case you've been living under a rock and having caught wind of any Toy Story 4 story details, the movie sees the toys going on a road trip with Bonnie and her family, as well as Bonnie's come-to-life arts-and-crafts project named Forky. During the trip, Woody and Forky are lost, and while Bonnie's other toys work to get them back, Woody and Forky come across Bo Peep among other toys at a small town's antique shop, and Woody soon develops a new outlook on what it means to be a toy.
You can judge Toy Story 4 for yourself when it's released in theaters on June 21, and stay tuned to CinemaBlend for more coverage on the movie. If you're curious about what else is opening later this year, head to our 2019 release schedule.
Connoisseur of Marvel, DC, Star Wars, John Wick, MonsterVerse and Doctor Who lore. He's aware he looks like Harry Potter and Clark Kent.
Your Daily Blend of Entertainment News
Thank you for signing up to CinemaBlend. You will receive a verification email shortly.
There was a problem. Please refresh the page and try again.