7 Things You Should Know Before Riding Hagrid's Magical Creatures Motorbike Adventure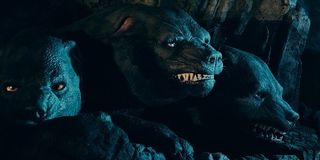 (Image credit: Via Universal Orlando)
Hagrid's Magical Creatures Motorbike Adventure is officially open for business at Wizarding World of Harry Potter Universal Orlando, and has already seen a staggering number of attendees attempt to ride it. As someone who has ridden the coaster, the wait is worth it, although there are some things patrons should know before getting in line to ride the latest addition to one of the theme park's most beloved areas.
So, I've compiled a handy guide for anyone who is hoping to visit the parks or the ride anytime soon. For any other notes, tips, or tricks, the comments section is always open.
The Animatronics Are Amazing
As mentioned, Hagrid's Magical Creatures Motorbike Adventure is a story coaster. This means there are portions of the ride where things slow down so riders can check out some of the cool animatronics just before blazing back on down the track to enjoy the rest of the coaster.
Keep those eyes peeled while riding because there's some very impressive animatronics that include a massive Hagrid, Blast-Ended Skrewt, Fluffy the Cerberus, Cornish Pixies, a Centaur, and Unicorn. Each one is immensely detailed and looks amazing, although I personally loved seeing the massive Fluffy the most of all. Honestly, it was the closest I felt to being in the world of Harry Potter in that moment, and I couldn't wait to get back in line and see it again.
There's A Moving Walkway, And Spots Are Designated
Yes, there's a line, but once patrons finally get through the bulk of it and progress to the final stretch, some additional ground rules come into play. Specifically, riders must line up either on the right or left side of the line. Right side gets the motorbike, and the left rides in the sidecar. The only real difference is slight leg separation and height, although some folks may claim otherwise.
Once all that is figured out, you'll finally be escorted to the platform, which is moving alongside the motorbikes. It's basically the same deal as how things are done in Harry Potter and the Forbidden Journey, and there will be plenty of time to board before things take off. One may not think that after watching the first few patrons scramble to get over the sidecar onto the motorbike, but trust us, it's not taking off before everyone is on.
There's A Family Room For Non-Riders
For those who want to experience all the fun sights and sounds on the way through the line, but can't or don't want to actually ride, there's a family room to hang out in while loved ones prepare for the ride. The room is to the right of the final queue room, and right next to the exit for riders so they can fetch their family's and tell them how cool it all was.
The Hagrid's Magical Creatures Motorbike Adventure family room maintains the aesthetic of the rest of the rooms, and even has a television that has the Harry Potter movies on rotation in case the line is moving extra slow. This experience isn't necessarily new to Universal rides, but welcome all the same especially when ride wait times are as high as they are at the moment.
That Drop Is Intense
Spoiler alert for anyone who wants to go on the ride completely surprised, you don't want to read this. Those who love spoilers should note there's a pretty wild "drop track" feature in which the cart feels like it's in freefall. It can be pretty scary if you're not expecting it, so those who don't wish to be caught off guard should be on the lookout when riders are entangled in the Devil's Snare plants.
The drop itself isn't incredibly far, but it does feel a lot farther than what it actually is. The moment comes in the second leg of the ride, in which riders travel at a pretty high rate of speed backwards. All the while stuff is whizzing by, and really creates that feeling the rider is about to crash into something from behind. Perhaps that's what makes it more intense?
The Motorbike Is Not One Size Fits All
Hagrid's Magical Creatures Motorbike Adventure puts riders in a motorbike and sidecar that was bewitched by Arthur Weasley. It's a really cool idea and the unique design puts one rider above the other in the motorcycle, while someone sits lower in the side car. The motorbike is legitimately like sitting on a motorcycle, minus the fact that a safety bar has to be pulled down over the lap once you're seated.
For larger patrons who have difficulties with the lap bar on other roller coasters, the motorbike safety latch may not go down to the required level to engage. The sidecar is said to have more breathing room in that regard, but anyone doubting should ask a ride attendant to test to see if they'll fit on one of the display motorbikes before hopping in line. No one wants to wait in that long line for no reason!
Having One Person Hold A Spot May Not Work Out
With extremely long wait times, it's totally understandable some patrons may want a family member "take one for the team" and wait out a majority of the line so the rest can enjoy the park and then jump in when they get closer. In general, that's a move folks tend to frown on, and one that many who have already been standing in line for hours may get upset over.
It's also a move that may be hard to actually accomplish, as patrons will have a hell of a time navigating the winding queue and moving past all those folks to find their friend or family member. Unless they're near the start or towards the very end, it could be near impossible, and maybe still impossible if team members are watching the exits and turning line jumpers away. The solution? Buck up and hunker down with your family.
Big Waits Are Expected, But Universal Is Working On It
New rides are always going to have a long wait, and that's especially true with Hagrid's Magical Motorbike Adventure. Hogsmeade can get pretty crowded even on a day when there's not a large number of people in the park. So far time estimates for waiting in line for the new ride have been said to take up to 10 hours, and that's not including any weather delays due to the random spouts of rain Florida is known for.
It's also worth noting that Hagrid's Magical Creatures Motorbike Adventure is a very elaborate ride. Keeping an attraction like that running takes some real work, so Universal has started opening the ride midday to limit the number of unexpected delays and to help the process run a bit more smoothly than is has previously. Just plan on spending the morning getting everything else out of the way, and maybe have someone keep an eye on the line to see when it opens if you're planning a trip!
9 Harry Potter Easter Eggs Found On Hagrid's Magical Creatures Motorbike Adventure
Those who have ridden Hagrid's Magical Creatures Motorbike Adventure, got any other suggestions for those ahead of their first ride? Drop a suggestion down in the comments and stick with CinemaBlend for more news related to movies and television.
Your Daily Blend of Entertainment News
Mick likes good television, but also reality television. He grew up on Star Wars, DC, Marvel, and pro wrestling and loves to discuss and dissect most of it. He's been writing online for over a decade and never dreamed he'd be in the position he is today.