Disney's The Lion King 2019 Budget Sounds Massive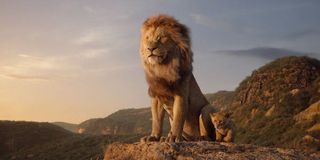 Touted as one of the year's biggest films, Jon Favreau's remake of the 1994 animated classic The Lion King is neither animated nor live-action. It's very much its own kind of movie, one that, even at first glance, looks expensive. Fortunately, it looks like it will make a huge profit. And it will have to.
In a new interview with Jon Favreau on The Lion King's VFX, it was noted that the budget for the film was expected to be significantly larger than the $175 million for his 2016 remake of The Jungle Book. How significantly? We don't know. But the huge worldwide gross of $966.5 million for the partly live-action Jungle Book gave Favreau leverage to ask Disney for the kind of advanced (and expensive) technology used in The Lion King.
Whether or not The Lion King's box office pull stacks up against Disney's other big releases remains to be seen. Jon Favreau himself seems more concerned with the film's quality, which bodes well for this highly anticipated remake. In an interview with The Telegraph, Favreau said:
The film implements new, state-of-the-art technology that breathes new life into the 1994 classic even as it respects the tone and feel of its source material. This technology, coupled with a ridiculously high-profile cast and crew, makes for an incredibly expensive movie. We don't know the exact number, but it's probably more than we could guess.
You can't blame Jon Favreau, though. Think about it: If Disney gave you unlimited resources to make a movie, you'd do everything in your power to ensure that the film looks, sounds, and feels good to viewers. And sometimes, that includes spending outrageous amounts of money to make sure everything is done right.
There are presumably many updates and changes being made for the remake, but James Earl Jones's iconic Mufasa isn't one of them. The legendary actor will reprise his role with few, if any, alterations to his character's demeanor and role in the story. Contrastingly, Scar's look in the film is drastically different than that of his hand-drawn counterpart, a design change that has fans unhappy.
It seems that, in some ways, the film is attempting to distance itself from the original. Unfortunately, that attempt has left many of the original animators uncredited and unrecognized. That's a complicated issue that nonetheless caused friction between the original creative team and Disney. But in other ways, the film promises to keep the spirit and the energy of its source material intact. Jon Favreau made sure of that.
Starring Donald Glover, Seth Rogen, John Oliver, Chiwetel Ejiofor, Eric Andre, Keegan-Michael Key, Alfre Woodard, Beyonce Knowles-Carter, and Jones, The Lion King opens in theaters on July 19, 2019. Tickets will go on sale tomorrow, June 24, 2019.
Stay tuned for more updates on The Lion King and other summer blockbusters!
Your Daily Blend of Entertainment News
Your Daily Blend of Entertainment News
Thank you for signing up to CinemaBlend. You will receive a verification email shortly.
There was a problem. Please refresh the page and try again.