All The Horror Movies Heading Our Way In Summer 2019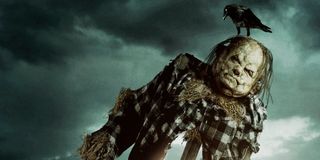 Is it just us, or does 2019's summer lineup feel like one of the most horror heavy seasons we've seen in a while? With seven prime films ready to scare the living daylights out of everyone who comes across them, it's a mixtape that covers all sorts of horror bases.
From killer aquatic creatures to supernatural forces, and all of the cult action you could ask for in-between, you're going to want to catch it all at the movies, with a crowd full of screaming horror fans. Keep in mind, this is on top of the recent scares that the Child's Play remake has been mining to its own benefit.
So while that film's included in the following list, we highly suggest you check that out somewhere along the line in your journey into this heart of horror darkness. Please enjoy this mini-calendar of all the horror movies heading into theaters this summer, starting with this week's latest offering.
Annabelle Comes Home
The Conjuring franchise is one of the most powerful runs of horror films to hit the modern market. Annabelle Comes Home acts as the latest film in the spinoff universe adjacent to director/producer James Wan's original universe of fright, and this one acts as part spinoff/part Conjuring tale.
Vera Farmiga, Patrick Wilson and McKenna Grace are all on hand to play the parts of the Warren family, who have never crossed over into this part of the universe in a proper context. Alongside newer characters and spirits introduced in this latest round, Annabelle Comes Home will have a very familiar ring to it, while also laying out some future ground for horror fans to explore in later tales.
Opened: June 26th
Midsommar
Writer/director Ari Aster used darkness as his ally in last year's horror smash Hereditary. It's a fact that makes his latest film, Midsommar, all the more entertaining in its decision to keep a lot of its action set in the broad daylight of rural Sweden. Which means that a lot of the screams and kills that you'll see on display in this exercise in brutality will be in great detail.
As Florence Pugh and Jack Reynor's central couple need to seriously consider where their relationship is going, Midsommar seems to be throwing them into a situation so nightmarish, they might not even get the chance to kiss and make up. From the looks of it, they may not even get the chance to walk away alive.
Opens: July 3rd
Crawl
Nature is one of the cruelest, most devastating forces that humanity could ever square off against. Yet time and time again, we see some scrappy humans pitted against those very obstacles in the name of nail-biting entertainment. That's exactly what director Alexandre Aja's Crawl will do, as it shows a father and daughter trying to survive both a category 5 hurricane and a pack of angry alligators.
Starring Kaya Scodelario and Barry Pepper as the would-be victims to this double whammy of primal fury, Crawl seems to have humans just as vicious as the swampy denizens that would try to make them their meal. If you're a fan of Jaws, you just might find the right mix of water-based thrills and chills with this one.
Opens: July 12th
Scary Stories To Tell In The Dark
While most of the movies on this list are going to be R-rated affairs for the more mature audience member, that doesn't mean that young adults will go wanting when it comes to the horror genre. Based on Alvin Schwartz's classic series of Scary Stories To Tell In The Dark, several of the stories from the infamous series of books with that same name are about to jump onto the big screen.
Thanks to the minds of co-writer/executive producer Guillermo del Toro and director André Øvredal, stories such as "Harold" and "The Red Spot" will terrorize a group of children that have found a mysterious book that contains those stories, which have haunted children in the real world for almost four decades. With that long of a legacy preceding these tales, there's bound to be some older audience members mixed in with the eager young audience ready to have their nightmares realized in living color.
Opens: August 9th
47 Meters Down: Uncaged
It's convenient that we invoked the memory of Jaws earlier in this list of horror delights, as there's actually a surprising sequel that's definitely going to invoke the memory of Steven Spielberg's landmark hit. Should you have enjoyed 47 Meters Down during its 2017 theatrical release, you might be pleased to know that you'll get another chance to swim with the sharks in this year's 47 Meters Down: Uncaged.
This time, the claustrophobic thrills will see a new batch of protagonists sparing with this deadly species of sea predator in a brand new setting. Amidst an underwater network of caves, there are some great finned beasts just waiting for snacks to wander into their domain. If you thought being locked in a cage in open water was bad enough, 47 Meters Down: Uncaged is the movie that will ask you to hold its Sea Breeze while it shows you its next shocking trick.
Opens: August 16th
Ready Or Not
Marriage is a frightening prospect for some, as the institution seems to carry the connotation that through its elaborate rituals, pomp and circumstance, a person loses their freedom. That sort of thought makes for great dramatic and comedic storytelling, but in Ready or Not, it takes the best of both of those worlds and crossbreeds them into a story with a twisted sense of humor.
Samara Weaving's Grace is our entry point into the world of the eccentric Le Domas board game empire, as she's only got to play a game of Hide and Seek to become part of the family. Any good horror fan is right now laughing at that simple objective, as anyone can tell you that the game isn't the goal of Ready or Not's mysterious family. Something more sinister is clearly afoot, and kill by kill, that picture will get a lot clearer for us on this side of the screen to see.
Opens: August 23rd.
IT Chapter Two
Summer technically runs to September 23rd this year. But even without that convenient fact, it's hard to talk about this season of horror without throwing in the much anticipated conclusion to Stephen King's IT saga. In IT Chapter Two, Bill Skarsgard returns as Pennywise the Dancing Clown, as he's ready to rock and ruin once again after 27 years of slumber.
His conquest won't be easy though, as while The Losers Club has been scattered to the winds by fate, they'll be reunited as adults to take on that mythical beast they previously defeated in the sewers of Derry. Whether you know the ending, or are along for the ride for your first time through the story that IT Chapter Two wraps up, you're definitely going to want to see the result.
Opens: September 6th
Frightening friends, our time has come to a grizzly end here. Armed with this knowledge, you'll be able to scare yourselves, or your unsuspecting prey, into a good time at the movies with these horrific offerings. As always, you'll want to keep in mind that these titles are subject to availability.
Keep this guide bookmarked for future reference, in case any changes are made to the plans of these very films. Until next time, walk carefully, and know that no matter day or night, land or sea, past or present, something evil might be lurking near you at this very moment.
Your Daily Blend of Entertainment News
Senior Movies Contributor
CinemaBlend's James Bond (expert). Also versed in Large Scale Aggressors, time travel, and Guillermo del Toro. He fights for The User.