IT Chapter Two: What We Know So Far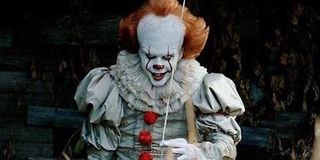 SPOILER WARNING: The following article contains massive spoilers about Stephen King's novel, IT, as well as director Andres Muschietti's adaptation. If you have not read the book and/or haven't seen the movie, and don't wish to know details of the story, you may want to check out another one of our wonderful articles!
For years it was said that Stephen King's IT was an unfilmmable novel -- but director Andres Muschietti has proven that idea to be very wrong. While it's true that the entire story couldn't be crammed into just one movie, the filmmaker did an impressive job bringing to life half of the epic in his adaptation, and now audiences are hotly anticipating the follow-up, IT Chapter Two. And that's the project that we're here today to discuss.
IT has managed to become one of the most successful horror movies of all time, and, as such, the sequel has quickly started moving through development. But when will it come out? Who is going to be at the helm? What can we expect from the main characters? We'll dive into all of that and more below and on the next few pages, so read on and learn What We Know So Far about IT Chapter Two!
What Is IT Chapter Two's Release Date?
When IT was released in 2016, Warner Bros. had ideas about a sequel, but they also weren't confident enough in the possibility to carve out a release date for the project. That changed very fast when the the film had the biggest horror movie opening of all time, and now we know that IT Chapter Two will be hitting theaters everywhere on September 6, 2019.
Despite the many limitations of a fall release - specifically the fact that families around the country are busy getting their kids back to school - the first IT did spectacularly when it came out in September 2017, so it's very little surprise that Warner Bros. would go back to that well for the follow-up. As for why the turnaround is so fast, surely part of it is because the studio wants to capitalize on success as quickly as possible - but the other major issue is the cast of young stars who are growing older and more mature every day.
What Will IT Chapter Two Be Rated?
Andres Muschietti's IT may feature child actors in almost all of the main roles, but the film is hardly made for movie-goers of the stars' age set. Unlike the 1990 miniseries that had to be somewhat censored due to network television restrictions, the movie fully leans into the profanity and violence that is featured in the original novel, and the MPAA delivered it an R rating as a result. And, while we can't say with absolute certainty just yet what the final grade will be on IT Chapter Two, there is less than a one percent chance that it's anything other than R.
The reality is that the MPAA doesn't deliver ratings until a theatrical cut is put together and near ready to go to theaters, so it will be a while before anything is made official. That being said, Andres Muschietti was very clear with his intentions to make his version of IT an R-rated adaptation, and there is no reason to believe that there will be a change of heart in that department when the sequel gets made (especially because the R-rating proved to not be an issue when box office figures were collected).
What Will IT Chapter Two Be About?
As alluded to earlier, IT was an adaptation of only half of Stephen King's original novel. The book's narrative actually takes place across two different time periods: the late 1950s, when the main characters are children; and the mid-1980s, when the main characters are 40-year-old adults. Obviously the first film exclusively focused on the kids (changing the setting to 1989), but IT Chapter Two will be centered around the adults and take place in the year 2016.
The story will pick up 27 years after the first movie (in case you couldn't do that math yourself), and will find The Losers Club forced to reunite in Derry, Maine when they learn that It has returned and started a new killing spree. With the exception of Mike, who stayed behind in the town while everyone else left, all of the Losers completely forget about what happened to them as kids, and find their memories start to return when they get back to the haunted burb.
It should be noted that while IT took on a completely linear narrative, that will not be the case for IT Chapter Two. As noted earlier, it has been confirmed that the young stars of the first movie -- Jaeden Lieberher, Sophia Lillis, Finn Wolfhard, Chosen Jacobs, Wyatt Oleff, Jeremy Ray Taylor and Jack Dylan Glazer -- will all be back for the sequel, and will be featured in flashback sequences that reveal more about the nature of It and how the evil entity can be defeated.
Who Will Direct IT Chapter Two?
IT was a film that was notably in the works for a long time under writer/director Cary Fukunaga, but when that fell apart due to behind-the-scenes issues, Andres Muschietti was the director that Warner Bros. decided to call. It was a fairly risky proposition for the company, putting the brand in the hands of a filmmaker who had only made one movie - 2013's Mama - but Muschietti wound up absolutely killing it, and will be back at the wheel steering things for IT Chapter Two.
The Argentinian filmmaker has repeatedly talked about his vision for how IT Chapter Two would play out, going back to when the first movie was still in production, and given the box office numbers that IT put up it was impossible to believe that Warner Bros. would bring on anybody else to make the follow-up. Thankfully, they made the right call, and Andres Muschietti will be able to fully complete his vision of Stephen King's terrifying world.
Bill Denbrough
Stephen King really loves to write about writers (see: The Shining, Misery, Salem's Lot, The Dark Half, etc.) and IT is one of the many titles in that trend. Specifically, Bill Denbrough grows up to leave Derry and become a best-selling horror author -- one whose books have been repeatedly adapted for the movies (sound familiar?). He completely loses his stutter, and gets married to the beautiful actress Audra Phillips, who we eventually learn bears a striking resemblance to Beverly Marsh. When he learns that he is needed back in Derry to take on Pennywise again, his stutter returns, and he is forced to abandon the London set of a film for which he wrote the script, asking Audra to cover for him. She does, but also winds up following him to the United States, which results in grave consequences.
Bill is the true leader of The Losers Club and the one that all of the others look up to -- but he is hardly without his own personal demons. Into adulthood he remains ever haunted by what happened to his brother, Georgie, as he believes that it was his fault and that it completely tore his family apart. Subconsciously, his work stems from the trauma he experienced when his young sibling was killed by Pennywise, and it remains fodder for It when Bill returns to his hometown.
Actor Jaeden Lieberher went on the record saying that he wanted to see The Dark Knight star Christian Bale take on the challenging part of Bill Denbrough in IT Chapter Two, but the production has landed a different comic book movie star instead. The man who plays young Professor Charles Xavier in the X-Men films, James McAvoy, has been tapped to play the adult version of Stuttering Bill, making it the first time he's done a Stephen King adaptation. It isn't, however, the first time that he's had the chance to work with the new sequel's female lead...
Beverly Marsh
Played by Sophia Lillis, Beverly Marsh gets one of the few complete arcs among the members of The Losers Club in IT -- particularly in the realm of overcoming the advances of her horrible, abusive father. She also finally ignites the spark between herself and Bill Denbrough, giving him the kiss she's always wanted to deliver. Unfortunately it's in their last moment together before she moves out of town and they don't see one another for another 27 years.
Beverly Marsh winds up being a woman trapped, going from one abusive relationship to the next. In Stephen King's book, Beverly marries a man named Tom Rogan, who shares some vile traits with her father, and finds occasion to beat her with his belt when he believes she is disobeying him. Despite this, however, Beverly is living well, making a home in Chicago as a well-known fashion designer. It's noteworthy that she also never fully forgets Bill, as she happens to be a fan of his books while basically only remembering that they grew up together. Their shared spark returns after they reunite in Derry to stop the return of Pennywise.
There was a good amount of debate surrounding who should play adult Beverly in IT Chapter Two, with Amy Adams getting a lot of mention, but Sophia Lillis said that she wanted the part to be played by Jessica Chastain... and she actually got her wish. Chastain notably not only previously worked with Andres Muschietti on his directorial debut, Mama, but, as alluded to, has already worked a lot with star James McAvoy. Not only did they make X-Men: Dark Phoenix together, but also the trio of films known as The Disappearance of Eleanor Rigby.
Mike Hanlon
Because they managed to escape the wretched, evil den that is Derry, Maine, six out of the seven members of The Losers Club go on to be immensely successful professionals -- but Mike Hanlon is the exception. As the group member with the deepest ties to the town, he designated himself as the Watchmen, and stayed behind in Derry to make sure that It would not come back following its defeat. Unfortunately, Mike discovers that the Losers were not able to completely kill the evil entity, and he winds up calling all of his former friends back so that they can take on Pennywise once again, as they promised they would.
While a good chunk of Mike's role within the group was taken by Ben in Andres Muschietti's IT (as he is really meant to be the future historian of the seven kids), it has been confirmed that Mike will be the one to stay behind in Derry in IT Chapter Two, and will age rather horribly as a result. What's more, the director has said that his vision of adult Mike will be a librarian who is also a functioning heroin addict, using the drugs to help him deal with the suppressive evil of the town.
Chosen Jacobs, who plays young Mike in IT, has said that he would love to see Chadwick Boseman be the actor to take on the seriously dark role, but it would appear that Boseman, perhaps, is a bit too busy in the Marvel Cinematic Universe. Instead, the role of adult Mike Hanlon will be played by Isaiah Mustafa, who is probably best known for his time as the Old Spice spokesperson, but has recently been starring on the television series Shadowhunters: The Mortal Instruments for three seasons.
Ben Hanscom
Outside of his love for Beverly Marsh and the music of New Kids On The Block, Ben Hanscom is portrayed as an immensely smart young man by Jeremy Ray Taylor in IT, and should IT Chapter Two follow Stephen King's book he will wind up going into a very profitable field. Andres Muschietti doesn't really showcase any of Ben's impressive engineering prowess in the movie, but the version of the character from the novel grows up to be one of the world's best known architects, living in Nebraska. He's single and unattached when he gets the call from Mike that he is needed back in Derry for a second round with It, but he is nonetheless stressed out -- featured in a sequence where he downs a full stein of Wild Turkey in the span of a few minutes.
One significant change that Ben goes through on his way to adulthood is that he also becomes impressively fit. While he is notoriously singled out as the "fat kid" among the members of The Losers Club, an encounter with some bullies and a horrible gym teacher during his teen years inspires him to totally change, lose weight, and become the fastest kid in his school. I'll say it now: it would be crazy if this story were not included in IT Chapter Two.
It was the story of impressive weight loss that may have inspired Jeremy Ray Taylor to choose Chris Pratt for the role of adult Ben Hanscom, as the actor famously got in great shape so that he could be in fighting form to star in Guardians of the Galaxy, but the stars didn't align on that one. Instead, the part has gone to Kiwi actor Jay Ryan - who is probably the least-known actor among the adults in the ensemble. His work on the big screen has been limited, but has has done a lot of television work, including the CW's Beauty and the Beast and Top of the Lake.
Richie Tozier
Finn Wolfhard's interpretation of Richie Tozier isn't exactly like the character in the book, as he doesn't really do as many ridiculous "Voices" -- but what they definitely do share in common is foul minds and motor mouths. He is definitely the funniest member of The Losers Club, but he also has a spectacular knack for getting people pissed off at him. All the same, his sense of humor winds up taking him far in the novel, as he becomes a member of the entertainment industry living in Los Angeles.
The adult version of Richie Tozier in the 1990 miniseries, played by Harry Anderson, was portrayed as a TV host, but Stephen King's character is a successful DJ who bails on an interview with Clarence Clemons of The E Street Band so that he can fly back to Maine and reunite with his childhood friends. They are both delighted and dismayed to discover that his sense of humor has not dissipated with age.
Making what many have argued is a rather perfect choice, Finn Wolfhard suggested that Bill Hader should be given the part of Richie in IT Chapter Two - and like the case with Jessica Chastain, the filmmakers simply couldn't make a better choice themselves. Hader will indeed play adult Richie Tozier in the sequel, getting to play more serious drama like he does on his HBO series Barry and like he did in the movie The Skeleton Twins.
Eddie Kaspbrak
Adult Eddie Kaspbrak actually winds up sharing a lot in common with adult Beverly Marsh in Stephen King's IT, as while both do very well in their respective business fields, their lives are also anchored by memories of their terrible parents. While Tom Rogan is a reflection of Beverly's horribly abusive dad, Eddie winds up marrying a woman exactly like his mom: overweight, overprotective, and regularly trying to stifle her husband's life.
Things in the story could certainly change in IT Chapter Two (the 1990 miniseries had Eddie still living with his mom), but the Stephen King-written version lives in Chicago and operates an oddly well-performing car service (he forces his wife to take a gig with Al Pacino so that he can leave for Derry). It is perhaps because the memory of his mother still lingers in his wife that he remains dependent on his aspirator, despite being told as a child that it is just a placebo.
Jack Dylan Grazer picked Jake Gyllenhaal as the actor he wanted to see play adult Eddie, which would have been great, but instead IT Chapter Two has signed popular character actor James Ransone for the part. While you may not know his name, you probably know his face, as he's been consistently working in the industry for nearly 20 years now. One of his first gigs was as Chester 'Ziggy' Sobotka on The Wire, but more recently he's appeared in both Sinister movies, and the Amazon television series Bosch.
Stan Uris
While Mike Hanlon places six calls to the members of The Losers Club in Stephen King's novel, only five of them actually make their way to Derry, Maine. This is because Stan Uris -- a successful accountant living in Atlanta, Georgia -- decides not to go and make good on the promise that he made to his friends as a kid. Instead, much to his wife's surprise, Stan responded to the phone call by going to the second floor bathroom of his house, running a bath, and killing himself by slitting his wrists with a razor. Before he dies, he uses his blood to write the word "IT" on the bathroom wall. Bill and Mike ultimately blame the entity for Stan's fate, but it's never entirely confirmed what happened.
The description of Stan's death is featured only a few chapters into IT, so it will be interesting to see how his role will be handled in IT Chapter Two. Could the sequel pull a bait and switch on book fans and have a different character take the fate of Stan? If not, an adult version of him could also be used by Pennywise to haunt the living Losers, which would make the role at least a little more substantial.
Wyatt Oleff, who brought Stan to life in IT, interestingly played a kid version of a Chris Pratt character as young Peter Quill in Guardians of the Galaxy and Guardians of the Galaxy Vol. 2, but the actor instead told us that he wants to see the part of adult Stan go to Joseph Gordon-Levitt. Given the size of the role, that was probably never going to happen, and instead the part has gone to Andy Bean - a relative newcomer whose parts include a recurring role on the show Power, and an unnamed lawyer in Transformers: The Last Knight.
Pennywise The Dancing Clown a.k.a. It
Actor Bill Skarsgard did a tremendous job bringing Pennywise The Dancing Clown to life in IT -- sporting a very different look than the Tim Curry version and inspiring new nightmares all the same. At the end of the film he was obviously defeated by The Losers Club, given a nice beating in his physical form and forced to hibernate early down in the drains of Derry -- but he will be back with a new spirit of vengeance in IT Chapter Two.
Certain elements of It were left out of the children side of the story, including all mentions of the entity's moral counterbalance, The Turtle, but Andres Muschietti has spoken about getting more into the existence of It and its nature in the upcoming sequel. This could lead the blockbuster into some truly trippy areas, so we can't wait to see how the filmmaker goes about portraying It's true form, the deadlights, and the macroverse.
Henry Bowers
IT a.k.a. Pennywise is unquestionably the primary antagonist in Andres Muschietti and Stephen King's IT, but Henry Bowers (played by Nicholas Hamilton) does repeatedly do his part to totally fuck with The Losers Club's individual lives. A violent bully raised by an abusive father, he takes immense pleasure in making the lives of Bill, Beverly, Ben, Mike, Stan, Eddie and Richie hell, and becomes a useful tool of It as a result. Of course, this doesn't end too well for him in the movie, as after killing his father he falls down a long well in the basement of the Neibolt House following a showdown with Mike.
Assuming that Henry survived this fall, Stephen King's book suggests things won't go well for him as an adult in IT Chapter Two. Rather than becoming a fully-functioning member of society, he instead winds up spending most of his adult life in Juniper Hills Asylum -- a home for the criminally insane. It is with the help of It, who speaks to Henry through the moon, that he escapes this institution and makes his way back to Derry to get his revenge on his old school chums. In addition to featuring the return of Nicholas Hamilton, the upcoming movie has cast actor Teach Grant as adult Henry Bowers, and hopefully he'll have what it takes to scare the crap out of audiences
Your Daily Blend of Entertainment News
Assistant Managing Editor
NJ native who calls LA home and lives in a Dreamatorium. A decade-plus CinemaBlend veteran who is endlessly enthusiastic about the career he's dreamt of since seventh grade.
Your Daily Blend of Entertainment News
Thank you for signing up to CinemaBlend. You will receive a verification email shortly.
There was a problem. Please refresh the page and try again.