Walt Disney World Is Closing Several Epcot Locations As Part Of Major Transformation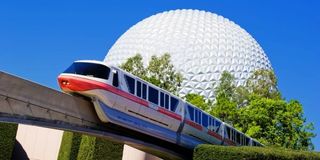 Walt Disney World is getting ready for its 50th Anniversary in a couple of years and a lot of changes and updates are planned to the parks for the big event. Many of those changes are focused around Epcot's Future World, and renovations are about to get under way as a number of locations in the front of Epcot are now slated to close September 8.
Some of these locations will be moving to temporary digs while renovations are getting underway. Others will be closed for the duration of the construction, and yet others will be closing down for good, making way for new or significantly improved spaces. According to Laughing Place, here are the spaces being affected.
The fact that most of these spaces were going to be closing has been known for the last couple years, when we got our first look at a re-imagined Epcot. The front half of the park was significantly different, so it was clear that a lot of changes would be happening. Here's how they break down.
Fountain View is the current location of the in-park Starbucks. Those needing their latte fix won't have to go without as a temporary building will be constructed to house the coffee shop until a new permanent structure is ready after this renovation is complete.
The closure of the camera center and Pin Central are related. Pin Central has been the main place to do your Disney pin purchasing inside Epcot.The camera center will be closing for good in September, and will be the new home of the pin center. Until the space is ready, Pin Central will also move into a temporary location.
The two character locations where guests can get their picture taken with their favorite Dsney characters will need to be closed down for construction. It's usually the core Disney cast, Mickey, Minnie, Donald, Goofy, etc, who you can find there. All of them will be moving to new locations for pictures so they won't be gone.
The Mouse Gear gift shop will be moving to a temporary location while it gets a fully renovated and reimagined space in the new Future World design.
The Electric Umbrella quick service food location will also be closed during the renovation. It's unclear what the fate of the location is exactly. Disney says "new dining options" will be available. This could mean a complete replacement of the Electric Umbrella, or it could just mean a name change to what is otherwise the same collection of menu options.
Club Cool, the soda fountain location sponsored by Coca-Cola will be closing, but is said to be part of the "future plans" for Epcot, so it, or something like it, will probably find a home in the new Future World. As long as there's a place where we can get our friends to drink Beverley, that's all we need.
The two biggest losses to Epcot are the Fountain of Nations and Innoventions East. The fountain was second only to Spaceship Earth as the park's central icon. It may be gone, but the initial concept art that Disney released showed a new fountain located inside the World Showcase lagoon. While it's likely that concept has changed, there may still be a new fountain coming to replace the old one.
Innoventions was a area that was designed to focus on technological innovations. A variety of different displays and interactive experiences were placed there over the years. It was divided into two halves. Innovations West has been closed since 2015, now the east half will be closing as well. The space currently houses Colortopia, presented by Glidden. The exhibit will be closing as well.
The one closure announced not part of Future World is Heritage Manor Gifts, it is part of the America pavilion of World Showcase and will be replaced by Art of Disney.
As with all changes to Walt Disney World, the fact that this is happening is somewhat bittersweet. Whether you were a serious fan of one of these locations or just somebody who loved Epcot for the park that it is, it's now about to change. Only Disney's Hollywood Studios has seen more significant changes in recent years than Epcot. While the park was originally designed as a permanent World's Fair, over the years it has begun to adopt more Disney IP, something which many fans of the park have been vocally opposed to.
Of course, there's also excitement for what is to come. We don't have specific details about what might be set to replace all of these locations, but that just further fuels the excitement. The entrance plaza of Epcot is already undergoing major renovations as half of the Leave a Legacy monoliths have already been removed.
We do know some of the things that will be part of the all-new Future World, a new space-themed table service restaurant is currently being constructed next to the Mission: Space attraction, as is a Guardians of the Galaxy roller coaster which will use an all-new design. The Wonders of Life Pavilion is also being replaced with a new pavilion that promises experiences themed around Zootopia and Wreck-It Ralph.
In addition the France Pavilion in World Showcase is getting a new ride based on Pixar's Ratatouille.
When it's all said and done, Epcot is going to be a very different, and likely very beautiful place. However, in order to get there, guests will have to go through the growing pains of construction. Seeing so much work being done on the park in such a public place is never fun, but there's simply no other way to get to the new version of Epcot.
With most of these closures set for September 8, guests still have a couple of months to experience these spots before they're gone. While some will be back, they won't be quite the same when they return.
Images Courtesy WDWNews.com/Disney
Your Daily Blend of Entertainment News
Content Producer/Theme Park Beat
CinemaBlend's resident theme park junkie and amateur Disney historian. Armchair Imagineer. Epcot Stan. Future Club 33 Member.