One Midsommar Actor Got 'Hammered' After Wrapping The Movie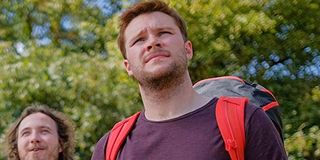 "Traumatic" seems to be the best, and most frequently used, word to describe the experience that writer/director Ari Aster has invoked with his new film Midsommar. Not only has it gotten audience members riled up with its visceral brand of horror, but those involved in making the film seem to have walked away with their own sorts of scars.
Actor Jack Reynor can certainly attest to that, as apparently he had his own way of coping once production on the recent horror hit wrapped: a nice, long trip home, with plenty of alcohol involved. Reynor revealed that plan, in his own words, during a recent interview, in which he stated:
Playing the boyfriend of Florence Pugh's protagonist Dani, Reynor's Christian has been held up as a new standard of bad movie boyfriends. Bringing his girlfriend along for a vacation that looks idyllic on the surface, but ultimately becomes anything but, it certainly doesn't sound like audiences will be siding with Midsommar's male lead anytime soon.
That said, it's not hard to identify with Jack Reynor's statement above, which he gave to EW when promoting the film. Without any spoilers, Midsommar does feel like the sort of film that, when looking at it from the outside, has the potential to make anyone uncomfortable. A film that racks up an R rating for, among other things, "disturbing ritualistic violence and grisly images" already sets that expectation.
The cherry on top of the freaked out sundae is the fact that Ari Aster is good at taking typical horror tropes and turning them into slow burning, deep seated scares. Jack Reynor's commitment to really going the extra mile, full frontal nudity and all, only makes the content more effective, but also leaves an actor with quite a grueling experience to recover from at the end.
Between the natural setting lending to a bit of the creepiness and discomfort to pieces of Midsommar's shoot, it sounds like there was a lot of method acting going on between Reynor and his co-stars. So much so that once they'd actually watched the movie, they shared a prolonged silence for quite some time.
Reactions from the initial critical audience seemed to support the cast that yes, Midsommar is the movie that will haunt your dreams this summer. But perhaps the greatest badge of honor that the film can hold up for all to see is that Us director Jordan Peele called the film out for "the most atrociously disturbing imagery" he had ever seen.
The cast and crew of Midsommar sound like they went through hell and back to produce the film that's currently enjoying its place as the most recent horror entry in a season that has a lot of genre pleasantries to offer. It wouldn't be surprising to look back on summer 2019's horror landscape, and see Midsommar sticking out as yet another joyful gem of disturbing, and ritualistic, violence; and we have Jack Reynor and the rest of the team that made the film to thank for it.
Let's just hope that by time Jack got home, his hammered adventure complete, he didn't forget anything important back at his point of origin. The human liver can only stand so much abuse.
Midsommar is currently in theaters, so please watch and drink responsibly.
CinemaBlend's James Bond (expert). Also versed in Large Scale Aggressors, time travel, and Guillermo del Toro. He fights for The User.
Your Daily Blend of Entertainment News
Thank you for signing up to CinemaBlend. You will receive a verification email shortly.
There was a problem. Please refresh the page and try again.