The Hardest Co-Star To Be Mean To, According To Pet Sematary's Jeté Laurence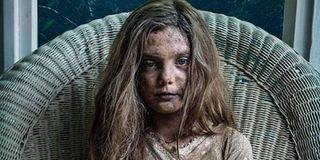 Warning: SPOILERS for Pet Sematary are in play. If you haven't seen the film yet, come back once you've caught up with all the gory details.
One of the best things about cinematic evil is that, much like adversaries in the real world, it can come from anywhere. In Stephen King's Pet Sematary, it's through the possession of the Creed family's son, Gage, that some of the most surprising evil is allowed to rear its head; but in the 2019 film version, those duties are flipped to Jeté Laurence's Ellie.
Through Jeté Laurence's intense performance, the villainy of the "new" Ellie is palpable, which is the complete polar opposite of her sunny demeanor. Which lead to asking the question of which co-star was the hardest to act so cruelly towards on screen.
You might already have an answer to that question, but when CinemaBlend spoke with Jeté Laurence during a recent press day for Pet Sematary's home video release, it pretty much confirmed our own idea as to what that answer might be:
Out of anyone in the Pet Sematary cast's lineup, it's to be assumed that Lithgow would be the hardest to be mean towards. Despite his ability to play some pitch perfect villains throughout his career, the iconic actor has also played his share of goofballs and sympathetic characters.
Certainly one of his most sympathetic performances in recent years was that of Jud Crandall, the local farmer who Louis Creed sees as a father figure and ultimately a friend of the Creed family who tries to keep Ellie from discovering that her cat, Church, has died. Unfortunately for him, the act of resurrecting the family pet costs him his life, and at the hands of the little girl he became such good friends with.
A surprising, but welcomed change from Pet Sematary's source material, it's now the older daughter of Jason Clarke's Louis and Amy Seimetz's Rachel that finds herself killed and resurrected, with the darkness of the Wendigo attached to her once she's come back from beyond the veil.
Watching the behind-the-scenes footage of Jeté Laurence included on the film's recent home video release, as well as speaking with her personally, it's readily apparent that the young actor dug deep to portray the evil that slowly overtakes her character.
Jeté Laurence's efforts are even more remarkable when you compare them to the work she does in the earlier parts of the film, where Ellie is an upbeat girl who's getting to the point in life where her curiosity is starting to look past the curtain on the reality of the world around her.
Another interesting fact to note is that one of the first experiences Jeté Laurence had with the horror medium was watching the film Don't Be Afraid Of The Dark. That tale also focused on a child questioning and observing the line between the world of normalcy and that of the extraordinary, and much like Bailee Madison before her, Jeté Laurence had added her own unique contribution to the world of horror.
At its heart, Pet Sematary is a story about a family being changed by death, both in their knowledge and their reactions to the concept itself. In its source novel, as well as its film adaptations, the story of the Creed family's descent into madness is hard for even some adults to handle without getting rattled.
For Jeté Laurence, not only was she not scared of her role as Ellie the Great and Terrible, she took the opportunity to give us one of the most interesting screen villains we've seen in 2019. The resulting portrayal of one of Stephen King's most chilling foes is a work to behold, even if poor Jud Crandall had to go down as a result. Just as Laurence found it a bit difficult to seal the fate of John Lithgow's character, you can't deny that when the killing blow arrives it's absolutely horrifying. At least if the rumored prequel moves forward, Jud won't have to worry about watching his Achilles heel as much.
Pet Sematary is now available on Digital HD, 4K UHD, Blu-ray, and DVD.
CinemaBlend's James Bond (expert). Also versed in Large Scale Aggressors, time travel, and Guillermo del Toro. He fights for The User.
Your Daily Blend of Entertainment News
Thank you for signing up to CinemaBlend. You will receive a verification email shortly.
There was a problem. Please refresh the page and try again.