There's Already An Alita: Battle Angel Prequel Setting Up The Fall Thanks To The DVD Release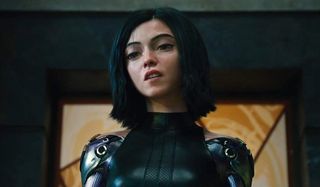 Alita: Battle Angel has hit home video this week, and the special features included are an absolute treat for any fan who's ready to dive further into the world of director Robert Rodriguez's futuristic epic. Nowhere is that more apparent than in a set of motion comics included with the Blu-ray and DVD release entitled "Alita's World," which reveals new details about events both past and present.
Perhaps the most important individual motion comic is The Fall, which tells the story of the eponymous conflict that plays so heavily into the world of Alita: Battle Angel. While we get snippets of just why this conflict is so important throughout the film's events, a condensed history of the conflict is provided through The Fall's six-minute running time.
The "TL;DR" version of The Fall sees Earth and Mars entering the all-out war that ravaged both worlds hundreds of years before Alita: Battle Angel takes place. As the two planets become hugely powerful entities in the future, an eventual war breaks the peace between them, reshaping the world as we know it.
It's during this war that a chain of events take place that nail down two important factors in Alita: Battle Angel. First, we see that the reason Zalem is the only sky city surviving The Fall come to life through the history of the conflict's casualties. Everything from battles to biological warfare play a part in turning the earth into something so desolate that Zalem and Iron City are pretty much the only population center on the planet.
The ultimate power move was played by the United Republic of Mars, as they launched a sneak attack on Earth, courtesy of a powerful bio-weapon that wiped out millions. A counter attack on Mars, courtesy of a nanobot plague that was let loose in retribution, evened up the playing field.
Meanwhile, we also learn more about Alita and who she was before we first meet her. With her given name being Yoko, it's revealed that not only was she born a human on Mars, but her cybernetic enhancements only began once she became a soldier for the United Republic of Mars.
As an URM soldier, orphaned by The Fall, Yoko would join the cause and take up arms against Earth, eventually becoming the core of the woman who would eventually become Alita. The story of The Fall ends with our favorite battle angel in her famed scrap heap, memory wiped without a clue as to what or who she was in her past life. Waiting for Dr. Dyson Ido to recover her, and bring her back to life.
A lot of the details in The Fall fill in even more background into who Alita was before the beginning of Alita: Battle Angel takes place. Considering Robert Rodriguez did a huge re-write on James Cameron and Laeta Kalogridis' 600-page script, it's to be assumed that a lot of the information from The Fall motion comic was stripped from that lengthy original concept. Looking back at how Rodriguez's film plays, it's probably a good thing too.
The current state of Alita: Battle Angel teases just enough about The Fall that the audience knows how important it was and what it did to humanity, but still leaves a lot of that history untold and ready for future films. Should the Disney/Fox studio family want to move forward with more action in Alita's world, it could easily use the content shown in The Fall as flashback scenes in a potential Alita: Battle Angel sequel. In an even more ambitious light, an entire prequel film could be made about Yoko's life before becoming Alita.
Simply as a motion comic, The Fall provides enough information for fans of Alita: Battle Angel to get more of an understanding of just how important to the story her life was, and just how she became the woman that she is by the end of the film. Though that's far from the only useful information "Alita's World" has to offer.
Constant talk about whether or not Alita: Battle Angel could ever get a sequel has constantly been a topic of discussion surrounding Robert Rodriguez's stunning film; those who are looking for more of Alita's story can take comfort in the fact that "Alita's World" holds more of that magic for all to see.
Bundled in with The Fall are three other motion comics that add layers to Robert Rodriguez's interpretation of the world originated in Gunnm by manga author Yukito Kishiro. In Rules of the Game, the audience is given more background into how the sport of Motorball plays when it's within the regulations set for that particular game, while What It Means To Be A Cyborg has the character of Hunter-Warrior Zappan talking about how he slowly became more of a cyborg over time, and what exactly happens when a person becomes more machine that organic.
The key addition in the three remaining motion comics is undoubtedly Iron City, a short that finds Alita's boyfriend, Hugo, running down the districts that exist in the city, and the makeup of people and landmarks that can be found. Pair this with The Fall, and you've got a perfect primer that can be used to introduce newcomers to the world of Alita: Battle Angel, as well as enrich the understanding of those who have already seen the film.
Maybe, if enough fans experience the extended story of The Fall, and the rest that the collection of motion comics have to offer, there will be more of an outcry to see such events depicted in a living, breathing Alita: Battle Angel 2 or prequel. A prospect that even Rodriguez himself would be down for making into a reality. Only time will tell, but for now, the constellation of special features available on Alita: Battle Angel is one that shines so brightly, it makes the film at its heart even more dazzling.
Alita: Battle Angel is available for purchase on Digital HD, as well as 4K UHD/3D Blu-ray combo, Blu-ray, and DVD releases; with "Alita's World" being one of the features that carries through each release of the film.
CinemaBlend's James Bond (expert). Also versed in Large Scale Aggressors, time travel, and Guillermo del Toro. He fights for The User.
Your Daily Blend of Entertainment News
Thank you for signing up to CinemaBlend. You will receive a verification email shortly.
There was a problem. Please refresh the page and try again.