Ranking All Of Quentin Tarantino's Movies, Including Once Upon A Time In Hollywood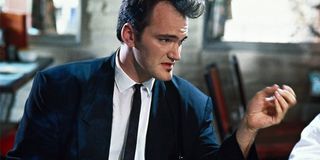 Even in an age when big brands and franchises are totally dominating the cinematic world, the work of writer/director Quentin Tarantino has a special draw for movie fans. In the last 27 years he has been one of the most consistent voices in filmmaking, building one of the most impressive filmographies in modern Hollywood, and regularly produced brilliantly entertaining and unique stories that also happen to be fueled by violence and overflowing with adult language. Of course, there's also a love-him-or-hate-him side to things, but there is no denying the impact that he's made – and that's only been further proven with the release of Once Upon A Time In Hollywood.
The ninth film from Quentin Tarantino (and supposedly his penultimate as a big screen director), the new movie just had the biggest opening of the filmmaker's career, and has inspired chatter among cinephiles all over the world. It's with this in mind that we figured now would be the perfect time to take a look back at Tarantino's career, and rank his epic contributions to the artform so far:
9. Death Proof (2007)
Death Proof may be the lowest ranking title on this list, but don't get it twisted – it's a fantastic film. It just also happens to be the weakest Quentin Tarantino movie. Released as part of 2007's Grindhouse along with Robert Rodriguez's Planet Terror, it's Tarantino offering audiences a lesson about a special particular period of cinematic history close to his heart, while also delivering a balls-out thriller that features some of the best car stunt work of the 21st century. Getting to operate both in his wheelhouse and distinctly outside of it, Kurt Russell puts on one of his most memorable performances as the killer Stuntman Mike, and paired with the ridiculous over-the-top energy of Rosario Dawson, Zoe Bell, and Tracie Thoms we get one of the most satisfying conclusions of any offering from the filmmaker.
8. Django Unchained (2012)
If Quentin Tarantino goes the rest of his career without making a traditional superhero project, at the very least audiences can be happy with 2012's Django Unchained mostly fitting the bill. The film has the same myth-making style storytelling as many other titles in the genre, as Tarantino crafts an epic about a would-be folk hero (were he actually ever alive): the freed slave who fought back. It's fun and thrilling as a revenge story, while also a deeply emotional look back and the true horrors of American slavery – brought to life by some of the best performances featured in a Tarantino movie. If it weren't for a bit of plot/pacing janky-ness at the end of the second act it might be ranked higher on this list, but instead it has to settle for being the eighth best from the writer/director.
7. The Hateful Eight (2015)
After more than a decade of making genre adventures much larger in scale than the stories that launched his career, Quentin Tarantino decided to tell a more intimate tale when crafting his eighth feature film. He put aside exciting car chases and continent-spanning revenge missions in favor of a plot centering on a group of individuals in post-Civil War Wyoming who get stranded together during a blizzard and slowly learn that not everything is as it seems. And the end result is magnificent. The Hateful Eight was a gamble for Tarantino, as it's not easy to create a nearly three-hour-long movie almost exclusively set in one location, but with brilliant performances from Samuel L. Jackson, Kurt Russell, and Jennifer Jason Leigh; a series of tight, dark twists; an Oscar-worthy Ennio Morricone score, and genius punctuation moments of violence, it still remains one of the filmmaker's most thrilling works.
6. Reservoir Dogs (1992)
Quentin Tarantino came up in the industry at a time when a lot of other insanely talented filmmakers were getting their movies shown, as the rise of independent film brought us names like Sam Raimi, Richard Linklater, the Coen brothers, and Robert Rodriguez, but watching 1992's Reservoir Dogs it's easy to understand how the filmmaker immediately distinguished himself. So many of his greatest auteur qualities are right up on the big screen from jump street, from the sharp, pop culture-obsessed dialogue, to the long tracking shots, to the eclectic song choices on the soundtrack. Telling the story of a group of mysterious thieves in the aftermath of a job gone horribly wrong, the feature is simply one of the greatest directorial debuts in history, and is filled with iconic moments and lines from end-to-end.
5. Jackie Brown (1997)
The legacy of Quentin Tarantino in Hollywood will always be primarily centered around his contributions as a filmmaker who specializes in original stories – but this should do nothing to undercut the immense value of Jackie Brown, which arguably exists as the writer/director's most underrated work. The filmmaker combines the Elmore Leonard-authored source material with a fantastic modern take on Blaxploitation, and weaves an intensely fun crime caper busting at the seams with amazing characters. Samuel L. Jackson's Ordell Robbie is easily one of the best antagonists featured in a Tarantino movie, while both Pam Grier and Robert Forster deliver the two best performances of their respective careers. It's a gem filled with iconic moments literally from beginning to end (the moving walkway opening at LAX is a stunner, as is the achingly romantic and painful final sequence), and it's the best big screen adaptation of a Leonard novel – which is saying a lot when you consider the greatness of Out Of Sight and Get Shorty.
4. Once Upon A Time In Hollywood (2019)
After nearly 30 years of watching his movies, you'd think that we'd have a solid beat on everything Quentin Tarantino… but then he comes along and directs a film that is completely different from the rest of his filmography as his ninth feature. The fact alone that it's not a plot totally steeped in violence makes it a work apart, but simultaneously Once Upon A Time In Hollywood is one of Tarantino's most passionate and personal releases in telling the story of two best friends – an actor (Leonardo DiCaprio) and a stuntman (Brad Pitt) – who have come to the understanding that the world has passed them by. It has an excellent, explosive finish courtesy of the Manson Family subplot that is strung throughout, but the great takeaway is that it's a work of real poignancy from the writer/director, and analytically a fascinating inward look from a guy who sees himself slowly approaching the end of his career.
3. Kill Bill (2003 & 2004)
Though some confuse it with plagiarism, what makes Quentin Tarantino particularly fascinating as a filmmaker is his shockingly deep knowledge of motion picture history, and his ability to first totally understand why certain choices are made, and then apply those lessons learned to his own work. Kill Bill is perhaps the greatest example of this: Tarantino is an uber-passionate fan of martial arts cinema, and every ounce of that passion is distilled into the two-part epic following Beatrix Kiddo a.k.a. The Bride (Uma Thurman) on a roaring rampage of revenge. The end result is one of the greatest films the genre has ever produced--and he considers what was released as two movies to be one film. Between its action choreography, general stylistic flair, and amazing cast, there's endless things to love about it, but arguably the most impressive is just how different the first and second halves are while still coming together as a stunning cohesive whole.
2. Inglourious Basterds (2009)
Just about everyone has pondered the question of going back in time to kill Adolf Hitler, but in 2009 Quentin Tarantino took that idea an extra step further with Inglourious Basterds. In it, the filmmaker imagines an alternate world history where the efforts of allied forces result in the assassination of the Nazi leader… and one could make a case for it being the most entertaining World War II movie ever made. In its three-pronged story – following a squad of Jewish guerrilla fighters; a theater owner executing a mission of vengeance; and a Nazi colonel maneuvering against both of them – there is absolutely everything you could want from a 1940s-set revenge story. It famously ends with the seemingly self-referential line, "I think this just might be my masterpiece," and we would totally agree… if it were not for one of Tarantino's other titles.
1. Pulp Fiction (1994)
As noted above, Reservoir Dogs proved to be a perfect start for Quentin Tarantino's career, immediately telling audiences what he's all about and what he can deliver as a filmmaker, but it was Pulp Fiction that quickly proved to the world that the writer/director is one of the all-time greats (which is pretty insane when you consider it was just his sophomore effort). Broken down it's a non-linear collection of vignettes with shared characters telling a variety of tales around Los Angeles, but the way in which in brings everything together was revolutionary in the mid-1990s, and it became a total game-changer. This movie defined the shift into the post-modern era for the crime genre, and its influence can be found in hundreds if not thousands of features released since. It's one of the most important films of all time, and Tarantino's greatest to date.
How do you rank the films of Quentin Tarantino? Does your rundown line up with ours, or are there some key differences? Hit the comments section below with all of your thoughts, feelings, and opinions, and stay tuned here on CinemaBlend for all of the latest updates about the writer/director's cinematic future.
This poll is no longer available.
Your Daily Blend of Entertainment News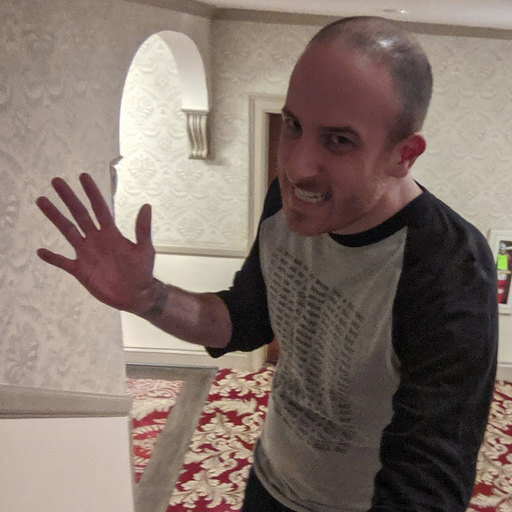 Assistant Managing Editor
NJ native who calls LA home and lives in a Dreamatorium. A decade-plus CinemaBlend veteran who is endlessly enthusiastic about the career he's dreamt of since seventh grade.