Walt Disney World's Epcot Changes Are Even Bigger Than We Thought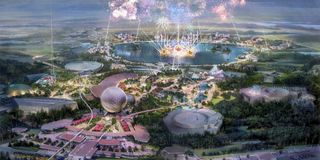 This past weekend was a big deal for all things Disney, as we learned a lot about what's next for the studio on both the big and small screen. But TV and movies are just a small part of what The Walt Disney Company does, and so we also learned a great deal about what's next for Disneyland, Walt Disney World, as well as the other theme parks around the world.
Disneyland Resort's new Marvel themed land received a name, Avengers Campus, as well as a lot of information about the new Spider-man themed attraction. Likewise, Star Wars Galactic Starcruiser, a new hotel that has more in common with a cruise ship, received a name alongside a host of details about the immersive experience guests will find when it opens.
However, a great deal of the presentation focused on Epcot. The permanent World's Fair theme park is where Walt Disney World will be focusing most of its efforts for the next couple of years,and while we knew that big changes were in store, what we got was even more than we were likely expecting. The entire front half of the park, the area known as Future World, will cease to exist when it's all said and done, replaced by three separate pavilions, all focused on different concepts.
The three new pavilions are called World Celebration, World Nature, and World Discovery. World Celebration will include the iconic geodesic dome, Spaceship Earth, which itself will be undergoing a major overhaul. Previously, the dark ride inside the dome has told the story of communication throughout time. It's dealt with everything from the oral tradition to the written word to the internet.
The new Spaceship Earth will modify that focus slightly, and deal specifically with the history of one type of communication, storytelling. Many of the animatronic displays currently part of the attraction will remain, but with a new focus, and other will be replaced with new elements that tell the history of storytelling through history.
World Celebration will also be the home base for the various festivals that Epcot has become known for, such as the Festival of the Arts, the Flower and Garden Festival, and the Food and Wine Festival. They will be located in their own, brand new, multi-story pavillion space which is also being touted a great place to watch the new nighttime show, which we'll get to in a moment.
World Nature will encompass the existing The Land and The Seas attractions. The former will get a new film, Awesome Planet, and will also be home to a new walkthrough attraction, Journey of Water, inspired by Moana, which will see guests able to control water in different ways as we've seen in that film.
Finally, World Discovery will be the home of the new Guardians of the Galaxy roller coaster, which was finally given a name, Guardians of the Galaxy: Cosmic Rewind. In addition to the unique ride vehicles that were previously announced, we also learned it will be a reverse launch coaster.
World Discovery will also be the home for the previously announced PLAY! Pavilion, as well as Space 220, the new space themed restaurant, located 220 miles above the earth (not really).
The new naming scheme here is obviously meant to match the other half of Epcot, already called World Showcase. That area also saw announcements. The biggest of which came with the confirmation that a new Mary Poppins attraction is planned for the U.K. pavilion, complete with a recreation of Cherry Tree Lane. No details on the attraction were revealed, it seems likely to be a bit further out than many of these other revelations.
The previously announced Remy's Ratatouille Adventure in the France pavilion was given an opening date of summer 2020. It will also be joined by La Crêperie de Paris, a new restaurant from the same people who run the exquisite Chefs de France.
2020 will also bring a new nighttime show to Epcot that is being billed as the biggest one ever in a Disney theme park. It's called HarmonioUS, and while details are scarce, it will bring a new theme to the park that was composed by Pinar Toprek, the writer of the score for Captain Marvel among other projects.
Finally, a new entrance plaza is being constructed. It's called Dreamer's Point, and it will be anchored by a new statue of the ultimate dreamer, Walt Disney himself, as well as a new fountain.
The statue and new fountain will replace the Leave A Legacy monoliths that have crowded the entrance plaza until recently. This is likely one change that nearly everybody can get behind.
Nearly everything new coming to Epcot is planned to be ready in time for the 50th anniversary of Walt Disney World, which will be in 2021. Clearly, by the time we get there, Epcot is going to be a very different place than it is now.
That's certainly going to be unfortunate for a lot of fans. Epcot was always envisioned as something slightly different than a traditional theme park like Magic Kingdom. When it first opened it had none of the Disney characters or branding that it does today. That certainly does change the tone of the place. Most of the attractions that didn't have character themeing have either had it added to the existing experience, or been replaced entirely by something that does.
At the same time, some aspects of Epcot could use the update. Future World, much like Tomorrowland, has the ongoing problem that the future always arrives eventually. When it does, the forward looking area of the park feels dated, and it always happens faster than you expect. This new setup will likely help alleviate that problem.
Disney's Hollywood Studios has been the focus for Walt Disney World with the addition of Toy Story Land as well as Star Wars: Galaxy's Edge which will be opening at the park this week. Now it's Epcot's turn in the limelight. Once this is done, we'll have to see comes next. Perhaps an expansion to The World of Avatar ahead of the movie sequels, or something entirely new for Magic Kingdom.
Whatever happens next, it seems clear based on how much Epcot is changing, that everything is on the table when it comes to changes and improvements.
CinemaBlend's resident theme park junkie and amateur Disney historian. Armchair Imagineer. Epcot Stan. Future Club 33 Member.
Your Daily Blend of Entertainment News
Thank you for signing up to CinemaBlend. You will receive a verification email shortly.
There was a problem. Please refresh the page and try again.