Why Robert Pattinson's Batman Movie Should Definitely Adapt The Long Halloween Comic Books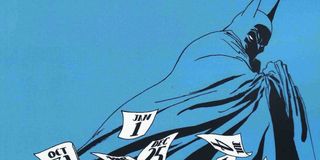 A new cinematic Batman era is beginning soon. Following the departure of Ben Affleck, Robert Pattinson was tapped to play the Caped Crusader in The Batman, the upcoming movie being written and directed by Matt Reeves. Thus far, few official details about what we can expect from The Batman, but that hasn't stopped rumors and reports from painting a picture of what might be to come, and lately there's been chatter indicating that we're getting an adaptation of The Long Halloween.
Written by Jeph Loeb and illustrated by Tim Sale, Batman: The Long Halloween has been cemented as one of the greatest Batman comic book stories of all time. Obviously we can't say for certain yet it's being adapted for The Batman, but given its premise and what kind of movie it's shaping up to be, it would be an excellent fit, and we've provided the biggest reasons why it deserves the big screen treatment.
It Highlights Batman's Detective Skills
For nearly the entire time Matt Reeves has been attached to The Batman, he's said that the movie will be a noir-driven story that highlights Bruce Wayne's detective skills, which have barely been explored in past Batman movies. Fortunately, The Long Halloween is a great opportunity to show off Batman's more cerebral side. There's certainly no lack of the Dark Knight punching criminals in the face, but the story is most compelling when he's trying to solve the story's larger mystery.
The basic premise of The Long Halloween is that a serial killer called Holiday is on the loose in Gotham, gunning down organized crime figures and people connected to them on holidays, and leaving behind mementos that symbolize each respective holiday, like a jack o'lantern for Halloween and a glass of champagne for New Year's Eve. It's unlikely that The Batman would be a completely faithful adaptation of The Long Halloween, and maybe the movie would go so far as to excise the holiday gimmick, but at the very least, it would be interesting to see Batman try to solve a murder mystery over an extended period of time.
It Features A Lot Of Batman Villains Without Feeling Overcrowded
Matt Reeves has said the The Batman will feature many of Batman's most famous villains, something it has in common with The Long Halloween. As Batman is trying to figure out Holiday's identity over the course of a year, he runs into classic rogues like The Joker, Catwoman, Riddler, Solomon Grundy, Poison Ivy, Scarecrow, Mad Hatter and Penguin. The Long Halloween is also notable for its usage of Calendar Man, a goofy foe from the Silver Age who was reinvented as a Hannibal Lecter-type figure who Batman visits numerous times at Arkham Asylum for insight on Holiday.
The villains are another area where The Batman is unlikely to be completely faithful. For example, there's been no word about Joker being involved (Joaquin Phoenix's version or otherwise), and the pyromaniac Firefly, who wasn't present for The Long Halloween, is reportedly appearing. Nevertheless, The Long Halloween is a good template for how you can include a lot of villains in a story without making it feel overcrowded. Most or all of these opponents don't need to have major roles, but Batman can easily run into them while he's investigating, especially if he suspects one of them might be the killer.
Oh, and there's one other longtime Batman baddie who plays a key role in The Long Halloween…
It's A Great Two-Face Origin Story
At the start of The Long Halloween, Harvey Dent is Gotham City's District Attorney, and he's made it his mission to dismantle organized crime, particularly the Falcone crime family. He teams up with Captain James Gordon and Batman to make this happen, with all three agreeing that they'll bend, but never break the law. Sadly, this pact happens just as the Holiday killings begin, and Harvey struggles in the following months to accomplish his goal, leading to him believe that Bruce Wayne is working with the Falcones, but failing to make his case. Gordon, Batman and even his wife wife start suspecting that Harvey could be Holiday.
That question is never directly answered, but eventually we come to the iconic moment in Batman history when crime boss Sal Maroni throws acid into Harvey Dent's face, transforming him into Two-Face. With his inner darkness fully rising to the surface, Dent is free to dispense justice as he sees fit, i.e. with a flip of a coin and the firing of a gun. Rumor has it that BlacKkKlansman's John David Washington is being eyed to play Harvey in The Batman, so don't be surprised if this movie depicts Harvey's fall from grace has he's trying to bring down the mob, just like The Long Halloween and a past Batman movie…
It's Already Been Partially Adapted To Great Success
If the alliance between Batman, James Gordon and Harvey Dent sounds familiar, it's because we saw them team up in 2008's The Dark Knight, which is not just considered to be the best Batman movie by many, but also one of the best movies of the 21st century. Although The Dark Knight as a whole was an original story, director Christopher Nolan has said The Long Halloween was a major influence, and that's definitely noticeable in these men coming together to rid Gotham City of organized crime a year after Batman declared war against the underworld, and how Harvey Dent ultimately succumbs to darkness.
But being inspired by a comic book storyline is one thing. Directly adapting it, even though there will inevitably be some differences compared to the source material, is another. The Long Halloween is an important enough Batman story that it deserves a more hands-on treatment, and loosely following it clearly worked for The Dark Knight. In the hands of someone like Matt Reeves, a Long Halloween movie stands a strong chance of joining the ranks of exceptional cinematic Batman tales.
It Sets The Stage For Dark Victory
Two years after The Long Halloween finished publication, Jeph Loeb and Tim Sale reunited for Batman: Dark Victory, which saw Batman tracking down a new serial killer called The Hangman and Two-Face going to war with the remnants of the Falcone crime family, led by the late Carmine Falcone's daughter, Sofia. Dark Victory also functioned as a backdoor origin story for Dick Grayson, who was fully established as Robin by the end.
One rumor from earlier the year claimed that The Batman might include Robin, and if that's the case, then there could already be some Dark Victory elements mixed in. But remember, even though The Batman isn't an origin story, Robert Pattinson's iteration of the hero is still early into his crimefighting career, so the chances of him already having Dick Grayson by his side are incredibly slim. Adapting Dark Victory as The Batman's sequel would be a great way to introduce a new version of The Boy Wonder, not to mention maintain a tight narrative, bring back some villains from the last movie and introduce a few new rogues, whether they've been seen in previous Batman movies or not.
The Batman is scheduled to begin principal photography early next year, and will swoop into theaters on June 25, 2021. Keep checking back with CinemaBlend for more updates on its development, and let us know in the poll and comments below if you'd be game for an adaptation of The Long Halloween. You can also find out what other DC movies are on the way in our handy guide.
Your Daily Blend of Entertainment News
Connoisseur of Marvel, DC, Star Wars, John Wick, MonsterVerse and Doctor Who lore. He's aware he looks like Harry Potter and Clark Kent.