Upcoming Star Wars Comic Will Tie To The Empire Strikes Back In A Major Way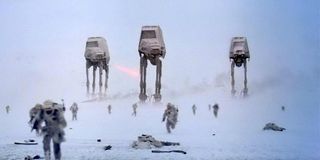 At the end of Star Wars: A New Hope, the Rebel Alliance was understandably in celebration mode, as Luke Skywalker had blown up the Death Star and delivered the first significant blow to the Empire. But that was still just one victory; three years later (both in real life and in the Star Wars timeline) in The Empire Strikes Back, the Rebels were still on the ropes and now hiding from the Imperials on Hoth. For those who've wondered how they ended up on the snow-covered planet, that will soon be revealed.
Last month, it was announced that Marvel Comics' flagship Star Wars title, which kicked off in 2015, will end this November with its 75th issue. However, it's now been revealed that the true ending to this corner of the Star Wars universe will take place in a one-shot issue called Star Wars: Empire Ascendant #1. Per StarWars.com, it will follow Luke Skywalker, Leia Organa, Han Solo and the rest of the Rebel Alliance establishing Echo Base on Hoth, all while Darth Vader tries to find their new headquarters "in vain."
Along with serving as an epilogue to the main Star Wars comic book series, Empire Ascendant will also address the fates of Doctor Aphra and Beilert Valance, two major characters in the comics corner of the Star Wars mythos. Valance originally appeared in the Legends continuity and has since been featured in official canon through the Han Solo - Imperial Cadet and Target Vader miniseries. Aphra was introduced in the main Star Wars comic book before going on to lead her own spinoff series, suggesting that title could end soon too.
While The Empire Strikes Back is considered by many to be the best Star Wars movie (even if that wasn't really the sentiment when it first came out), it marked a dark chapter for the Rebel Alliance. After an Imperial probe droid discovered Echo Base, Darth Vader and the Imperials moved on the planet swiftly to destroy the shield generator and lay waste to the stronghold. Enough Rebels escaped to fight another day, but there were still many casualties.
Now we get to see how the Rebels set up shop on Hoth, and considering that this Star Wars series has followed the exploits of Luke, Leia, Han, Chewbacca, C-3PO and R2-D2 in between A New Hope and The Empire Strikes Back, it's only fitting that Echo Base is the final destination for this chapter of Star Wars history. Granted, there were a few looks back at the past with stories centered on Obi-Wan Kenobi and Yoda, and even a few detours showing what people like Lando Calrissian was up to during this period, but it was all leading to this.
Empire Ascendant marks the end of a Star Wars era, though you can be sure that Marvel won't stop publishing comic books afterwards. For one thing, a miniseries called Star Wars: The Rise of Kylo Ren is also dropping in December, and I suspect a new flagship title will launch in 2020 to replace the one that's wrapping up, though when it would be set is unclear.
This one-shot's arrival coincides with an even bigger ending on the Star Wars front. Episode IX, i.e. The Rise of Skywalker, is also coming out before the year is over, and it serves as a conclusion to the sequel trilogy that began with The Force Awakens and the entire Skywalker Saga. So as Empire Ascendant puts the final pieces in place for what goes down in The Empire Strikes Back, The Rise of Skywalker will close the book on characters like Luke, Leia, Rey, Finn, Poe and many more.
Star Wars: Empire Ascendant #1 will be available digitally and at your local comic book shop sometime in December, and The Rise of Skywalker hits theaters on December 20. Star Wars fans should also be on the lookout for the Disney+ series The Mandalorian, which will drop its first episode on November 12.
Connoisseur of Marvel, DC, Star Wars, John Wick, MonsterVerse and Doctor Who lore. He's aware he looks like Harry Potter and Clark Kent.
Your Daily Blend of Entertainment News
Thank you for signing up to CinemaBlend. You will receive a verification email shortly.
There was a problem. Please refresh the page and try again.