Kevin Smith Wants Jay And Silent Bob Reboot To Make You Cry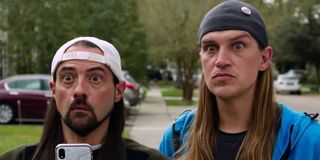 Going somewhere new with a movie like Jay And Silent Bob Reboot is something that most folks would assume is of no interest to writer/director Kevin Smith. The mere inclusion of the word "reboot" sets the expectation that we'll see the same sort of raunchy comedy adventure we saw back in 2001 with Jay And Silent Bob Strike Back.
That is a partially true assessment, as that's exactly what Smith wanted to do with part of his return to the View Askewniverse. However, he didn't merely resign himself to just making the audience laugh with Jay And Silent Bob Reboot. Kevin Smith, as it turns out, wants to make you cry in between those precious gags and callbacks.
During a phone interview with Kevin Smith, I was able to tell him that in addition to having some really good laughs with the latest adventure beset upon our heroes from New Jersey, I actually teared up during some of the film's more dramatic moments. And that's when Kevin Smith admitted that I had played right into the trap he laid out for audiences with Jay And Silent Bob Reboot, as seen in his response below:
Before Jay And Silent Bob Reboot was announced as heading into our reality, the last film that most folks associate with Kevin Smith was the infamous comedy Yoga Hosers. With his big supernatural comedy, also starring his daughter, Harley Quinn Smith, he'd landed himself in the doghouse of his fans, who love to seize upon the next Jersey Girl and tear it apart.
So the prospect of this late stage Kevin Smith returning to a beloved property, and equally iconic characters, looked grim, especially since so many other movies had fallen prey to that same sort of reboot treatment. Knowing comedy as well as he does, Smith seems to have seen those expectations, and was more than happy to attempt to subvert them.
No one saw this better than his longtime collaborator and producer Scott Mosier, who was unavailable to produce Jay And Silent Bob Reboot, as he was busy helping another classic property be reborn in Illumination's The Grinch. So when Mosier actually saw the film, he went in as clean as audiences did when they saw the film in its first Fathom Events screening last night.
That refreshing perspective gave Scott Mosier the ability to see exactly what Kevin Smith was doing, as the director recalled as he continued telling his story:
Between that moment in time when Jay And Silent Bob Strike Back was unleashed upon the world, and this current era when Jay And Silent Bob Reboot promises laughs and tears in equal measure, a lot has changed for Kevin Smith. With the loss of his father and his own brush with death thanks to a surprisingly inspirational heart attack, Smith has gone through his own personal journeys of mortality and loss, which has also been reflected in the production process that saw the creator mend his dormant friendship with Ben Affleck.
Those experiences have most definitely affected the return of Jay and Silent Bob, as Kevin Smith basically approached this latest film as if it was going to be the capstone to his cinematic legacy. Rounding off his remarks, Smith gave the following bit of context to Scott Mosier's reaction to Jay And Silent Bob Reboot:
Who knows if there will be a third entry in the adventures of Jay and Silent Bob? On one hand, the challenge to bring those legendary stoners back for another final adventure would be a hell of a trip, especially with the emotions brought into this long overdue sequel.
That being said, leaving things where they lie would be perfect for our heroes, as the lessons they've learned and the tears the audience has shed have been well earned. So maybe it's time for Kevin Smith to try and make audiences cry in a different way, preferably in a way that doesn't yield a sequel to Yoga Hosers.
If you missed last night's screening of Jay And Silent Bob Reboot, don't worry, as you still have options. Fathom Events will be running an encore of the film on a double bill with Jay And Silent Bob Strike Back on October 17. You can get tickets for this event through Fathom's website, so be sure to check your local listings for the theater nearest to you showing the film.
However, if you're a really big Jay and Silent Bob fan, you can see Kevin Smith and Jason Mewes touring this film on the Jay And Silent Bob Reboot Roadshow, complete with a Q&A with the men themselves. For more details and ticket sales, check out the roadshow's official website.
Senior Movies Contributor
CinemaBlend's James Bond (expert). Also versed in Large Scale Aggressors, time travel, and Guillermo del Toro. He fights for The User.
Your Daily Blend of Entertainment News
Thank you for signing up to CinemaBlend. You will receive a verification email shortly.
There was a problem. Please refresh the page and try again.