Naomie Harris Went On Drug Busts With Real Cops To Research Black And Blue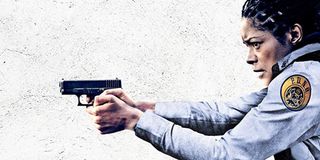 Research is an important component of doing any job to the best of one's abilities. The world of acting is certainly not exempt from this fact, but it's admittedly harder to research how people act and move in their typical day to day than it is to look at facts on paper. Actor Naomie Harris certainly knows this, as she went on drug busts with actual police officers in preparation for her role as a New Orleans law enforcement officer in the film Black and Blue.
Knowing this was part of her process to become the character of Alicia, I asked her on behalf of CinemaBlend what the most valuable lesson she drew from those shadow assignments was, and Naomie Harris answered with the following remarks during the film's press day interview:
More often than not, the takeaway that Naomie Harris specified in her answer happens to be the big lesson when studying undercover operations for her Black and Blue performance. As it turns out, the bust itself wasn't so much the lesson, as that was only a small part of the night. Instead, the really valuable data came from how law enforcement officers talk and carry themselves, which is something that Harris, or any actor looking to portray a cop, would find useful to a great extent.
Listening to Naomie Harris explain what she got out of her period of researching actual law enforcement officers really shows how much she and her Black and Blue colleagues wanted to nail down the reality of today's men and women in law enforcement. No matter what message of social change this movie was supposed to have attached to its finished product, if the portrayal of the police wasn't believable, none of the film's thematic stakes would have had any weight behind them.
And as Harris explained to me in our conversation, the reality of her research boiled down to the following crucial elements:
It's easy to just stand up straight, put on an intimidating voice of rigidity, and pretend to be a police officer. But that wouldn't be the point of Naomie Harris' character Alicia, or any of the other New Orleans cops that are portrayed by her co-stars in Black and Blue. Much as director Deon Taylor's film is trying to shine a brighter light on the police moments hitting the news with greater frequency in recent times, he's also trying to show the institution of law enforcement as a nuanced being, rather than just another stereotype.
Because of that attention to detail, both on Deon Taylor and Naomie Harris' ends, we see Alicia as a cop who knows how to do her job, and wrangles with the true ethics of what a police officer should represent in her community. All of this morality comes to a head whenever her character is forced to consider exactly why she'd risk her life to uncover this level of corruption, and it's one of the driving forces that keeps the breakneck paced action of Black and Blue grounded in a reality similar to ours.
One of her responses alludes to a scene cut from the final film, where Alicia and her old friend Mouse, played by Tyrese Gibson, bond over a famous quote you may have heard before: "Be the change that you wish to see in the world." To inspire change, one has to truly have a grasp on the situation they're trying to alter. Black and Blue is a film that isn't setting out to reinforce stereotypes, while bringing accuracy to its audience. Thanks to the research that Naomie Harris engaged in, Alicia is a believable character that moviegoers can root for in the tangled world of this film's action-packed drama.
Black and Blue is in theaters this weekend, and stay tuned for further coverage on the film as this week comes to a close. If you're curious about what else is dropping soon, or at any point throughout the rest of 2019, check out this year's movie release schedule for further information.
Your Daily Blend of Entertainment News
Senior Movies Contributor
CinemaBlend's James Bond (expert). Also versed in Large Scale Aggressors, time travel, and Guillermo del Toro. He fights for The User.