The Terrifying Way Naomie Harris Prepared For Black And Blue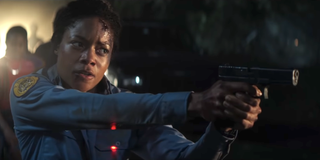 Actors who take on roles that have little to do with what they've experienced in their own lives usually go to great lengths to research those parts, and make sure they're bringing as much authenticity to the part as possible. This is especially true for many of them when they sign on to portray first responders, which is why, when Naomie Harris was looking to prepare for her part as a rookie cop in Black and Blue, she did what many actors do and shadowed some officers as they did their jobs. But, it turned out to be somewhat of a terrifying experience.
Naomie Harris (along with some of her fellow cast members and the director) sat down with CinemaBlend and other outlets during a break in filming Black and Blue, and when asked how she prepared for her role, revealed that some aspects didn't go quite as smoothly as one would hope. Things ended up going just badly enough, in fact, that Harris doesn't exactly look back on all the prep work fondly. And, why that is might surprise you. Here's what she had to say:
Well, Naomie Harris' time getting ready to play New Orleans rookie cop Alicia West quickly went from sounding easy, to a bit intense to downright scary fairly quickly, didn't it? She's had roles in several films that already required work in action scenes and possibly even weapons training like 28 Day Later, the most recent Bond films and Rampage, but she wanted to really get into the in-depth day to day work of being an officer of the law, so she went along on some police raids.
I can easily admit that just typing the phrase "police raids" made me nervous enough, so, many props to Naomie Harris for toughing it out in what must have been some pretty difficult situations even in the best circumstances. Being a part of such an operation, especially when you're untrained and don't fully know what to expect, has to bring up a myriad of emotions. And, even without any direct knowledge of stings or raids, I would say that they're probably only "really exciting" as long as nothing goes wrong. Unfortunately, things got way more complicated in one such raid when the cops she was with picked up the wrong man.
I'm guessing that being in a location that gets raided by the police is never fun (not for the cops or the perpetrators). But, at least the officers have a firm handle on who they're looking for and why, and also have a basic understanding of what might go wrong when they're about to apprehend a suspect in a situation that might become tumultuous pretty fast. But, can you imagine the kind of chaos that would be likely to erupt when you burst into a home or business and actually arrest the wrong person?
I, for one, am getting chills. And not the good kind.
While Naomie Harris was able to relay the experience without breaking out in a cold sweat, she did label it "terrifying," so we all know where she stands on how it felt to be a part of this event in the moment. She didn't spell out how this particular drug sting went down, how they figured out they had the wrong man or what happened after, but it's at least good that this did not turn into something way more unfortunate. I can only imagine that her feelings on this drug sting would be way worse had that been the case.
Harris' role in Black and Blue sees her Alicia go on the run after witnessing a group of dirty cops murder a drug dealer. The crime was caught on her body cam, so Alicia is trying to get the footage uploaded so she can expose the cops. But, she has all the dirty cops of New Orleans after her, along with every criminal, because they've told everyone that she actually did the deed. She joins forces with childhood friend Mouse (Tyrese Gibson) to try to survive long enough to make sure the actions of the bad cops come to light.
You can watch the full trailer right here, and have a look at the awesomely intense poster for Black and Blue below:
In case you were wondering, it wasn't all bullet proof vests and riot helmets (or whatever other gear Naomie Harris had to wear to protect herself during raids and stings) for the Oscar nominee as she prepared to play Alicia. She did get a chance to do my favorite kind of research: the kind where you sit on the couch in your pajamas with a hot cup of coffee and watch TV...
Yeah, that's much more my speed. Of course, it's a very good thing that Harris stepped out and took the opportunity to participate in some very real and scary police proceedings. This means that Black and Blue will be even more informed by what actual officers go through on a daily basis, and Harris has some very real memories of just how terrifying, emotional and draining the work can be.
Black and Blue will hit theaters on October 25, so we can all see how Naomie Harris employs her hard won knowledge in a little over a month. To see everything else that's coming to the big screen through the end of the year, be sure to check out our new movie release schedule.
Yennefer's apprentice, Gilmore Girl; will Vulcan nerve pinch pretty much anyone if prompted with cheese...Yes, even Jamie Fraser.
Your Daily Blend of Entertainment News
Thank you for signing up to CinemaBlend. You will receive a verification email shortly.
There was a problem. Please refresh the page and try again.