Thanks To The Rock's Size, Hobbs And Shaw's McLaren Scene Was Originally A Lot Funnier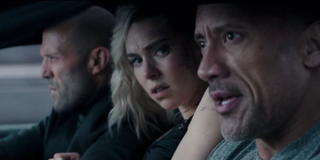 Dwayne Johnson is known for many things, but perhaps the most notable is his size, as he clocks in at 6'5' and 270 lbs. The Rock is closer to a boulder in stature, and one of the problems that plague those of above-average height is fitting into certain vehicles. One such tiny vehicle was the McLaren 720S featured in Hobbs & Shaw, which very nearly led to a funny scene in the movie.
Although the vehicle super small, the crew managed to fit Jason Statham, Vanessa Kirby and Dwayne Johnson inside. Which is surprising, considering co-star Jason Statham said that Dwayne Johnson is so large that he had to have a car specially built in addition to having his hips buttered just to fit in the passenger seat. Jason Statham's statements ended up just being a bit of friendly trash talk, of which there was no shortage during the press run for Hobbs & Shaw. However, Director David Leitch originally wanted to use Dwayne Johnson's considerable size for a bit of comedy in the famous McLaren scene. Take a look.
In a recent interview I conducted on behalf of CinemaBlend for the DVD and Blu-ray release of Hobbs & Shaw, Director David Leitch clarified that Dwayne Johnson does in fact fit in the McLaren alongside Jason Statham and Vanessa Kirby. He also noted the scene is quite intense in the final cut, but David Leitch originally played with the idea of a more comedic tone, including physical gags that spawned from squeezing all three into the tiny McLaren.
However, due to the nature of the scene and the major character reveal just moments prior, the creative team ultimately decided that it was best to stick with a more serious tone. In the interview he said:
If you've seen Hobbs & Shaw, the McLaren scene is notably intense. It features Dwayne Johnson, Jason Statham and Vanessa Kirby tearing through downtown London at break-neck speeds in an attempt to escape Eteon super soldier Brixton Lore, played by Idris Elba. The scene plays to each character's talents, with Statham expertly careening through bustling streets and narrow alleys while behind the wheel and Johnson taking out bad guys left and right, sometimes with his bare hands.
While Jason Statham had the intense mission of saving his on-screen sister's life, I had the opportunity to get behind the same McLaren 720S for a less life-threatening day of speed at Silverstone Circuit. During my visit to the track, I also spoke with Vehicle Coordinator Alex King who supervised the vehicle selection on Hobbs & Shaw. After barely squeezing into the supercar myself, I just had to know how they fit all three into such a compact vehicle. Per King, the key is squishing.
So, it seems that the rest of the crew was in on the gag involved with squeezing three humans, one of whom goes by the nickname 'The Rock (for a reason) into a car that can't doesn't even have a backseat.
Despite ultimately abandoning the comedic gags during the McLaren scene, the Hobbs & Shaw movie is still chock full of laughs, including a reference to one of Jason Statham's previous films, some of the best trash talk on and off the silver screen and a couple of hilarious cameos. Plus, Dwayne Johnson fights a freaking helicopter with his bare hands and the jury is still out regarding if that actually happened.
Hobbs and Shaw is now available on Digital HD, Blu-ray, 4K and DVD.
Into tracksuits by Paulie Walnuts, the Criterion Channel and Robert Eggers.
Your Daily Blend of Entertainment News
Thank you for signing up to CinemaBlend. You will receive a verification email shortly.
There was a problem. Please refresh the page and try again.