How Much The Cats Movie Could Make Opening Weekend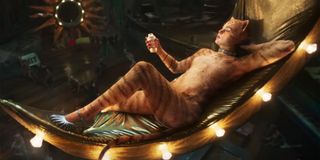 Cats used to be associated mostly with a Broadway play, but now it's more likely to earn comments about interesting CGI tactics on the big screen. While many people still seem pumped for the theatrical version of Andrew Lloyd Webber's popular musical, exactly how will Cats fare at the box office? Early box office estimates have given us some idea how much the movie could make opening weekend.
The first look at Cats' potential haul has the flick making upwards of $10-$20 million dollars domestically. Is this good, bad? Well, it sort of depends on how much Tom Hooper and co. spent on CGI-ing the cats in the film. Ultimately, if the numbers hold up the movie is expected to make $60-$120 million domestically, and more when you count in worldwide totals.
Cats is actually opening the same weekend as Star Wars: The Rise of Skywalker. It's Universal's attempt at counter-programming that week, and honestly if you were wanting to put out something with the opposite audience of The Rise of Skywalker, I'd assume Cats is a good option.
In fact, musicals at Christmas have done very well in recent years, whether we are looking at the monster hit The Greatest Showman (which was actually kind of slow out of the gate), the almost-Best Picture winner La La Land, or even animated properties like Sing. Cats is coming out in the same timeframe as these other holiday hits, and there are certainly reasons to think people might show up.
It's definitely worth reiterating something Box Office Pro touched on in its initial numbers report, which is that Aladdin earned some commentary on the Internet for how his blue genie looked, similar to all of this Cats CGI stuff. That movie still absolutely dominated at the box office and Cats could too. However, it's difficult to tell if Cats will work despite the uncanny valley comparisons.
One thing is for certain, however. Cats will not be beating Star Wars: The Rise of Skywalker at the box office. Both movies open on Friday, December 20th, alongside Bombshell, the Roger Ailes scandal movie. Star Wars: The Rise of Skywalker's early predictions are anticipating the movie might have the lowest opening weekend in the trilogy.
So why am I not more positive about the outlook for Cats in comparison? Well, because Cats could make like $20 million Stateside (and in Canada!) if it's a good weekend. Star Wars: The Rise of Skywalker is going to rake in like $200 million domestically. It's really not much of a comparison.
Ultimately, if you haven't caught the Cats trailer, you can totally see if it's up your alley, below.
There are a slew of big movies coming this holiday season, and that includes the Jumanji sequel The Next Level, as well as a bunch of potential awards contenders. We'll have to wait and see how everything fares, but luckily the holidays are imminent, or at least the department stores and their already-omnipresent Christmas decorations seem to indicate the aforementioned statement is true. But I'm getting off topic, which is to talk about holiday movies. See when those are all coming out with our full schedule.
Reality TV fan with a pinch of Disney fairy dust thrown in. Theme park junkie. If you've created a rom-com I've probably watched it.
Your Daily Blend of Entertainment News
Thank you for signing up to CinemaBlend. You will receive a verification email shortly.
There was a problem. Please refresh the page and try again.