Watch The Good Boys Alternate Ending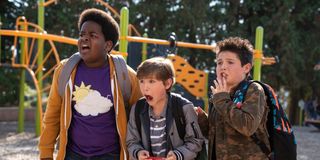 Good Boys was that rare comedy this year that actually got people excited at the box office. It was only the second original movie of the year, after Jordan Peele's Us, to top the domestic box office and the first live-action comedy to do so since September of 2018. Apparently there's something about little kids swearing that resonates with audiences.
Good Boys hits Blu-ray and DVD tomorrow but before fans get to revisit the film, we have an exclusive look at an alternate ending for the film. Check out the clip below.
Frequently, with alternate endings there are elements that we see that were eventually removed from the ending we saw, but in the case of the Good Boys alternate ending, it's more about the sequence that was put in to the final version that we don't see here.
Good Boys theatrical ending has our three main characters have a real heart-to-heart about their relationship, and about the possibility that three might lose touch as their lives take them in different directions. The three promise that won't happen to them, though, of course, that's far from a guarantee. Still, the movie ends on a somewhat hopeful note.
While, in the final moments, we get what Good Boys is best at, vulgar humor from young kids, prior to that, there's an almost melancholy feeling about the ending here. While the ending we saw deals directly with the changes we expect these kids to go through, this one only hints at it, giving us a moment of silence where the kids are reflecting on what they know is coming, without giving voice to it.
They cover the silence with jokes, but while the original ending gives us a feeling that these three may really remain friends, this one seems to imply that's not going to happen.
Good Boys wasn't without it's deeper meanings, the conversation at the end of the theatrical version makes that much clear, but this is sort of a quiet and reserved ending for what is otherwise a pretty loud and vulgar comedy.
Good Boys was a welcome relief to those who are tired of the seemingly endless parade of franchise material. It was an original movie made for a more mature audience, despite the main characters, and it was a hit not only at the box office but with critics as well. Of course, it did so well it makes one wonder if Good Boys could spawn sequels and become a franchise in its own right.
The alternate ending has some charm to it, but I think the right ending was probably the one we got in the theatrical release. Good Boys is available now in Digital HD and hits Blu-ray and DVD November 12.
Amazing Race & Top Chef superfan with a pinch of Disney fairy dust thrown in. Theme park junkie. If you've created a rom-com I've probably watched it.
Your Daily Blend of Entertainment News
Thank you for signing up to CinemaBlend. You will receive a verification email shortly.
There was a problem. Please refresh the page and try again.