How Doctor Sleep's Incredibly Disturbing Baseball Boy Sequence Came Together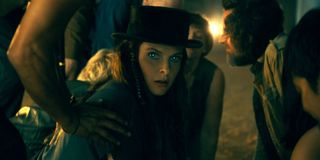 SPOILER WARNING! The following article contains major spoilers for Doctor Sleep. If you have not yet seen the film, please continue at your own risk!
In the last eight years, writer/director Mike Flanagan has done a wonderful job establishing a personal style in his horror stories – regularly demonstrating a strong preference for heavy atmosphere, emotional scarring and lingering terrors over simple jump scares. This in part made him an optimal choice to direct the adaptation of Stephen King's Doctor Sleep, particularly because the source material allows for one of the most disturbing and haunting scenes in recent memory. I am, of course, referring to the death of the Baseball Boy.
It's not only intensely traumatic to watch a group of monsters torture and devour an innocent child, but everything is particularly heightened because of the actor playing that innocent child: the brilliant Jacob Tremblay. During the production of Doctor Sleep there was a nice bit of familiarity involved, as Mike Flanagan and Tremblay previously worked together on the movie Before I Wake, but as I learned during recent interviews, it was a tremendously difficult time on set.
Late last month, prior to the release of Doctor Sleep, I had the pleasure of sitting down with Mike Flanagan and Rebecca Ferguson during the movie's Los Angeles press day, and during both interviews I asked about their experiences filming the death of the Baseball Boy.
When it came to both giving Jacob Tremblay the part as the Baseball Boy ("real" name Bradley Trevor) and the actor's preparation for the role, Mike Flanagan took a totally hands-off approach – entirely trusting the young actor with the material. As the filmmaker explained, not only was he seriously impressed when he first had the chance to collaborate with Tremblay, but he has spent the years since that experience becoming even more impressed:
And by "position," as those of you who have seen the movie know, Mike Flanagan means on his back in a dirt pile pinned down and surrounded by the villainous and monstrous True Knot – the group of vampires that subsist on a steam produced by individuals who possess telepathic and telekinetic abilities. The best way to extract this steam is by inducing pain and fear, which is what leads them to kidnap and start carving into the Baseball Boy.
Watching the scene for the first time, you may not notice that the movie never shows the knife used by Rebecca Ferguson's Rose The Hat piercing flesh. Instead, all you see is copious amounts of blood, and a child desperately screaming for anyone to help him and make the pain stop. It ultimately makes for the most hard-to-watch scene in Doctor Sleep, and it was no picnic for anyone on set to film.
Well, except for Jacob Tremblay.
Continuing his story, Mike Flanagan explained that the adult actors performing the scene – including Robert Longstreet, Emily Alyn Lind, Carel Struycken, and more – were left absolutely mortified by the experience, and Zahn McClarnon, who plays second-in-command Crow Daddy, lost his grip on his emotions. But while everyone around him was emotionally devastated, Jacob Tremblay was beaming as a result of his successful performance. Said Flanagan,
As it turns out, though, Zahn McClarnon wasn't the only one to start crying during the Baseball Boy sequence, as Rebecca Ferguson admitted that she too had an overflow of emotion during filming – though she had to power through it because she was specifically sharing the scene with Jacob Tremblay.
Per her own description, she went into filming the sequence "a little bit cocky" because of her own belief in her ability to disappear into a role – and Rose The Hat certainly would have no kind of emotional reaction to the Baseball Boy's cries. But actually shooting that part of the movie had her eating a bit of crow:
That sounds super terrible – but it has a funny ending courtesy of Rebecca Ferguson making an ironic real life reference to a Hugh Grant-Julia Roberts classic:
As for Mike Flanagan, his head was in a different kind of place. Having watched the scene unfold and been seriously affected himself by Jacob Tremblay's performance, Flanagan turned to his producing partner and wondered if what they were filming could even be allowed to play on big screens nationwide. He said,
The icing on the literal cake? Jacob Tremblay actually had his birthday during the shooting of Doctor Sleep – which also had a particular significance for Mike Flanagan given that it was the second time that he had organized a birthday celebration for the kid. Said the director,
You can now experience this absolute masterclass in horror by going to see Doctor Sleep in theaters – the movie now playing in theaters nationwide.
Your Daily Blend of Entertainment News
Assistant Managing Editor
NJ native who calls LA home and lives in a Dreamatorium. A decade-plus CinemaBlend veteran who is endlessly enthusiastic about the career he's dreamt of since seventh grade.