Rian Johnson Drops F-Bomb Over Star Wars: The Last Jedi Hate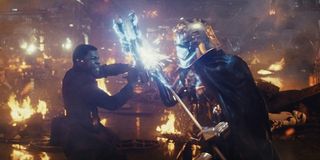 Say what you will about Star Wars: The Last Jedi, it's remains a popular subject among Star Wars fans nearly two years after its release due to its polarizing reception. You don't have to look hard to find folks who, to put it as delicately as possible, do not care for it whatsoever, but director Rian Johnson has taken the criticism in stride. He's recently hit back against those who dislike The Last Jedi simply due to its diversity, complete with an f-bomb. In his words:
Now, just so it's clear, the above comment that Rian Johnson gave while speaking at a WIRED live event (via Comicbook.com) alongside Chris Evans to promote Knives Out is not directed towards people who dislike The Last Jedi for narrative reasons. Johnson has countered against those kind of critiques before and will probably do so again.
In this instance, he's focusing on the people who, as he put it, whine about "SJWs" and take issue with the movie having women and people of color in lead roles. It seems reasonable to include an f-bomb when addressing that.
Furthermore, Rian Johnson addressed the idea that it's only been under the Disney regime that the Star Wars franchise has fallen into disarray, remembering how a lot of people responded to the Prequel movies when they came out from 1999 to 2005. The Prequel Trilogy has definitely been looked at in a kinder light in recent years, and you're welcome to prefer that trilogy to the Sequel Trilogy. Nevertheless, Johnson is correct that Episodes I-III also received lot of criticism, and to say that they didn't is spouting revisionist history.
All this being said, Rian Johnson also acknowledged that the people who care about Star Wars all have a "slightly different version" of what they think the franchise is, and as he sees it, part of the fun with Star Wars is arguing about it with friends. But there's a difference between having an opinion on the narrative direction a Star Wars movie should take and simply hating on it because of how the lead actors look.
However you feel about Star Wars: The Last Jedi, Rian Johnson's time in the Star Wars universe might not be done just yet. Granted, it might not be as sure a thing as it once was believed to be, but for the last two years, he's been attached to develop a new trilogy of Star Wars movies. Perhaps now that David Benioff and D.B. Weiss have exited the franchise, that'll pave the way to getting Johnson's trilogy off the ground.
The Skywalker Saga will conclude when Star Wars: The Rise of Skywalker is released in theaters on December 20. Feel free to plan what you'll see next year with our 2020 release schedule.
Connoisseur of Marvel, DC, Star Wars, John Wick, MonsterVerse and Doctor Who lore. He's aware he looks like Harry Potter and Clark Kent.
Your Daily Blend of Entertainment News
Thank you for signing up to CinemaBlend. You will receive a verification email shortly.
There was a problem. Please refresh the page and try again.