Is The New Star Wars Trilogy Too Much Like The Original? J.J. Abrams Understands Criticisms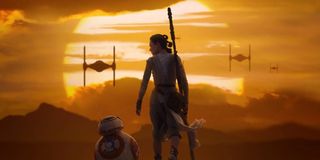 J.J. Abrams knows there is a chunk of the Star Wars fanbase out there who compares he and Rian Johnson's trilogy of films to George Lucas' original trilogy in a negative light. He also knows there has been some criticism trained on his first movie Star Wars: The Force Awakens for sticking too closely to the story of the original movies.
In fact, J.J. Abrams hears you and he understands you, speaking out recently to address the criticism lodged at his first movie and also to explain why he wrote The Force Awakens the way he ultimately did. But first, if you are in this camp, here's what the director has to say to you:
In a lengthy Rolling Stone profile touching on myriad Star Wars topics, J.J. Abrams took a question about the fan criticism head-on. Ultimately, however, he says there is a reason Star Wars Episode VII: The Force Awakens tells the story it does.
Driving this point home, J.J. Abrams does want any fans who have felt The Force Awakens is too similar to its predecessors to know that it was not "a nostalgia play."
The byproduct of producing a Star Wars movie is that sincere and intense fans and casual fans are going to all have opinions about it, and sometimes very different opinions. Big box office movies dominate the conversation in the months they come out and Star Wars Episode VII: The Force Awakens was the first Star Wars movie in years when it came out. People cared about that movie deeply just as they will care about Star Wars: The Rise of Skywalker deeply (a movie that will also be directed by J.J. Abrams, despite the director declaring previously he's done with sequels).
The opposite of love isn't hate, it's apathy. A lot of the fans who have strongly criticized The Force Awakens still are fans of the original trilogy and the franchise as a whole, even if The Force Awakens, The Last Jedi, or both aren't their cup(s) of tea. That said, plenty of people do like The Force Awakens and think it kicked off a way for a whole new generation of fans to embrace Star Wars while still connecting to the original trilogy. Even if you did feel Abram's first movie was too nostalgic, the next movie might still work for you. J.J. Abrams has also recently come out to say that watching Rian Johnson's The Last Jedi encouraged him to take more risks with the final movie in the trilogy, Star Wars: The Rise of Skywalker. He said:
If you are still one of the critical ones after the third movie in the trilogy finally hits theaters on December 20, hey, at least there's always The Mandalorian on Disney+.
Reality TV fan with a pinch of Disney fairy dust thrown in. Theme park junkie. If you've created a rom-com I've probably watched it.
Your Daily Blend of Entertainment News
Thank you for signing up to CinemaBlend. You will receive a verification email shortly.
There was a problem. Please refresh the page and try again.