Johnny Depp Is Producing A Musical About Michael Jackson's Glove As A Blood-Sucking Alien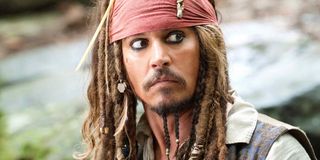 Johnny Depp is a divisive celebrity, to say the least. So, of course, it only figures that he would find another divisive celebrity, and help produce a controversial project about his life. He's doing just that, by putting his weight behind a new musical about Michael Jackson and his signature glove.
(Update: Johnny Depp's representatives later said, despite Page Six's report, Depp and his production company are not involved in the production. However, the musical is still continuing as described.)
Page Six reports that Johnny Depp's company Infinitum Nihil is producing Julien Nitzberg's "For the Love of a Glove: An Unauthorized Musical Fable About the Life of Michael Jackson, as told by his Glove."
According to the musical's writer, the project got off the ground after he was initially recruited by a TV network to write a biopic about the controversial singer. He said that they struggled with how to tackle Michael Jackson's child sexual abuse allegations, and that he came up with a, um, creative way around it:
Julien Nitzberg said he hoped to develop the idea into a musical but, for somewhat obvious reasons, struggled to find funding. He connected with Johnny Depp's production company through another project that fizzled out, but they showed an interest when he told them about his idea.
And they were apparently interested enough to help fund the "For the Love of a Glove" endeavor. The musical is taking a leaf from Hamilton's book, and has cast the villainous glove as the story's narrator. According to Julien Nitzberg, it will star both actors and life-sized puppets, who will bring some of the more notorious figures in Michael Jackson's life to the stage, including the rest of the Jackson 5, Corey Feldman and Bubbles the Chimp.
To say the premise for the musical will be controversial may be the understatement of the decade. But it's also likely to draw the kind of attention a new musical needs to thrive. Michael Jackson's life became a prominent headline this year in the wake of HBO's documentary Leaving Neverland. And "For the Love of a Glove" is not the only project about the King of Pop that's currently in development, either. There is an authorized musical, MJ, that's due to hit Broadway next year. Bohemian Rhapsody's producers are at work on a biopic of their own, and they've promised the darker parts of Michael Jackon's life won't be sanitized (or blamed on a glove).
"For the Love of a Glove" premieres in Los Angeles on January 25, 2020.
Your Daily Blend of Entertainment News