How Could Johnny Depp's Recent Drama Hit His Net Worth?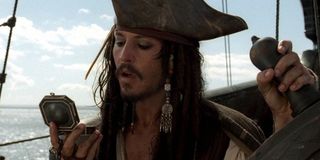 Johnny Depp has fallen on hard times recently. That might be putting it kindly. These past few years, the one-time A-list actor has found himself in a series of well-publicized controversies, which has not only found his career on shaky ground, but has hurt his financial prospects as well. Hollywood is a tough business; if you rise, you will inevitably reach a point where you also fall. However, this happens to different extremes and Johnny Depp's fall from grace has been pretty extreme. Even by usual Hollywood standards, his professional descent is quite steadfast.
In the midst of drama, Johnny Depp's personal and professional life has gone through extreme circumstances, which has undoubtedly hurt his net worth. We'll take a look at some of the factors which have caused the actor's bank account to decline in seemingly rapt fashion, and how he continues to hurt for money in the midst of lost roles, court battles, publicized difficulties and some other, ongoing dilemmas.
What is Johnny Depp's Net Worth?
It should come as no surprise that Johnny Depp's net worth is high, or at least was at one point in time. According to Forbes, Depp's net worth is estimated to be in the ballpark of $200 million, although how much of that money is still viable these days is questionable. He is projected to have made $650 million on films that have grossed $3.6 billion throughout his once-lucrative career. But most of that money appears to be gone now. And it doesn't sound like Johnny Depp is making as much cash as he used to make — to put it mildly — to compensate for his perpetual financial woes.
As it was revealed in a candid, in-depth interview with Rolling Stone last year, Johnny Depp continues to live a lifestyle that he can no longer afford. Either to keep up with appearances or a deep irresponsibility with money, or maybe both reasons or more, the actor has been hemorrhaging money at an enormous rate. Which might explain why the actor has taken on roles that he would normally decline, like the title role in Sherlock Gnomes, for instance. While the actor is valued at a lot of money, there are lawsuits piling up. With his career on uncertain terms at the moment, Johnny Depp might be looking at a money mess of biblical proportions. Let's take a look at things that cost Johnny Depp money below.
Johnny Depp's Divorce From Amber Heard
Divorces are expensive. There's no denying that. When it comes to celebrity separations, they often cost a whole lot of money. Sure enough, the divorce between Johnny Depp and his ex-wife Amber Heard has resulted in a lot of cash being extracted from his wallet. Their marriage lasted only 15 months, and their separation difficulties have continued since then. In 2016, Johnny Depp agreed on a joint settlement of $7 million, which Heard donated, at least in part, to charity. Before that settlement, however, were Amber Heard's allegations of domestic abuse. She claimed Johnny Depp allegedly hit Heard while he was intoxicated, with the actress providing pictures and videos of bruises and altercations that occurred during their marriage. She also later claimed that Depp reportedly threw a phone at the actress, and that he allegedly grabbed her by the hair and smashed glass objects around her. The divorce proceedings grew bitter, particularly as the details were leaked publicly. Then, more lawsuits followed their original legal settlement.
The actor found himself refuting the accusations made against Amber Heard by claiming that she also got violent with him. He argued that she allegedly punched him in the face when he was late for a birthday dinner. Johnny Depp has also contended the accusations made against him were fake, and he has taken Amber Heard to court to defend himself. Since then, it has been a lot of back and forth, with Johnny Depp filing a $50 million defamation lawsuit against Amber Heard back in March. It is an ongoing story that only continues to cost money. It should also be noted that Johnny Depp gave his previous partner, Vanessa Paradis, a reported $150 million following the end of their 14-year relationship, which was half his fortune at the time. He reportedly wasn't legally obligated to do so. In any case, the fallout between Johnny Depp and Amber Heard is starkly different. The celebrities are continuing to challenge each other's accounts and grievances in a very public (and expensive) fashion, which has hurt his net worth.
How Much Of Johnny Depp's Net Worth Came From Pirates of the Caribbean?
Since the early 2000s, the Pirates of the Caribbean franchise has served as Johnny Depp's primary stream of revenue. In his Oscar-nominated role as Captain Jack Sparrow, Depp's involvement in the franchise played an indelible part in the series' early success. During the height of its popularity, the actor was making $50 million to appear in a given film. Through the series, the actor has likely made hundreds of million in revenue - the kind of money that allows an actor to buy an island with all the rum. But as the movies spent more time on his character (particularly with Depp becoming the lead), Sparrow's roguish charm and mystique began to wean.
With the latest Pirates of the Carribbean movie, there were on-set reports claiming that Johnny Depp's behavior was reportedly difficult-at-best., and stories came out there were people feeding him his lines in an ear piece. While Depp was set to continue playing the role of Jack Sparrow, it was revealed recently the actor was let go from the series, and that future installments would be retooled. It was believed that Disney could save $90 million by cutting ties with Depp. If he was making upwards of $100 million-plus here, that cuts his net worth down exceptionally. Depp blames Amber Heard for losing the gig. No matter the reason, Disney set sail without him.
The Damage Due To Overspending And Working Less
In addition to these difficulties, Johnny Depp is also dealing with well-publicized assault charges during a physical altercation with a crew member on the set of his film, City of Lies. The film remains shelved (domestically, at least) since these legal battles continue. It's unclear how many movie roles he has lined up in the future. His role in Fantastic Beasts 3 is said to be "uncertain," and the actor currently does not have any major roles lined up in the future. With his money woes continuing to proceed him, and with no clear signs of revenue coming in soon, it's unlikely he'll make a whole lot of money in the future, which will certainly hurt his net worth. Especially with some other lawsuits he has dealt with.
Previously, Johnny Depp started taking on more roles than his usual clip. But with no more roles on the horizon — at least, as far as we know —that means that Depp's usual stream of income might soon be running dry. And considering the once-rich actor has never been particularly good with saving money, often spending lavish amounts of cash on different high-priced things like, for instance, a $5 million canonized memorial for Depp's good friend, Hunter S. Thompson, the actor might find himself even more cash-strapped soon.
Suffice to say, Johnny Depp is not at a great point in his life. The above facts indicate his bank account is on the decline, with no signs of profits increasing anytime soon. With more lawsuits and career difficulties presented before him, there's a better-than-likely chance that Johnny Depp will continue to face difficulties during the next few years. It's hard to know if it'll ever turn around for the actor given current public sentiment. In any case, when it comes to updates about Johnny Depp's turbulent career, we'll continue to keep you posted here at CinemaBlend.
Your Daily Blend of Entertainment News
Will is an entertainment writer based in Pittsburgh, PA. His writing can also be found in The Playlist, Cut Print Film, We Got This Covered, The Young Folks, Slate and other outlets. He also co-hosts the weekly film/TV podcast Cinemaholics with Jon Negroni and he likes to think he's a professional Garfield enthusiast.