Redemption For Kylo Ren? Why Adam Driver Doesn't Think He Needs It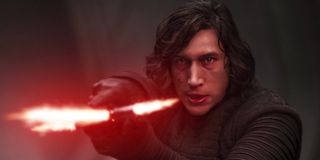 As the release of Star Wars: The Rise of Skywalker gets closer, speculation about the film is reaching an all-time high. Fans are eager to find out what happens to the sequel trilogy's remaining characters as the Skywalker saga comes to a close. And while some are arguing that villain Kylo Ren could be redeemed, Adam Driver doesn't agree.
Few characters in the new Star Wars films have inspired as much debate as the Supreme Leader formerly known as Ben Solo. In two films, he's certainly done his fair share of damage -- killing his dad Han Solo, wiping out the Jedi, and decimating several planets, just to name a few highlights. But in a conversation with Entertainment Weekly, Adam Driver seemed a bit incredulous when asked if Kylo Ren was due for a redemption arc:
You can't entirely blame the guy for being on his characters' side. And he offered a compelling reason for why he thinks there are more important things on the villain's plate in The Rise of Skywalker:
Adam Driver has said he's had some deep conversations with J.J. Abrams and Rian Johnson about Kylo Ren's journey. Of course, the details of his story arc are really up to the film's creators. But the actor's insistence that a redemption isn't needed could be a hint at what kind of conclusion we can expect for Kylo Ren's Star Wars journey. Even if we don't see him apologizing for the myriad sins he's committed, there's plenty of reasons to suspect he'll be a hugely important player in The Rise of Skywalker. Now that Snoke is out of the picture, Kylo Ren is unquestionably the trilogy's big bad. And though he'll likely be busy trying to further his power, The Rise of Skywalker will also delve into his complicated relationship with Rey (Daisy Ridley).
Though Star Wars: The Last Jedi has proven to be a hugely controversial entry into the franchise's canon, the final chapter seems primed to draw beleaguered fans back into the fold. And though it's too early to know if the final chapter will be satisfying, those involved with the film seem to be pleased with the final results. No matter what the conclusion, Kylo Ren's fate, and the film in general, should keep us talking long after the credits roll. Star Wars: The Rise of Skywalker hits theaters worldwide on December 20.
Your Daily Blend of Entertainment News