Hugh Grant Really Hated Filming One Iconic Scene In Love Actually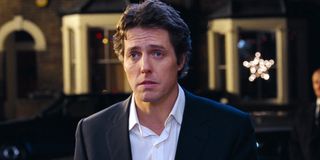 In the years since its 2003 release, Love Actually has rapidly become one of the most beloved holiday films of this century. With its charming, star-studded cast -- including Hugh Grant -- it's easy to understand why. But even if the actors can understand the movie's everlasting appeal, there was at least one scene that Hugh Grant absolutely hated filming -- and it happens to be one of his character's most iconic moments.
On December 23, The BBC will air a new documentary called Hugh Grant: A Life On Screen. The retrospective follows the actor's career, and features interviews with Hugh Grant himself, as well as the filmmakers and actors he's worked with over the years. In one segment of the documentary, Love Actually is highlighted. And the actor opened up about his performance, and the film's infamous "dancing" scene.
In Love, Actually, Hugh Grant plays David, a (fictional) newly elected Prime Minister of the UK struggling to find his footing. After weathering criticism from all angles, he silences his critics by standing up to the (fictional) President of the United States' bullying tactics during a joint press conference. Then, David celebrates his hard-won political victory by shimmying and shaking through 10 Downing Street to the Pointer Sisters' "Jump (For My Love)," until he's caught by his secretary.
The scene is easily one of the most iconic in Richard Curtis' ode to holiday romance. But according the documentary, Hugh Grant said that filming the moment was "absolute hell." He was uncertain the scene would work. When he learned they'd be shooting the scene, he remembers:
In Hugh Grant: A Life On Screen, his Love Actually co-star Colin Firth confirms that the actor was not looking forward to getting his groove on for the scene. And Hugh Grant recalls that the dance itself was mostly improvised, though Richard Curtis insists that the actor, in fact, rehearsed ahead of time.
Hugh Grant's initial concerns about his Love Actually dancing proved to be for nothing, which is probably a relief. This is one of the first times the actor has discussed the film's legacy since its 2003 release. In 2017, he joined many of his castmates in a special television sequel, Red Nose Day Actually, to raise money for Comic Relief. In the short film, he reprised both his role as David and the infamous dance -- though in that case, he loses his footing and ends up tripping down the stairs.
Hugh Grant: A Life on Screen airs as a part of BBC's Christmas programming, and can be seen on the channel on December 23 and December 26.
Your Daily Blend of Entertainment News
Your Daily Blend of Entertainment News
Thank you for signing up to CinemaBlend. You will receive a verification email shortly.
There was a problem. Please refresh the page and try again.