Jumanji Box Office: The Next Level Hits Big And Takes Down Frozen II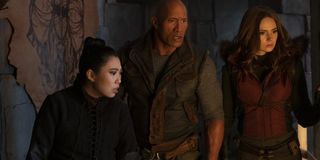 Released around this time two years ago, Jake Kasdan's Jumanji: Welcome To The Jungle was a huge hit during its theatrical run. Expectations weren't all that big given that the film was dropped just a week after Rian Johnson's Star Wars: The Last Jedi, but it won by playing the long game, and wound up being at the top of the box office months after its opening weekend. Obviously that's put a lot of heat on the sequel, Kasdan's Jumanji: The Next Level, but it too is proving to be a popular success on the big screen.
Check out the movie's numbers, as well as what's going on with the rest of the Top 10, in the chart below, and join me after for analysis!
Week-of box office projections estimated that Jumanji: The Next Level would make somewhere between $45 and 55 million in its first three days, but as you can see, the movie's performance was able to beat out even that significant ceiling. The $60 million figure is notably almost twice as much as what Jumanji: Welcome To The Jungle made when it first came out, which was a domestic total of $36.2 million. The new blockbuster obviously still has a long way to go until it even comes cross to the total grosses of its predecessor ($404.5 million domestically, and $962.1 million worldwide), and many things will have to go right in the weeks ahead for it to even try and eclipse those figures, but it's definitely off to a great start.
When it comes to the legs, it will be interesting to see how Jumanji: The Next Level handles its particular handicaps in the road ahead. For starters, the buzz on the new release isn't quite as strong as what existed for the first union of Dwayne Johnson, Kevin Hart, Jack Black, and Karen Gillan. More importantly, though, this time around the feature didn't come out in the wake of a Star Wars release, but instead during the calm before the storm. J.J. Abrams' Star Wars: The Rise Of Skywalker is dropping next Friday, and there is undoubtedly true that a tremendous percentage of the normal Jumanji audience is going to be purchasing tickets to that show (not to mention basically everyone else as well).
The Next Level is going to experience a second weekend drop far larger than normal, so the big question will be in regard to how its able to recover from what is likely going to be a record-breaking debut from a competitor. As per usual, January is looking seriously weak, so there may be the opportunity for it to coast alongside Star Wars through the rest of winter.
It should also be recognized that the film is in pretty good shape business-wise regardless. Though Jumanji: The Next Level did cost a pretty penny to make, carrying a $125 million reported budget before marketing, it has already made more money than that in ticket sales. In addition to being appreciated here in North America, foreign territories are also showing the feature a good amount of love, and its worldwide total currently stands at $212.6 million as a result.
While this was a good weekend for Jumanji: The Next Level, however, it stands along with that particular adjective, as the other new wide releases from this past Friday didn't perform nearly as well. We'll start with Clint Eastwood's Richard Jewell, which only managed to make $5 million (and it's sad that was enough for it to claim the #4 spot). While Eastwood has never had a film make nine digits in its debut, he is at least typically reliable for eight digits, but he didn't reach that bar this time out. The total is far less than what his last three directorial efforts did in their opening frames, with Sully, The 15:17 To Paris, and The Mule respectively earning $35 million, $13 million, and $18 million.
At the very least, though, the based-on-a-true-story film managed to make more than Sophia Takal's remake of Black Christmas, which played in about 120 more theaters than Richard Jewell, but brought in about $600,000 less. The film being a Blumhouse release, the good news is that it probably will wind up being profitable, as the film apparently only cost $5 million to make, but it seems that audiences aren't too excited about the prospect of a scary holiday season in 2019.
But let's end things on a positive note, shall we? For starters, there is the impressive milestone that has been hit by Walt Disney Animation Studios' Frozen II, as it is the latest release to hit a billion dollars this year. It is not only the eighth feature to make that much money worldwide in 2019, but the sixth in that group to be released by the Walt Disney Company. And by the time Star Wars: The Rise Of Skywalker finishes its run, that number will be seven.
What's far more exciting, though, is everything that is cooking with Benny and Josh Safdie's Uncut Gems. The film is one of the most buzzed about indies of the season following its premiere at the Toronto International Film Festival, and it looks like the attention being earned by the Adam Sandler-starring thriller is going to result in some big money for A24. The movie won't be available in wide release until Christmas, but the studio put the feature out in limited release this weekend, and playing in just five theaters it managed to make $525,498. That's an average of $105,099, and a record for the company. Obviously it won't still be maintaining those numbers per theater when it's available everywhere, but clearly there are a lot of people chomping at the bit excited to see the nail-biting cinematic adventure through New York's diamond district.
Of course, we here at CinemaBlend are now bracing ourselves for the aforementioned release of Star Wars: The Rise Of Skywalker, and along with the debut of Tom Hopper's Cats next weekend should be a fairly insane one at the box office. As always, be sure to tune in next Sunday to this column where we will breakdown the aftermath.
Your Daily Blend of Entertainment News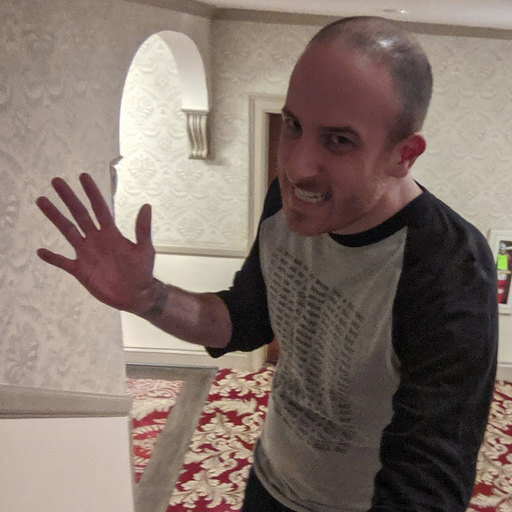 Assistant Managing Editor
NJ native who calls LA home and lives in a Dreamatorium. A decade-plus CinemaBlend veteran who is endlessly enthusiastic about the career he's dreamt of since seventh grade.