The Uncut Gems Ending Was Originally Different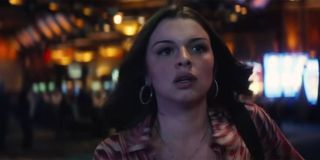 Spoilers for Adam Sandler's latest movie Uncut Gems can be found through this entire article. Literally, stuff about the ending will be all over.
In Uncut Gems, newcomer actress Julia Fox plays a character (also named Julia) who is in the throes of a passionate relationship with her boss Howard Ratner, played by Adam Sandler. Ratner is divorcing his wife and keeps an apartment with his mistress Julia. As the movie continues on, she becomes more and more prominent and winds up a key part of Uncut Gems' ending. However, it almost didn't happen that way.
In a recent interview, Julia Fox described how a lot of the stuff near the end of the movie was added late in the game. When asked about how she is "essentially the co-lead" by the end of Uncut Gems, Fox said:
Speaking to Slashfilm, the actress told the outlet that it was actually an A24 note to increase Julia's ending in Uncut Gems. The additional scenes give some closure to the big bet and seemingly sets Julie on a path that, if not healthier for the character, should put her on more stable footing. Although since she, like Howie, is always in-the-moment, who knows how long that will last? I'd like to think it will though. Julia's a mess in the movie, but she's also a character who's easy to root for.
While a lot of the stuff that happens between Howard or "Howie," as she calls him, would have happened in the movie regardless, it seems as if the ending was changed somewhat so that Julia could get a happy or at least happier ending, which is actually fitting giving the rest of the film ends on a violent and bad bet on Howard Ratner's part.
After Howard lets his father-in-law and his cronies back into the jewelry store after winning the major basketball bet, he's promptly shot in the face and his father-in-law is collateral damage as well. The jewelry store is then robbed as a kind of cover for the crime.
Although the final shot is of Howie's gunshot wound, before that, the movie cuts to the women in his life. His wife, played by Idina Menzel, is finally getting worried. Meanwhile in Vegas, Julia manages to nab some help from Wayne Diamond to pick up the money related to the big bet. She gets in a car to head back to New York, living out a dream for a brief moment. We don't see what happens when she makes it back to the city.
Uncut Gems has not resonated with all audiences, but I really found it fitting – and shocking – when it ends more on the women Howie left behind than what ultimately happened to Howie. As a whole, the movie is a harrowing account of what gambling and excess can do to a person, and without that ray of light in its ending, Uncut Gems would have been a very different movie. It's always interesting how seemingly small notes or changes can really ultimately effect movies in meaningful ways. We'll have to wait and see if the way the movie pans out is enough to keep Adam Sandler in the awards conversation in the coming months, but it's an interesting story from Julia Fox regardless.
Reality TV fan with a pinch of Disney fairy dust thrown in. Theme park junkie. If you've created a rom-com I've probably watched it.
Your Daily Blend of Entertainment News
Thank you for signing up to CinemaBlend. You will receive a verification email shortly.
There was a problem. Please refresh the page and try again.