How Little Women Changed Fans' Minds About A Classic Literary Villain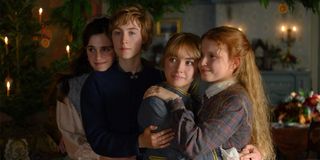 (Image credit: (Sony))
BIG spoilers ahead for Little Women.
If you've heard of Louisa May Alcott's Little Women, there are two things you probably been told about it: Beth dies and Amy March is the worst. These are the universal truths about the classic book published back in 1868 (or are they?). And yet, the newest (and eighth) cinematic adaptation of Little Women by Lady Bird writer and director Greta Gerwig is changing minds. While it's certainly in the novel's DNA for Beth to tragically die from Scarlet Fever – Amy doesn't have to be the worst. She's a flawed human being, and yes, perhaps an annoying one, but no longer a classic literary villain she'd been long characterized as by book fans!
What Fans Have Been Saying About Amy In Little Women 2019
Audiences are taking to Twitter and discussing how the new iteration of the novel has changed their perception of Amy March, played by Midsommar and Black Widow's Florence Pugh. For example, check out these longtime fans of the book reacting to Florence Pugh's Amy:
Yes, "grudge" may sound intense, but it's been a feeling many Little Women readers and viewers have felt about Amy March over the years. She's just unlikable and that's that. Yet, the new version has somehow changed this without fundamentally changing her character at all. There's a sympathy that's been brought to her in this successful box office adaptation. Considering Louisa May Alcott wrote Amy based on her own sister, May she may not have been able to take Amy out of the villain role. Each movie adaptation has continued the tradition. Look at this tweet from another past Amy hater below:
Burning The Book Does Not Define Amy In Little Women 2019
How did this happen? Amy March's most unforgivable offense in Little Women has always been her decision to burn Jo March's manuscript simply for not letting her go with Jo and Meg to the theater. Fans cringe at the very mention of the youngest March sister in reference to the scene. It's heartbreaking, especially for any writer who hangs on every vowel before etching onto the page with a pen. No hard drives back then. The "cloud" didn't exist. Burning pages meant setting back Jo's thoughts and ideas for months or more.
It's been a tragic moment in many movie adaptations before it, but there's something different about 2019's Little Women. The burning scene is not Amy March's legacy. It's one of many episodes in their childhood. It showcases the two sisters often being at odds with one another from an early age – but anyone with sisters knows how common something of this sort is. Love runs deep between blood, so when frustration strikes, the punishments often go too far. Greta Gerwig's movie asks more of the audience than to instantly dislike one sister due to her nature. It serves as retribution for Amy and allows for readers of the book to give the character another look.
This is rare for a book adaptation. So often do fans of the source material find something to be desired from the movie characters because not enough of their dialogue was implemented into the movie or their character didn't match the person they pictured in their heads. Florence Pugh's performance explains herself. She said she really wanted to hurt her. Amy March ceases to be a caricature of the "spoiled baby sister" and seeks to be really understood.
Audiences can feel for Jo March's opposition to her sister. Especially when Amy tries to follow her sister while she and Laurie are ice skating. Jo wants to offer Amy the same cold shoulder she gave to her by keeping her clueless about the danger on the ice. And there is a certain need to "protect" little sisters that kicks in when Amy falls through.
Greta Gerwig's Additions To Little Women 2019 Do Wonders For Amy's Likability
Another interesting aspect of Little Women flipped around this time is Amy's interest in marrying rich. It's often looked down upon by the audience, especially when you look at Jo's motivations to make her own way in the world with her writing. Amy has often been looked at like the materialistic and shallow sister because of her lofty aspirations in Paris. In the 2019 movie version, Greta Gerwig takes the story in her own hands by giving Florence Pugh a monologue that allows Amy to explain how she was quite clever for her time. In the scene with Timothée Chalamet, she tells him about how marrying a rich man is an economic aspiration and really her only outlet to be safe and comfortable in the world.
It shows an understanding of a woman's place in society at the time – and Amy being a product of that time. Perhaps Amy is more realistic than her sister Jo, too? Both sisters really want the same thing – to get what they want. Except, they just have two different ways of going about it. They are also similar due to their connections with Laurie (played by Timothée Chalamet in 2019). While Laurie originally sets his sights on Jo, it's not to be. She says from the very beginning she doesn't want to get married. She's not interested and in real life, author Louisa May Alcott never wed.
Amy's Marriage Is A Happy Ending In Little Woman 2019
In the 2019 movie, it shows how Laurie really loves the March family as a whole and wishes to be part of it. Sure, he has a special affection for Jo in the beginning, he really loves being amongst the household and he deeply loves being in the company of everyone in it. When Jo turns him down, he sees finally sees Amy has been waiting for him the whole time. It's actually a happy ending when Amy and Laurie get married. Jo's monologue to her mother about not loving Laurie but wanting to be loved shows that if she did say yes to Laurie she'd be settling. Sure the sisters have an opposing relationship but they are not seen as enemies anymore.
All and all, how Amy March is handled by Greta Gerwig and Florence Pugh shows a rare understanding for the source material you don't often see in book adaptations. She seems to have known it so well, she had the confidence to elevate the material through some bold changes! Much of the alterations are made to modernize for today's audience and give them a deeper understanding of each of the sister's motivations. Yes, Greta Gerwig!
Now, what do you think? Did you like Amy March in Little Women? Has your idea of her changed since the book or other adaptations of the book? Leave a comment and vote in our poll below!
This poll is no longer available.
YA genre tribute. Horror May Queen. Word webslinger. All her writing should be read in Sarah Connor's Terminator 2 voice over.
Your Daily Blend of Entertainment News
Thank you for signing up to CinemaBlend. You will receive a verification email shortly.
There was a problem. Please refresh the page and try again.