Star Wars: The Rise Of Skywalker Has Seen Significantly High Drops In Attendance Since Opening Weekend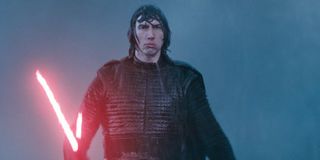 Star Wars: The Rise of Skywalker has been in movie theaters for a few weeks now and it's been mostly good news. The flick has already made $918.7 million dollars globally and should shoot right over the one billion mark in the coming weeks. However, percentage-wise, the numbers are looking a bit less beautiful, as Star Wars: The Rise of Skywalker dropped a whopping 81% in its third weekend.
This is after the drop was fairly steep between Weekend 1 and Weekend 2 as well, with Star Wars: The Rise of Skywalker dropping 59.2%, per Forbes. This also means the last flick in the trilogy dropped from $177 million opening weekend domestically to only $72 million domestically its second weekend and $33.7 million its third weekend.
To note, this movie will make money for its parent studio. It's also worth noting Star Wars movies have traditionally seen kind of large drops at the box office from week to week as excited fans seem to love going opening weekend. For example, in comparison, Rian Johnson's Star Wars: The Last Jedi initially dropped 67.5% between Weekend 1 and Weekend 2.
Again, most of the time movies do drop in the charts between Week 1 and Week 2. Even if movies manage to be "the number one movie of the weekend" for several weekends in a row, they are most likely still seeing fairly high percentage drops and not percentage gains during those weeks in the charts.
In comparison, when Wonder Woman came out back in 2018, the movie was touted for having a fairly low percentage drop between Week 1 and Week 2. It only dropped 44.6% between Weekend 1 and Weekend 2. And that was considered a really good drop! Once upon a time movies wouldn't drop so drastically between the first and second weekends, but opening weekend matters a lot to movies now and these numbers certainly show that.
The real unicorns are movies like The Greatest Showman, which made headlines a couple of years ago because it actually drastically increased ticket sales between Weekend 1 and Weekend 2. While that movie never won the weekend at the box office, increases and gains in box office between the first and second weekends are nearly unheard of (unless you are talking about stuff that goes from limited to wide release).
Comparing all of these movies is like apples to oranges in a lot of ways given varying budgets and expectations, but why the drop is really important for The Rise of Skywalker can certainly be compared to J.J. Abrams' other Star Wars movie, The Force Awakens, which went on to make over $2 billion worldwide.
Often the last movie in a trilogy is the one people are most excited about, but in the case of Star Wars: The Force Awakens, that movie only dropped 40% in its second weekend, going on to be the most popular domestic movie of all time. It had been a long time since we had gotten a Star Wars movie when The Force Awakens came out, and perhaps we can't blame The Rise of Skywalker for the hype having died down.
However, at the end of the day, the percentages don't look great for the movie and I don't think this last movie will come anywhere close to the $2 billion the first movie made. We can blame people being meh on this movie via CinemaScore and also elsewhere on the Internet, we can blame the large influx of Star Wars projects that have come to fruition in recent years. (We're spoiled really.) We can blame places like China not really being in love with Star Wars. We can blame competition like Jumanji: The Next Level at the box office.
Or we can simply say that while Star Wars: The Rise of Skywalker won't be the behemoth that Star Wars: The Force Awakens was, Disney will still be laughing all the way to the bank with the piles of money this movie will earn. Meanwhile, we're going to have to wait for some time before another Star Wars movie graces the big screen as Disney shows increased interest in Star Wars projects set for Disney+.
Amazing Race & Top Chef superfan with a pinch of Disney fairy dust thrown in. Theme park junkie. If you've created a rom-com I've probably watched it.
Your Daily Blend of Entertainment News
Thank you for signing up to CinemaBlend. You will receive a verification email shortly.
There was a problem. Please refresh the page and try again.