What's Going On With The Wicked Movie?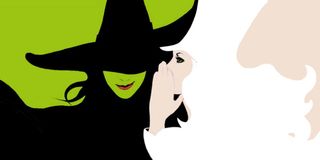 Have you asked yourself, "What is happening with the Wicked movie?" You're certainly not alone. Ever since the smash hit musical made waves on Broadway, many musical lovers have been hoping to see a feature adaptation of Stephen Schwartz and Winnie Holzman's sensationally successful show. Certainly, it is a project that Universal has been eager to bring onto the screen for some time, though it has faced more than its fair share of setbacks and delays in the past few years. Indeed, it has been a very long, extra winding yellow brick road to turn Wicked into a major blockbuster.
Until recently, Wicked was slated for a December 2021 release, but that date has since changed. It's been a process to get the movie flying onto the big screen. Why has it been so difficult? Let's take a look at the some of the events in the adaptation's timeline, why it's been delayed, and what else we know so far.
Wicked Makes Its World Premiere In San Francisco In 2003, With A Movie Already In Mind
Before Wicked was a Broadway smash, the musical adaptation of Gregory Maguire's 1995 novel, Wicked: The Life and Times of the Wicked Witch of the West, made its world debut on May 28th, 2003 in San Francisco's Curran Theatre. And before this happened, Stephen Schwartz had to be hasty.
As SF Gate reported, Universal owned the rights to Maguire's novel. If Schwartz wanted to turn the source material into a stage musical, he needed to get in contact with some major Hollywood producers. It ultimately took some pleading on Schwartz's part, but the lyricist did convince the movie producers involved with the potential film adaptation that it would be to their benefit if the material was a musical instead. Certainly, they had to be thinking about the long-term in their decision-making. If the producers turned this freshman musical into a major hit, it would be a no brainer as a film.
During its San Francisco run, Wicked received a mixed response. But after tweaks were made to both the book and the production, the show was finally ready for Broadway in October of 2003. From that point forward, Wicked became an enormous success, winning three Tony Awards and then a Grammy Award for the cast in 2004. At that point, it became clear that there was serious movie potential for this project, but the producers took their time with the adaptation. When you have a show that's clearly a smash, it would probably be premature to make a film too early into a show's best-selling run.
Universal Gets Serious About A Wicked Movie In 2012
For nearly a decade after these initial talks, Wicked's movie adaptation doesn't pick up any more serious momentum. There were some discussions of a movie brought up at different points, including 2008, but nothing serious came about these enthusiastic talks. The show was doing absolutely sensational business on Broadway, and the initial logic of keeping a good thing going appears to hold true. But then in 2012, as it was reported by Deadline, Universal finally starts to have serious negotiations about turning Wicked into a blockbuster cinematic experience. Stephen Daldry is first attached to direct the musical adaptation, while Winnie Holzman (who wrote the book for the Broadway musical) is rumored to be writing the script.
As a filmmaker, Stephen Daldry certainly has awards pedigree. He was the filmmaker behind Oscar-nominated dramas like Extremely Loud and Incredibly Close, The Reader, and The Hours, but he was most famous for his first feature film, 2002's Billy Elliot, which was turned into its own musical. While the filmmaker doesn't have a lot of experience directing cinematic musicals, he has an awards presence, which is certainly what Universal would want from this film adaptation. At the time, however, there were no other reported discussions of casting or other hires.
In 2016, Wicked Gets A Temporary December 2019 Release Date
Following the initial talks of making a Wicked movie in 2012, Universal decides to make it official. Following a confirmation in 2015 by producer Marc Platt that plans were still underway for a film adaptation, the movie studio announced in 2016 that they scheduled Wicked's release on December 20th, 2019, which puts the musical adaptation squarely in the heart of both awards season and in time for families to see the movie on Christmas. Certainly, that's a prime release date slot, and one that suggests that Universal means business. No more fooling around; it was time to get serious.
At this point, both Stephen Daldry and Winnie Holzman were attached to direct and write the film, respectively. But when this announcement came out, it was also revealed that Stephen Schwartz, who wrote the music and lyrics for Wicked, was also attached to shape up the screenplay. In 2017, as Variety reported, Schwartz planned to include "at least" two new songs in Wicked's film adaptation. Alas, Universal decided to put a hold on Wicked. In August 2018, the studio moved the December 20th release date in order to put Cats in that slot instead. The movie was entirely off the schedule. It was unclear when serious plans would be in effect. Nevertheless, later that October, Idina Menzel and Kristin Chenoweth hosted A Very Wicked Halloween: Celebrating 15 Years on Broadway, on NBC where they sang many songs from the hit musical with celebrity guests.
Wicked's New Release Date Is Announced: December 2021
After a few months of ambiguity, Universal reveals in February 2019 that Wicked will now be hitting theaters on December 22nd, 2021. Indeed, as it was reported by ComingSoon.net, this new release date is just a little over two years to the date from the original release date slotted, but one that shows that Universal still has the same plans in mind for the new musical adaptation. It makes sense that the studio would want the musical blockbuster to be released just a few short days before Christmas to bring in families during the winter holiday season. It also doesn't hurt that it'll be showing up just in time for awards season.
At this point, the same creative team is expected to be involved with this new musical adaptation. Nevertheless, it still isn't revealed when Wicked is expected to start shooting, or who else might be involved, particularly when it comes to casting. Still, this date puts Wicked in direct competition with Avatar 3, but it avoids having to compete with Steven Spielberg's West Side Story, which is currently slated to be released on December 18th, 2020.
Idina Menzel Expresses Interest In Doing A Wicked Movie
Now we come to the present day, and we still don't know too much regarding the developments for Wicked's film adaptation. The cast hasn't been confirmed yet, and there's no shooting schedule in place (that we know of, at least). The movie isn't even in pre-production yet. Yet, it is clear that the creative team involved with the musical is still interested in the blockbuster. Hopefully, this newest date is more permanent than the one made before.
While doing promotional rounds for Frozen II, Indina Menzel, who played Elphaba, i.e. The Wicked Witch of the West, expressed interest in the movie adaptation. Not merely as a producer, but in the role that turned her into a Tony-winning actress. While there are rumors that Ariana Grande might be picking up the torch from Menzel, the stage/screen actress believes she is still relevant enough to play the role. Here's what she said in an interview:
Wicked Loses Its December 2021 Release Date
In April 2020, per THR, Universal moved Wicked off the 2021 calendar in order to give the December 22, 2021 date to Sing 2. This update happened amidst a chain of rescheduled movie premiere dates due to the impact the Coronavirus pandemic has had on the film industry. Minions: The Rise of Gru was moved to July 2021, taking Sing 2's date, which led to Sing 2 moving to Wicked's December date. The Wicked movie was not given a new date during this bit of rescheduling, so we're left to wait for it to find its way back onto the release calendar.
Ultimately, there are still many, many more developments that need to be made before Wicked rides its broom into theaters. Nevertheless, after many, many delays, Universal will do what it can to make this movie a major hit in a few years' time. Are you excited to see Wicked become a big cinematic experience? What do you hope to see from the green witch on the silver screen? Let us know in the comments.
Will is an entertainment writer based in Pittsburgh, PA. His writing can also be found in The Playlist, Cut Print Film, We Got This Covered, The Young Folks, Slate and other outlets. He also co-hosts the weekly film/TV podcast Cinemaholics with Jon Negroni and he likes to think he's a professional Garfield enthusiast.
Your Daily Blend of Entertainment News
Thank you for signing up to CinemaBlend. You will receive a verification email shortly.
There was a problem. Please refresh the page and try again.