The Wicked Movie Is Finally Happening, But Not As Soon As We Hoped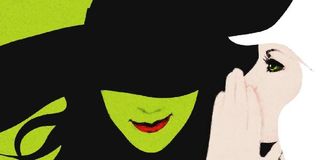 Long before Broadway was owned by a hip-hop Alexander Hamilton, the biggest ticket in town was to see the Wicked Witch of the West. Now, it looks like the story will finally make it's way to the big screen, eventually. Today, Universal set a release date for a theatrical version of the Tony Award-winning musical Wicked, announcing it will fly in on December 20, 2019.
In 1995, the Gregory Maguire novel Wicked: The Life and Times of the Wicked Witch of the West, was published. It acted as both a prequel to, and an alternate version of, L. Frank Baum's classic The Wizard of Oz. In 2003, the book was turned into a Broadway musical which was a runaway smash. It starred Kristen Chenoweth as Glinda and Idina Menzel (who went on to voice Elsa in Disney's Frozen) as the Wicked Witch Elphaba. A film version of the stage play has been in development for years but we've seen little to no movement on it until now. According to Variety, Universal has officially announced the December 2019 date, which implies that there's a real expectation the film will be moving forward. Stephen Daldry, currently a producer of the stage version, has been tapped to direct Wicked. Daldry is a three-time Academy Award nominee for Best Director for films which include Billy Elliott, a film which later became a Broadway musical itself.
The choice of December 20th for a release date is an interesting one. While the holiday season is second only to the summer when it comes to popular times for people to go to the movies, and Wicked is likely exactly the sort of film that many would be interested in seeing at this point in the calendar, Universal picked the one weekend in December of 2019 that currently has competition. Disney has already staked out the exact same date for the release of another live-action fairy tale film. While which movie Disney is planning for that weekend is unknown at this time, it will certainly put a Disney fairy tale up against a Wizard of Oz-inspired movie. In addition, the Disney film could very well turn out to be a musical as well, which means we could end up with a pair of fantasy musicals opening on the same day. There's probably also supposed to be an Avatar movie coming out around then do, but we'll believe that when we see it.
Of course, quite a lot could still happen between now and December of 2019. If there are any more delays in the Star Wars saga, we could see Star Wars: Episode IX pushed back from May until December, as has happened with Star Wars: Episode VIII. If that happens, all bets are off. Are you excited to finally see a big screen version of Wicked? Who would you like to cast in the lead roles? Let us know in the comments!
CinemaBlend's resident theme park junkie and amateur Disney historian. Armchair Imagineer. Epcot Stan. Future Club 33 Member.
Your Daily Blend of Entertainment News
Thank you for signing up to CinemaBlend. You will receive a verification email shortly.
There was a problem. Please refresh the page and try again.